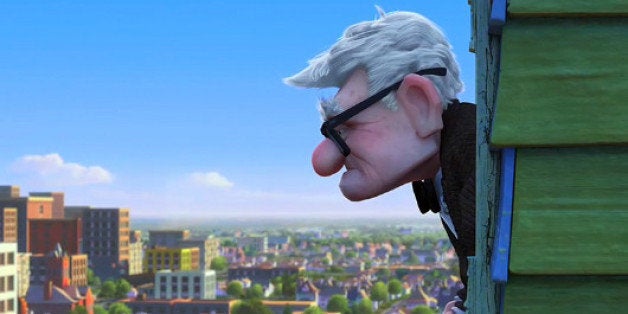 It's no secret that kids' movies often attempt to keep the over-12 crowd awake, but Pixar goes beyond the typical lightly adult innuendo to tackle themes like nostalgia, regret and parenthood. Here are eight of Pixar's most grown-up moments, in chronological order:
Contains spoilers for some Pixar films.
1. "Toy Story 2": "When She Loved Me" Montage
The montage is a pretty standard cinematic move, but rarely is it executed with as much heft and genuine feeling as this one from "Toy Story 2." Jessie, Woody's cowgirl counterpart, recounts the youth and adolescence of her beloved playmate Emily, who eventually grows up and loses interest in her toys. It has everything a sad montage could possibly need: a meditation on the passage of time, a loss of childlike imagination and Sarah McLachlan singing a song called "When She Loved Me."
2. "Monsters, Inc.": Boo Is Terrified Of Sully
Many of Pixar's most emotional moments revolve around some form of parent-child relationship (in this case, the pseudo-adoptive-monster-human-parent-child relationship). After Sully inadvertently scares Boo, the tiny, pigtailed girl who infiltrated his monster world, she recoils from her beloved "Kitty" in horror. Sully struggles to regain her trust while also trying to protect her, himself and his livelihood. A movie about the exploitation of childhood fears taps into some very real anxieties.
3. "Finding Nemo": Dory Gives Marlin Some Solid Life Advice
Though the title clownfish is a child, the real protagonist of the film is Nemo's dad, Marlin, who searches the Pacific Ocean to find his missing son. Marlin -- whose wife and hundreds of unborn eggs perish early in the movie -- is understandably uptight and a bit of a pessimist. Just when all seems lost, his traveling companion Dory gives him some timeless, universal advice: "Just keep swimming!" That mantra resonates with audiences of all ages -- and cynical grown-ups might just be the ones most in need of a catchy reassurance.
4. "The Incredibles": Bob And Helen Work On Their Marriage
On paper, "The Incredibles" might seem like standard superhero fare. But, as Rolling Stone film critic Peter Travers put it, "It's not every toon that deals with midlife crisis, marital dysfunction, child neglect, impotence fears, fashion faux pas and existential angst." The film's emphasis on "marital dysfunction" in particular is a strange, nuanced choice for a kids' movie. Bob and Helen Parr (Mr. Incredible and Elastigirl, respectively) manage to save the world -- and their marriage.
5. "Wall-E": Pretty Much The Whole Movie
"Wall-E" must have been a tough sell for young audiences (So it's a mostly silent meditation on consumer culture and the inevitable, dystopian ends of human materialism...). But the resulting film is a masterpiece, a perfect marriage of enormous visual scale and detailed characterization. The nearly silent opening section of the movie, in particular, shows how absurdly good the studio is at telling stories, though this one is probably most appreciated by those with a grown-up attention span.
6. "Up": Carl Reflects On Life With Ellie
If the power of a film can be measured in audience tears, then "Up" was arguably one of the greatest movies of all time. But even if that's a statistically shaky metric, Pixar's 2009 hit proved itself as an adventure flick with a seriously sad streak. The loss of a spouse is a pretty heavy emotional throughline for a children's movie, but "Up" carries it off with just the right amount of levity -- no pun intended. When Carl reads the message Ellie left for him in their scrapbook ("Thanks for the adventure -- now go have a new one!"), Pixar wrings the final tears from its deeply felt account of grief, acceptance and talking dogs.
7. "Toy Story 3": Andy Gives Away His Childhood Toys
For a few moments, it seemed plausible that this children's franchise would end with the brutal murder of all of its main characters. But after Woody and the gang escape from the fiery furnace of doom, they're met with a much more subtle, bittersweet fate. When Andy gives his childhood toys to Bonnie, plays with them one last time, and then heads off to college, the trilogy reaches its brilliant, satisfying conclusion. So obviously they're making a fourth one.
8. "Inside Out": Riley Gets Sad
"Inside Out" captures the exact moment in preteen-hood when internal life becomes an incomprehensible mess. Sadness, the unexpected hero of the film, manages to teach a lesson in good emotional health while moping around the inside of Riley's mind. It will be easier to gauge the importance of that creative choice once we all stop crying.