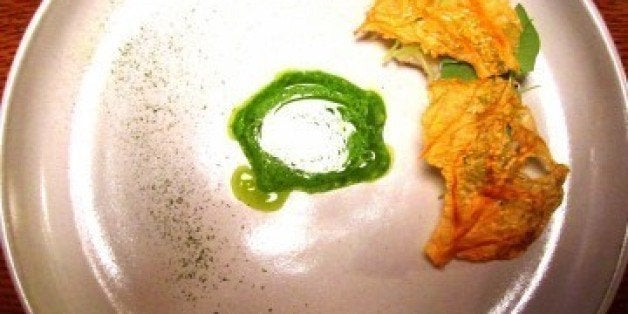 We begin with uni, which is always a good way to start. It sits gelid in a small bowl atop a tomato dashi ice coin until our "personal chef" pours a broth as cold as the urchin's native Maine waters over it. Lemony wood sorrel, violets and poppy seeds gathering on my spoon, as if in an eddy. There is brine and sweetness; subtle grass smells on sea air.
At Box Kite, the bite-size coffee joint that becomes a tasting table in the evenings, chefs Justin Slojkowski and Dave Gulino are doing something crazy. They're serving a literal handful of clever, lucky patrons a chef's menu of delectable, market driven morsels that evolve nightly and materialize from a "toaster oven" and low boy appropriate in size for an East Village studio apartment. Barely-seared luxurious Scottish langoustines arrive from this organized, minimalist set up beneath fried cabbage chips with apple, cabbage and a rich broken parsley oil-the cooking liquid enhanced from simmering with the langoustines' heads atop a Bukowski-worthy hotplate-cum-stove (okay, it's a little fancier, but you get the drift). Joy Division's "Love Will Tear Us Apart" radiates good vinyl vibes from the turntable next to the espresso machine.
Slojkowski and Gulino are both recent ACME alumns (they cooked at Roberta's together, too), and I see it in their dishes: The raw foie shaved over fresh fluke with hackleback roe is rich, sure, but restrained, too, balanced and gently seasoned; and considering the dish sequence, certainly brings to mind Mads Refslund's signature foie and langoustines menu staple. Arugula flowers and chick wheat lend additional pleasant earthen, grassy notes, balanced by brown buttery sage cream. At this point my mother and I exchange knowing glances. We've stepped from the contact headshop high of St. Marks Place into our preferred drug den: a tiny restaurant where two chefs are cooking -- well -- for just the two of us.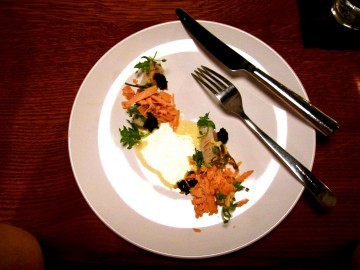 Like I said, patrons of Box Kite are clever and lucky, because now that the Times has shouted about it, I doubt one could hope for an experience quite like ours. It's a spring evening, full of promise, and we sit in a mini prism that, like a speck of light concentrated through a magnifying glass, is about to catch on like wild fire. In a way, it already has. Chefs know about this tiny treasure and in a boastful moment the sous makes sure we understand and names a few who have been in. My mother and I exchange another knowing glance. Okay, we get it, bud, you're stoked... and when it's the ingredients they're naming, it's contagious. The laundry list of components that the chefs rattle off as they place our dishes in front of us feels earnest and precise, like a proud speller at a bee, rather than serious or overblown.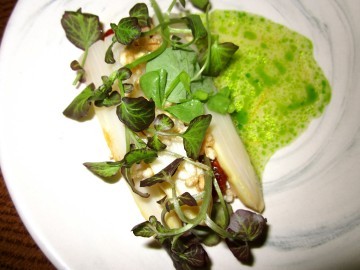 Roast beets dusted with fennel and bee pollen, bitters and pickled huckleberries are nothing special until we drag from a dime-size dollop of orange sea buckthorn juice, plated expressly for that enhancing intent. The food here has the exuberance of youthful penmanship: it's thoughtful and purposeful, but sometimes can't help but veer outside the lines, which is endearing, and generally a pleasure. White asparagus poached gently and served with Meyer lemon marmalade and 'nduja highlights the season and is the highpoint of our meal: the glorious, fatty sausage cut by the smooth texture of the milky-hued spears and citrus clean.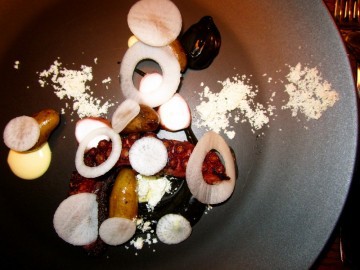 There's an Asian influence -- sensible considering we New Yorkers are obsessed with our Asian food. Stout columns of ricotta gnudi textured like silken tofu, served with chanterelles, duck fat-confited walnuts, foamy Winnemire cheese from Jasper Hill Farm, dandelion greens and ramps feels vaguely Japanese. Octopus served with black garlic mayo, pungent radish slices, potatoes cured in Benton's Ham and dusted with olive oil powder has a Korean blush to it. A final savory course of sous vide skirt steak with dried beef sauce, lamb's quarters and alium melts on our satiated palates, rendering us silly and sleepy. We're offered a coffee course but I ask if I can come back in the morning to cash in on it....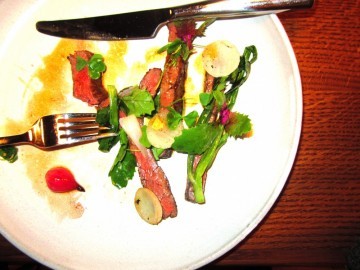 We opt to share the desserts: a sorrel semifredo with lovage, parsnip granita and parsnip broken butter cake is at once restorative and ritzy. A Thai tea panna cotta with milk chips and marmalade is orange, opaque and familiar. The hi-fi lo-fi at play makes sense because, it's now, it's New York. Chefs are forming new shapes out of old materials. The references are evident yet disintegrating into foamy, floaty shapes in the sky. It's trippy, it's delicious, it's heady, it's soaring into the ether. Strawberry Fields, Nirvana, it's old, it's new, it's bold, it's a box kite, rising up from the grey tenement roofs, into the blue.
This post originally appeared on Tarajia Morrell's blog, The Lovage.