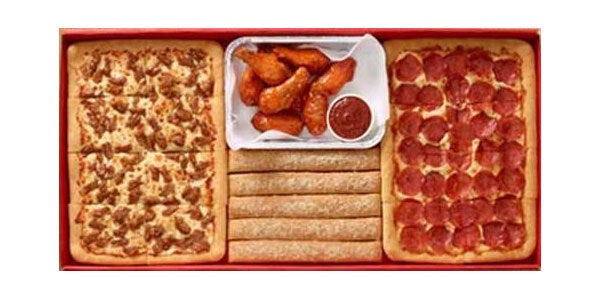 Two medium, one-topping pizzas. Eight wings. Five breadsticks with marinara sauce. Pizza Hut's new Big Dinner Box ($19.99) is a big dinner indeed. We're guessing -- and hoping -- that this Big Dinner is meant for more than one person. HuffPost Food estimates that the total calorie count of this Big Dinner rings in at over 5,000 calories.
Kurt Kane, Pizza Hut Chief Marketing Officer said in a press release that Pizza Hut was breaking ground "by offering our first ever pizza value box because we know that our customers need a value-conscious option that can feed a crowd during the holidays."
The deal was launched in preparation for today, the company-dubbed "Red Roof Wednesday," the night before Thanksgiving when no one wants to cook or have a pile of dirty dishes. Pizza Hut anticipates selling 2.4 million pounds of pizza today, which is equivalent to the weight of 151,000 Thanksgiving turkeys. Now that's a lot of Big Dinners.
Popular in the Community