Pizza Hut Singapore shocked us last week with an insane pizza-within-a-pizza offering, but it seems Pizza Hut Hong Kong is giving its sister chain a run for its money. Behold! The "Cheesy Opera" pizza, which is pizza on top of a pizza!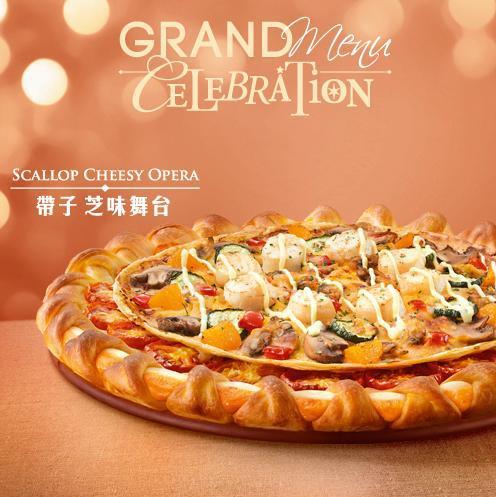 The pizzas' description is a doozy, so pay close attention. All versions of the offering feature a pizza base with a "Twisted" cheese crust topped with chicken, ham, beef, pork, tomato, oregano with a red onion on tomato, which is then topped with a smaller, thin crust pizza with one of two topping combinations.
One is the "Cheesy Opera Pizza," which comes with smoked Canadian ham, beef, pork, pepperoni, Japanese cucumber, mushroom, pineapple, green pepper and black olives on tomato sauce. The other, the "Cheesy Opera Pizza with Scallop," sounds a bit funkier to us -- it comes topped with scallop, clam meat, Japanese cucumber, mushroom, peach and red pepper on pesto sauce with a swirl of honey mustard sauce.
Do either of those options sound appetizing to you? We're not so sure they do to us. And why are they called "Cheesy Opera" pizzas? We're at a loss.