The manager, Tony Rohr, had worked for the pizza chain for more than 10 years before taking a stand, telling his bosses it was not fair to force people to work on a day meant for family. Here's Rohr's proof of employment: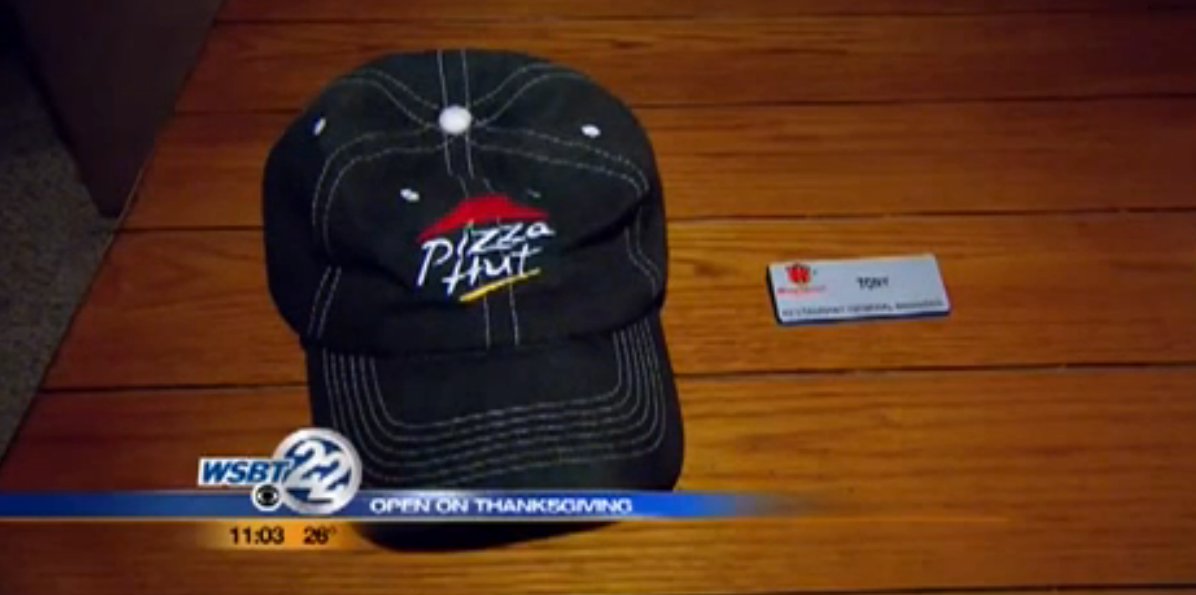 "I said why can't we be the company that stands up and says we care about our employees and they can have the day off," Rohr told WSBT 22.
"Thanksgiving and Christmas are the only two days that they're closed in the whole year and they're the only two days that those people are guaranteed to have off to spend with their families."
Rohr additionally claims that he was asked to pen a letter of resignation. Instead, he wrote a letter, of which he showed WSBT a copy, that railed against the company: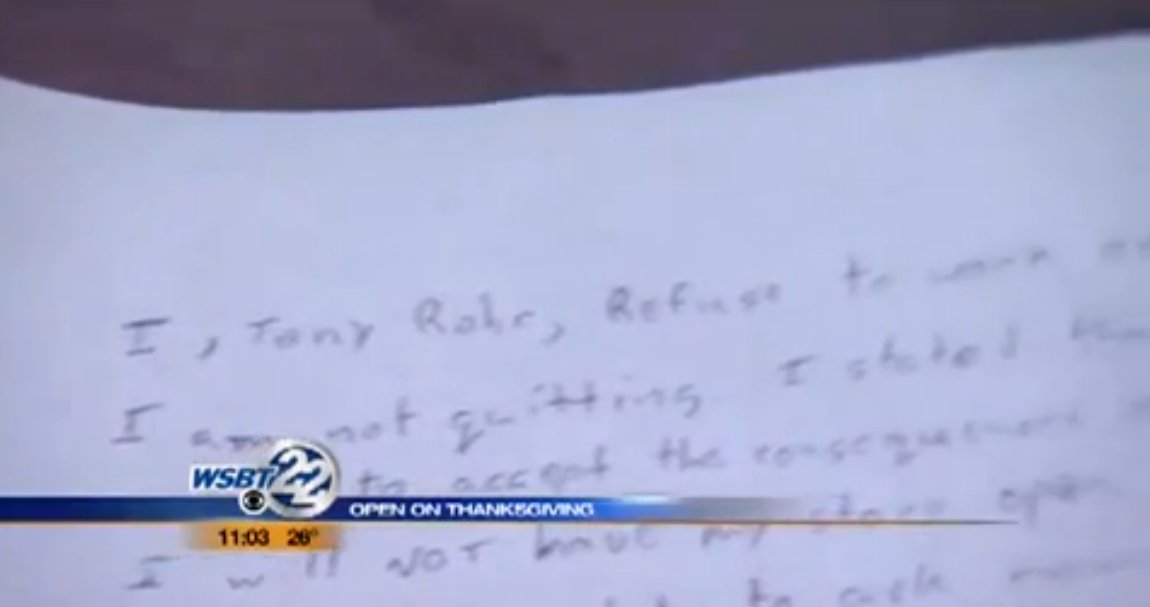 Here's part of what the letter said:
"I am not quitting. I do not resign however I accept that the refusal to comply with this greedy, immoral request means the end of my tenure with this company… I hope you realize that it's the people at the bottom of the totem pole that make your life possible."
WSBT 22 reached one of Rohr's bosses, a local Pizza hut director of operations, who took issue with Rohr's depiction of the events, claiming that Rohr was not fired and instead quit voluntarily.
Pizza Hut issued this statement to The Huffington Post late Wednesday:
"This was clearly an unfortunate situation, and we are very upset by what has transpired in Elkhart, Indiana. While the choice as to whether a restaurant should be open or closed on a holiday is handled at the local level by our independent franchisees, we feel strongly that this situation could have been avoided. We respect an employee's decision not to work on a holiday if they so choose, which is why the vast majority of Pizza Huts in America are closed on Thanksgiving. The stores that are open to service their local communities are staffed by team members with the willingness to work on this day as determined by their own personal situations. We will monitor and evaluate this situation closely and regret what has occurred."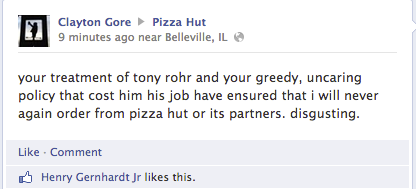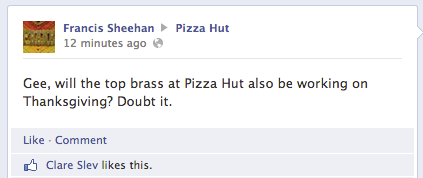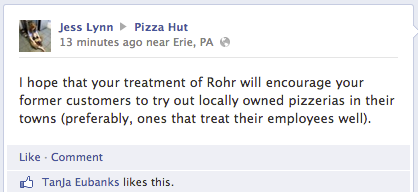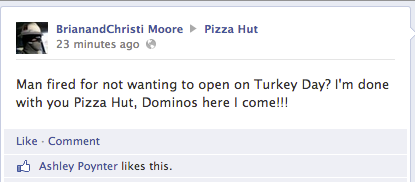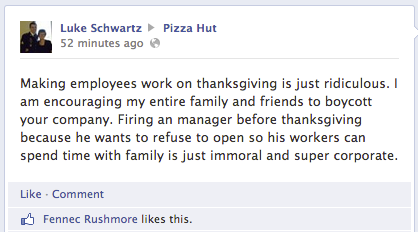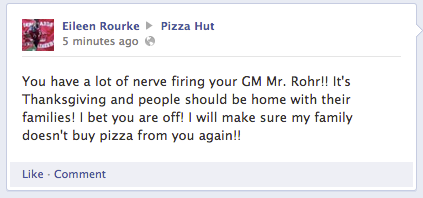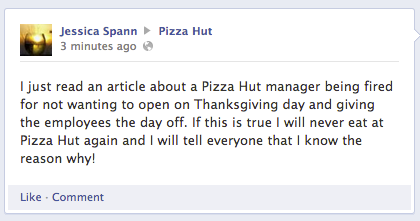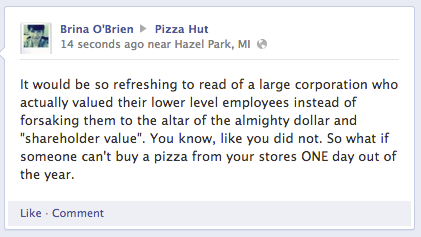 This post has been updated to include a statement from Pizza Hut.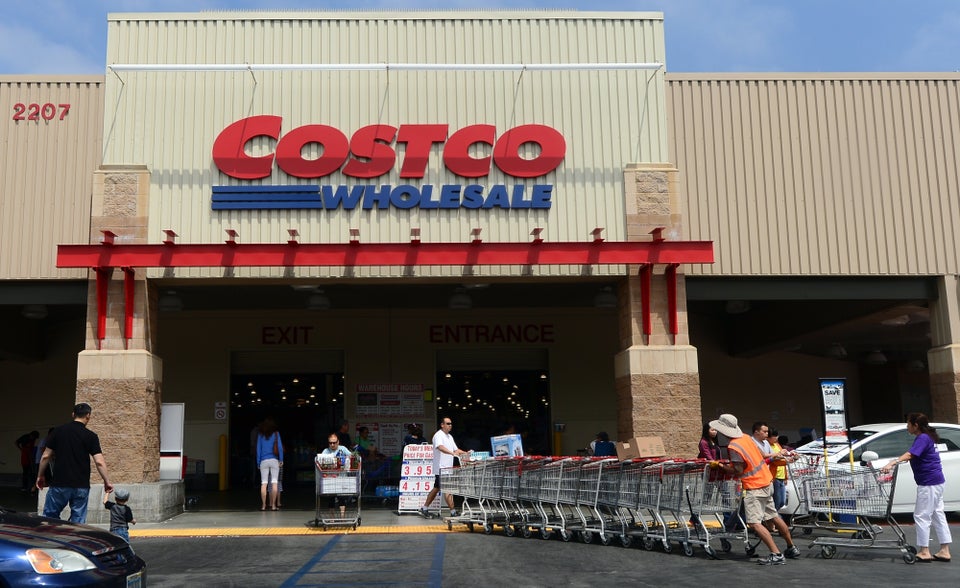 Big Stores That Won't Kill Thanksgiving
Popular in the Community