As word of Pizza Hut's new "Cone Crust Pizza" was breaking yesterday, we took a look around the chain's Middle East web site and found a few other gems.
Among them: "Kit Kat Pops," which look to be Kit Kat bars baked into sweet pizza dough. They come in a cheese variety, as well.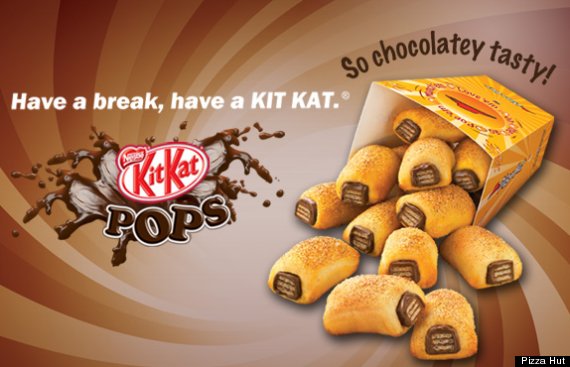 As far as we can tell, both of these offerings are available only in some markets in the Middle East. Too bad -- we'd probably pass on "Cone Crust Pizza," but the "Kit Kat Pops" look pretty darn tasty. It should be noted that "Kit Kat Pops" are not to be confused with "Kit Kat Pop Chocs," which are a bite-sized version of the popular candy.
The Tumblr handsup-thumbsdown sampled the dessert over the summer, but gave it a low-rating of 1 out of 10 in taste with the following comment:
Verdict: Who comes up with these ideas at Pizza Hut Middle East?
Beyond that lackluster review, there doesn't seem to be much other information about the dish out there. If you've tried Pizza Hut's "Kit Kat Pops," let us know.
In the meantime, take a look at Pizza Hut's super short, blink-and-you'll-miss-it ad spot for the pops, which inexplicably has an British accent.