There ain't no party like this pizza party.
A group of eighth-graders at Clearview Middle School in New Jersey had been learning about statistics when their math teacher challenged them to come up with ideas for new food products based on data and information they collected, according to Yahoo News. They were also asked to pitch them to companies.
One team, comprised of students Nick Gabriele, Sean Flannery, and Allyson Sooy, came up with a Bacon Mac 'n' Cheese Stuffed Pretzel Crust Pizza, and sent a letter about their idea, along with drawings of their creative food to Pizza Hut, Barbie King, the company's head of new product development told The Huffington Post. On Tuesday, the pizza company's representatives surprised the trio and their class with a pizza party, featuring their idea in two flavors -- cheese and pepperoni.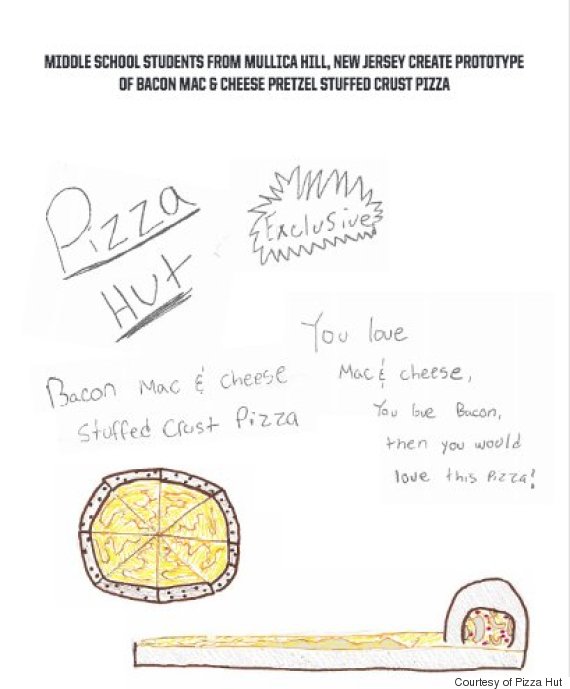 The students' pitch.
"[There were] lots of smiles and 'oohs' and 'aahs' and screams," King who was involved with organizing the surprise, told HuffPost of the students' reaction to the pizza. "The team of three who created the pizza were truly awestruck that their idea had made it into a real pizza."
The pizza party may have seemed surreal to the students, but according to Doug Terfehr, the company's director of public relations, the group's idea was so impressive, that their pitch made its way to Pizza Hut's CEO, who then shared it and got their chefs involved.
The company then coordinated with the students' teacher, Anne Paoletti-Bayna, to surprise the students.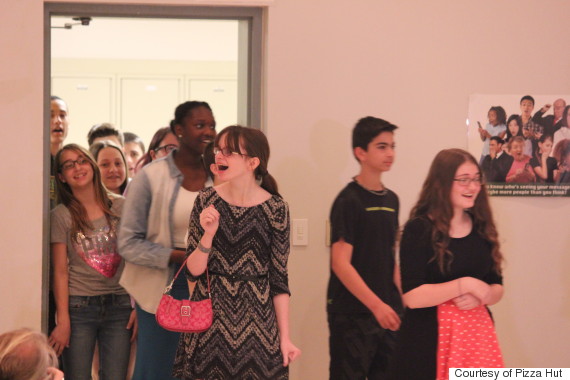 Students, upon seeing their surprise.
On the day of the surprise, Terfehr told HuffPost that the students were to take a math test, but were stopped abruptly in the middle of the exam. Nick, Sean and Allyson were called up to the front of the classroom to read a letter sent to them from Pizza Hut, praising them on their inventive pizza and telling them to head down to the school's multipurpose room. Their surprise left them absolutely delighted, Terfehr said. Of course the three students ended up being the "heroes of the day" for getting the rest of the class out of the test, and the opportunity to chow down on some creative pizza was an added bonus.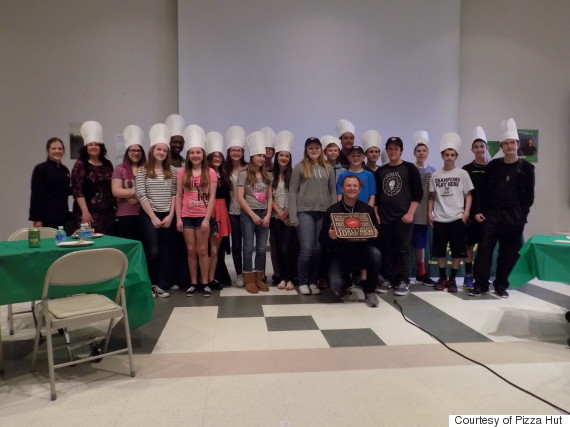 The lucky class.
King said that the company receives many pitches but this particular idea really inspired the company to bring it to life for several reasons.
"This was really unique in the fact that there was a lot of teamwork involved as well as innovation. They were taking four great products and combining them into one -- bacon, mac n' cheese, pretzels and stuffed crust." King told HuffPost. "And it does taste amazing."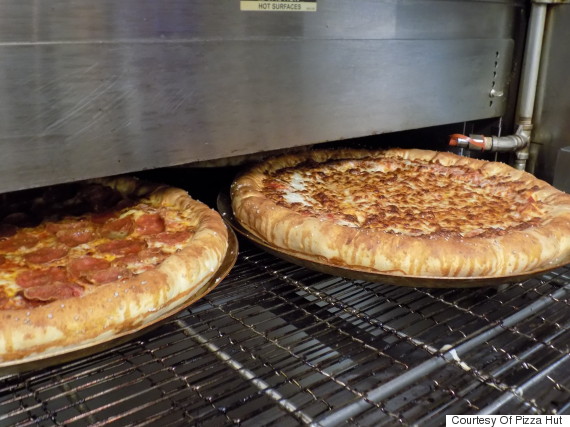 The kids' creation.
REAL LIFE. REAL NEWS. REAL VOICES.
Help us tell more of the stories that matter from voices that too often remain unheard.
BEFORE YOU GO