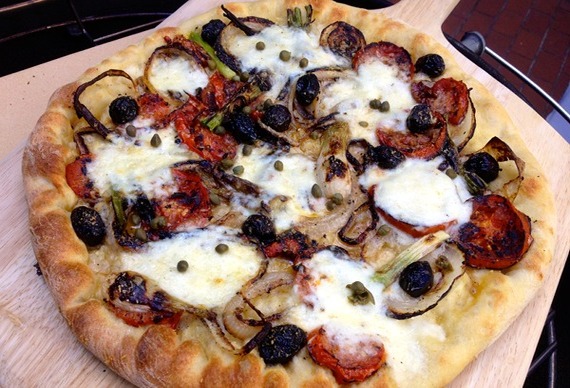 "You better cut the pizza in four pieces, because I'm not hungry enough to eat six."
Pizza on the grill may seem like the latest, er, outbreak of a live fire fever sweeping Planet Barbecue. But the grilled pizza dates back at least a quarter century -- and very likely more.
The place: Providence, Rhode Island. The restaurant: Al Forno. "One of our vendors raved about a grilled pizza he'd experienced in Italy," recalls Al Forno co-owner Johanne Killeen. "He had probably mistaken a wood-fired oven for a grill." But Al Forno didn't have a wood-burning oven at the time, so Killeen and partner George Germon decided to drape a rectangle of pizza dough directly on the grate of their charcoal-burning grill. The crust puffed and blistered, acquiring fire-singed edges, a crackling crisp texture, and a flavor that made you sit up and take notice.
It was everything pizza should be -- and less -- boasting the smoky taste of Indian naan and the puffy moistness of freshly baked pita -- but without the gloppy cheese or pooled pepperoni grease associated with the pies at commonplace pizza joints. It quickly became a culinary icon --- and more recently, one of the most popular dishes Americans grill.
In honor of National Pizza Month (we have one week left) we thought we'd give you the Barbecue Bible take on grilled pizza, including history, how-tos,and recipes. Afterward, you decide if it's better than what you've been making in your kitchen oven. We know our vote.
To make true grilled pizza:
Set up your grill (gas, charcoal, or wood-fired) for two-zone grilling so you have a hotter section where you can sear the dough, and a cooler section where you can apply and cook the toppings. If your grill is large enough, also maintain a fire-free "safety zone."
Make the crust by stretching out the dough on a rimmed baking sheet generously coated with olive oil. The oil helps crisp the dough. Know that the dough will be quite elastic, and may resist your first attempts at stretching. Simply let it rest for a few minutes, and eventually, you'll achieve the proper shape and thinness.
Don't worry about making a perfect circle. I actually prefer a rough rectangular shape for grilled pizza.
Brush and oil the grill grate well.
Holding the dough at one end, lift and drape it over the hotter zone, using tongs to lay it flat. Grill until the bottom is browned and blistered and the top starts to blister as well, 1 to 2 minutes. Using tongs and a spatula, slide the partially cooked dough to the cooler side of the grill and let it continue to cook for 3 to 5 minutes. In the meantime, lightly oil the uncooked side of the crust. Flip it over onto the hotter part of the grill and grill this side, too, until it begins to darken, 1 to 2 minutes.
Once again, move the pizza to the cooler side of the grill. Arrange the toppings on the crust. Move the crust back over the hot zone to brown the bottom, 2 to 4 minutes.
Remember, you build a grilled pizza in the exact opposite sequence as a conventional baked pizza. The cheese goes on first because it takes the longest to melt. Then the cooked or cured meats and grilled vegetables. Last of all, the sauce (because it's already cooked).
Apply the topping sparsely, leaving plenty of exposed crust. Remember, a lot of effort goes into making and grilling the crust. You want to taste the crisp, smoky, fire-singed dough.
Finally, 5 explosively flavorful toppings to take your grilled pizza to the next level:
Cooked crumbled Mexican-style chorizo, diced roasted poblano or New Mexican chile peppers, diced tomatoes, sliced scallions, grated Oaxacan or pepper Jack cheese, cilantro leaves
Prosciutto, figs, caramelized onions, Gorgonzola Dolce, and balsamic vinegar syrup
Mascarpone cheese or crème fraiche, smoked salmon, capers, diced red onion, lemon zest, and coarsely ground black pepper
Think slices of artisanal salami; grilled and thinly sliced fennel, black olives, minced thyme and oregano, and thin slices of Bel Paese cheese
Thinly sliced smoked ham, smoked mozzarella, roasted red pepper strips, and diced cornichon pickles
What are YOUR favorite ways to grill pizza? What are YOUR favorite toppings? Share it with us on the Barbecue Board.
CHECK OUT THESE BOOKS BY STEVEN RAICHLEN: