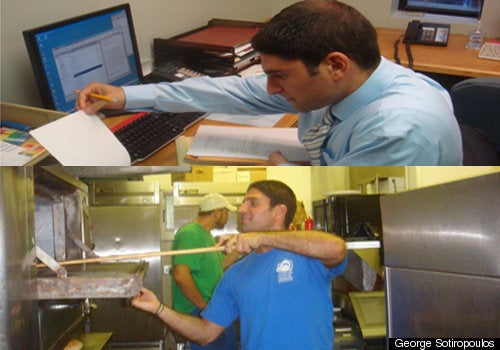 At the Gorham House Of Pizza in Gorham, Maine, you'll find a rather unique combo: pizza served with a side of legal advice.
On Mondays, Wednesdays and Fridays, George Sotiropoulos, 29, an unemployed lawyer, fills pizza orders at his parents' restaurant.
He lives at home, enjoys his mother's cooking and dons a sauce-stained T-shirt with a cheerful, wistful smile. His wages, almost the same he earned while working there in high school, go towards paying off his $175,000 student loans (a figure he finds so ridiculous he can only joke about it: "I am stuck with my student loans till I die.").
On Tuesdays and Thursdays, Sotiropoulos indulges in his higher education: he works pro bono as a foreclosure prevention lawyer at Pine Tree Legal Assistance.
In Maine, like in many states since foreclosure claims began to skyrocket, lenders are required to try mediation with a homeowner before the home can go into final foreclosure. As a pro bono lawyer, Sotiropoulos helps underwater homeowners argue for loan modifications, salvage their credit histories and sift through documents for evidence of predatory lending. In less than a year Sotiropoulos has clocked in approximately 1,300 hours of service and made nearly as many pies.
He is the person most shocked by his current situation. In 2008, Sotiropoulos was an aspiring entertainment lawyer who had moved to Hollywood for a year to pursue his dream. Not only did he not make it, but after a year of working odd jobs unrelated to his field, he was forced to move back in with his parents and take on his old high school job of serving pies at the restaurant.
Shortly afterward, he met an associate at Pine Tree, who suggested that Sotiropoulos help out at the firm's burgeoning pro bono foreclosure practice. For free, of course.
Sotiropoulos, who never harbored any public interest ideals while attending law school, was hooked. "I remember my first foreclosure case. It was during Christmas and we had gotten the bank to agree to modify a woman's home. When she found out she wasn't losing her house, she burst into tears," he says softly. "It feels so great being able to use my education to help others. This has been the best legal work I've ever done."
And although his hopes of marriage and kids-- an expectation coming from a big Greek family-- have been pushed back indefinitely, Sotiropoulos feels incredibly grateful for his situation: "As tough as my life is, this experience has taught me that a lot of people have it tougher. At least I have a safe place to live and a phenomenal relationship with my family."
"If you have your health, your family, a safe place to live, there's an opportunity to give back. Trust me, the payback forward feels amazing."
Related
Popular in the Community