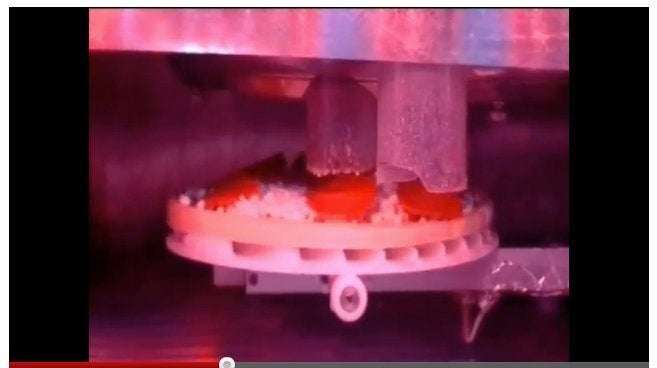 There's nothing like a piping hot pizza (well, except when it's a piping hot pizza that burns the roof of your mouth). But somehow piping hot pizza that comes from a vending machine doesn't quite have the same appeal. Pizza vending machines may be nothing new but they have morphed from serving pre-made, frozen pizzas to made-to-order pies (well, sort of). For example, the Let's Pizza machine kneads dough and adds sauce and toppings before baking.
Pizzametry offers a similar product, and the company is trying to differentiate itself from frozen pizza brands. The website claims:
The pizza is neither oily nor soggy. Chemicals are not needed to make the dough rise better, as they are in some frozen pizzas, because this is the real thing: dough made with yeast.
While the customer waits the few minutes for the "fresh" pizza to bake, the Pizzametry machine has a built-in TV that "blares entertainment and ads," lest the customer get bored. The pizza blog Slice thinks this short attention span entertainment is "kinda lame." Point taken, Slice, but we'll even dare to get a step farther -- isn't the whole notion of a pizza vending machine kinda lame?