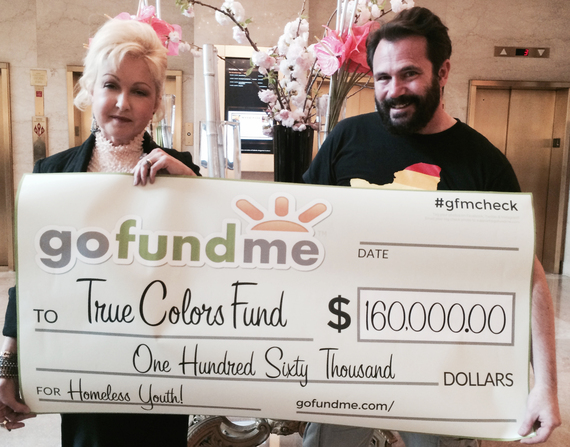 Cyndi Lauper (left) Accepts a $160,000 check for her homeless youth charity,
True Colors Fund. The money was raised by a GoFundMe campaign
called #PizzaForEquality started by activist and social media consultant
Scott Wooledge (right) of Brooklyn, NY.
On Tuesday, the eve of Forty To None Day (a day of national awareness of the epidemic of homeless youth), I got the opportunity to meet with Grammy, Emmy, and Tony Award-Winning artist (and my teen shero) Cyndi Lauper when I presented a $160,000.00 check to the True Colors Fund, a youth charity Lauper co-founded.
The #Pizza4Equality campaign is a grassroots fundraiser initiated and operating independently of the True Colors Fund. It was conceived as a response to a story of a pizza place in Indiana that made national news for their policy of discriminating against LGBT customers. The #Pizza4Equality campaign sought to reclaim pizza's good name by challenging folks to donate the cost of a pizza to the True Colors Fund to help LGBTQ homeless youth.
My goals were very lofty but my expectations (in reality) were rather low. I kind of put it up on a lark. Right away some early adopters were heavy hitters like Ana Marie Cox, and Dan Savage. Before I knew it, we took off to the races. We soon got tremendous support from the LGBT and progressive blogosphere.
The lesson is that these online organizing tools are tremendously empowering. While the #Pizza4Equality campaign received virtually no coverage from major mainstream news that proved no handicap. Team #Pizza4Equality -- 62,000 clicktavists strong -- built a great campaign all by ourselves on Facebook, Twitter and elsewhere. I also believe it demonstrates that beyond the issue of marriage equality, there is a big appetite for the more tertiary issues of the LGBT movement, like caring for our displaced youth.
Gregory Lewis, Executive Director of the True Colors Fund, says, "It is truly inspiring how Scott provided an empowering opportunity for so many people to show their support for the up to 40% of homeless youth who are lesbian, gay, bisexual, or transgender in America."
Lauper and the True Colors staff were in Washington, D.C., on Wednesday to testify before a Senate subcommittee on efforts to help and prevent youth homelessness. Later they also met with Obama administration staff at the White House to present findings of programs they have coordinated with the Department of Housing and Urban Development. These joint collaboration programs are currently being implemented in Ohio and Texas with a goal of up-scaling strategies that work.
In the end, I'm delighted to have played a part in bringing a lot of money to True Colors and also making a powerful statement of where our communities' values lie. True Colors says they can use it to fast-track some programs they already had in the pike. The #Pizza4Equality fund will remain active for a short while longer.
I'm wrapping up #Pizza4Equality soon but wanted to release a big thank you video for everyone! Enjoy the music from Cyndi Lauper's Tony-award winning musical, Kinky Boots! In the video you can get glimpses of the people and programs associated with the True Colors Fund.
I encourage you to stay in touch with True Colors and help their educational and advocacy efforts to end youth homelessness.
UPDATE: Executive Director of True Colors Fund Gregory Lewis has posted a thank you to supporters. He also explains some of the great things True Colors will be able to do with the money.
REAL LIFE. REAL NEWS. REAL VOICES.
Help us tell more of the stories that matter from voices that too often remain unheard.