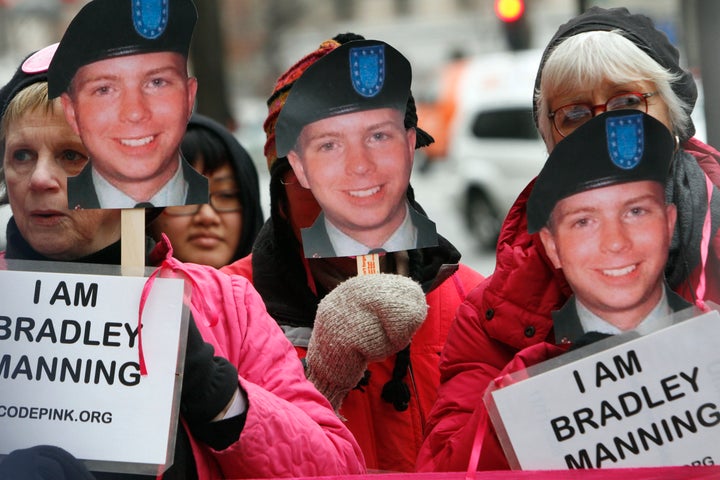 Hillary Clinton's spokesman has slammed the Pentagon for its "ridiculous" treatment of Bradley Manning, the U.S. soldier who is currently detained on allegations of handing thousands of confidential State Department cables to WikiLeaks.
Speaking at an MIT seminar in Boston, Assistant Secretary Of State For Public Affairs P.J. Crowley said Manning is being "mistreated" in the military brig at Quantico, Virginia. "What is being done to Bradley Manning is ridiculous and counterproductive and stupid on the part of the department of defense," he said.
Manning's treatment -- which includes being held for 23 hours daily in solitary confinement and being stripped naked every night -- has sparked the ire of civil rights advocates as well as WikiLeaks founder Julian Assange, who called the U.S. Army intelligence analyst a "political prisoner [held] without trial." But as the Guardian is reporting, Crowley's comments mark the first time anyone within the Obama administration has expressed concern over Manning's treatment, and are the first sign of a crack among lawmakers over the ongoing handling of the entire WikiLeaks saga.
Following the criticisms, Crowley went on to note that "nonetheless, Bradley Manning is in the right place. There is sometimes a need for secrets...for diplomatic progress to be made." As CBS is reporting, a State Department official has since insisted Crowley's comments reflected his personal opinion and did not reflect the official policy of the U.S. government.
At a Friday press conference, President Obama issued a statement in response to Crowley's remarks. "With respect to Private Manning, you know, I have actually asked the Pentagon whether or not the procedures that have been taken in terms of his confinement are appropriate and are meeting our basic standards," he is quoted by USA Today as saying. "They assured me that they are. I can't go into details about some of their concerns, but some of this has to do with Private Manning's safety as well."
Popular in the Community