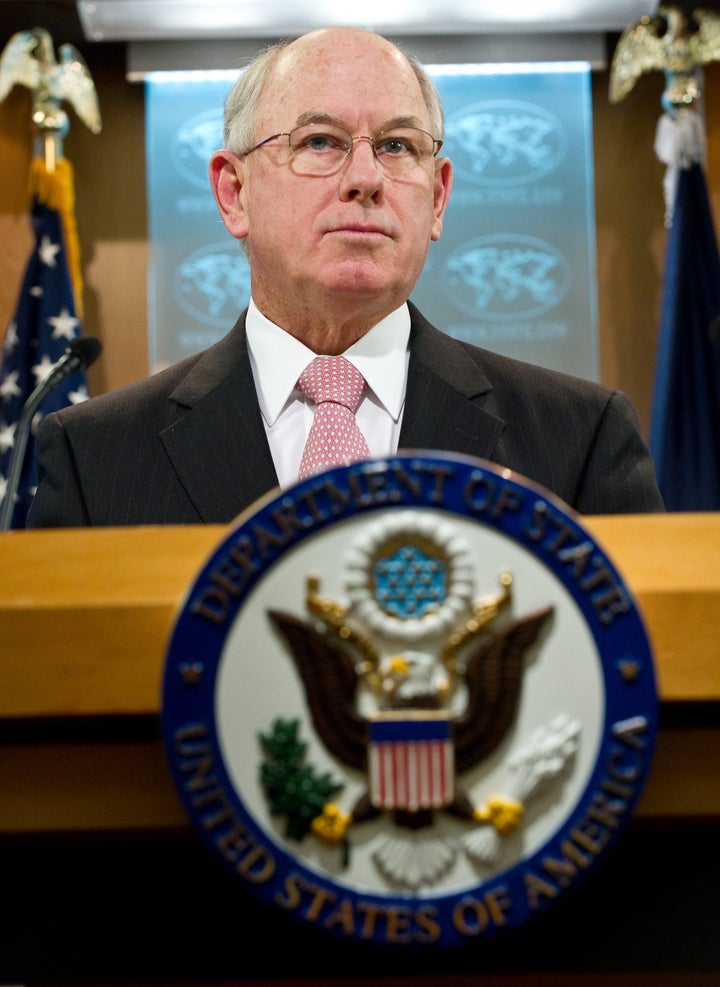 "It is with regret that I have accepted the resignation of Philip J. Crowley as assistant secretary of state for public affairs," said Secretary of State Hillary Clinton in a statement Sunday. "P.J. has served our nation with distinction for more than three decades, in uniform and as a civilian. His service to country is motivated by a deep devotion to public policy and public diplomacy, and I wish him the very best."
Crowley issued a statement of his own on his departure Sunday.
"The unauthorized disclosure of classified information is a serious crime under U.S. law," he said. "My recent comments regarding the conditions of the pre-trial detention of Private First Class Bradley Manning were intended to highlight the broader, even strategic impact of discreet actions undertaken by national security agencies every day and their impact on our global standing and leadership," Crowley said. "The exercise of power in today's challenging times and relentless media environment must be prudent and consistent with our laws and values."
Blogger Philippa Thomas relayed what Crowley had to say about the matter to a small audience at M.I.T. last week. He characterized the way in which the Pentagon has handled Manning's detainment as "ridiculous and counterproductive and stupid." He also said, "None the less Bradley Manning is in the right place."
Shortly after the remarks came to light, Crowley confirmed to Foreign Policy's Josh Rogin that the quotes accurately reflected what he had said.
Last Friday, President Barack Obama shared a different take on the treatment of Manning, whose civilian lawyer "has said his client's clothing is being taken each night because of sarcastic comments he had made about using underwear to commit suicide." The AP reported last week:
Obama said Friday that he had asked and the Pentagon assured him that Manning's confinement was appropriate. He declined to be more specific. Obama spoke at a White House news conference.
Crowley's resignation Sunday was sudden. As Michael van Poppel at BNO News noted on Twitter after the story broke, "Crowley released a statement on Yemen just 2 hours ago. Seems really abrupt."
As Mike Allen reported in last Friday's Politico Playbook, however, the relationship between Crowley and Secretary of State Hillary Clinton has been strained:
Crowley, a respected NSC spokesman under President Clinton, has never clicked with Secretary Clinton: He doesn't travel with the Secretary, which is crippling and unusual for someone in his post. His doom was sealed early this year when Mike Hammer, who had been the NSC spokesman, was reassigned to State. Technically, Hammer is Crowley's deputy. But everyone knows he is his likely replacement.
Clinton confirmed Sunday that Hammer will take over as acting spokesman for the time being.
Popular in the Community