PlaceInvaders is the latest pop-up dining series to hit Los Angeles. Started in New York by Brooklynites Hagan Blount and Katie Smith-Adair, PlaceInvaders aims to take LA by storm with delicious, five-course dinners, all made from scratch, in unique, transient locations.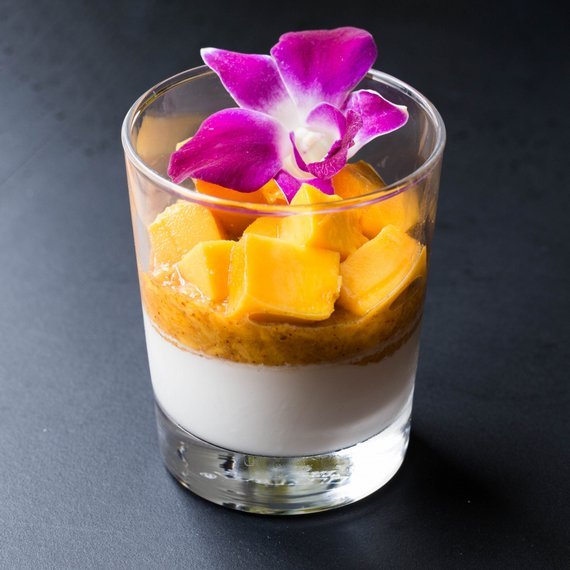 Though neither Hagan nor Katie have formal culinary backgrounds, they share a love for food, drink, and entertaining. After a year of creating covert NYC dinners in such unique spaces as a four-story Brooklyn brownstone from the 1820s, a graffiti-covered studio in the West Village, and a Chelsea loft decorated like an opium den, they've come to LA to throw a few dinners before venturing to Portland and Seattle. "By doing the dinners in different cities, we get to travel and find new inspirations," Katie told me.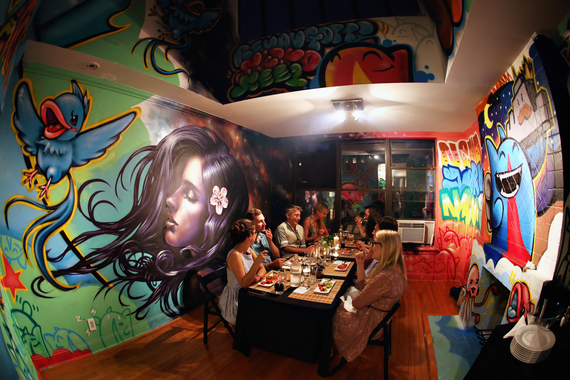 NYC PlaceInvaders dinner in a Chelsea loft
I was a guest at their first Los Angeles dinner at a gorgeous Streamline Moderne apartment in Koreatown. The space imbued abode envy in several of the attendees, thanks to its built-in art deco bookcases, mid-century furniture, walls of classic cartoon cells, and not just one but three rooftop terraces. We (about 16 guests in total) took in the sunset and views of the adjacent French Norman apartment buildings of K-town while sipping on champagne with St. Germain and savoring oysters as Hagan pulled them off the barbecue grill. The oysters, dressed in Sriracha, lime, garlic and butter, were scrumptious.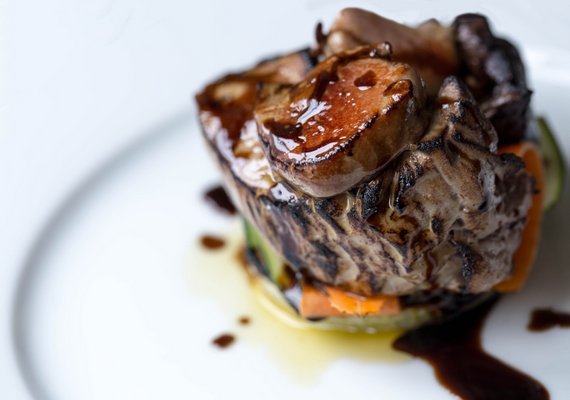 Tuna Masquerading as a Filet Mignon
We eventually moved inside and sat at a long dining table in the art-filled apartment. A salad of arugula and strawberries with hemp-seed dressing was presented to us, followed by ciabatta smothered in prosciutto, ricotta, dates, and pistachio dust. The main course, billed as "Tuna Masquerading as a Filet Mignon," was a juicy slab of lightly seared albacore indulgently capped with foie gras. The ravishing dessert course, coconut panna cotta with diced mango and togarashi mango coulis, was topped with an edible (and quite tasty) flower. Unlimited quantities of wine were served. Yay, Uber.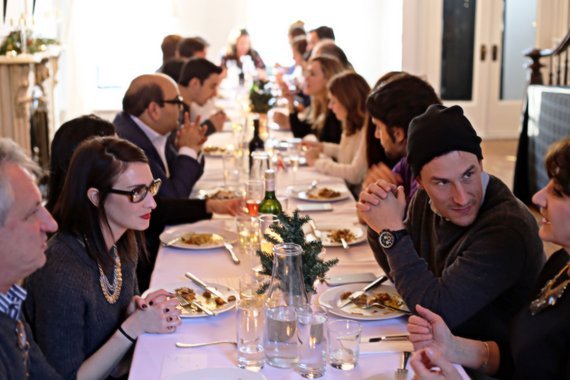 A PlaceInvaders dinner in a Brooklyn brownstone
PlaceInvaders' next meals are June 12-14 at an undisclosed location in Downtown's Arts District. To request an invitation, visit x.placeinvaders.co.
All photos courtesy of PlaceInvaders
REAL LIFE. REAL NEWS. REAL VOICES.
Help us tell more of the stories that matter from voices that too often remain unheard.