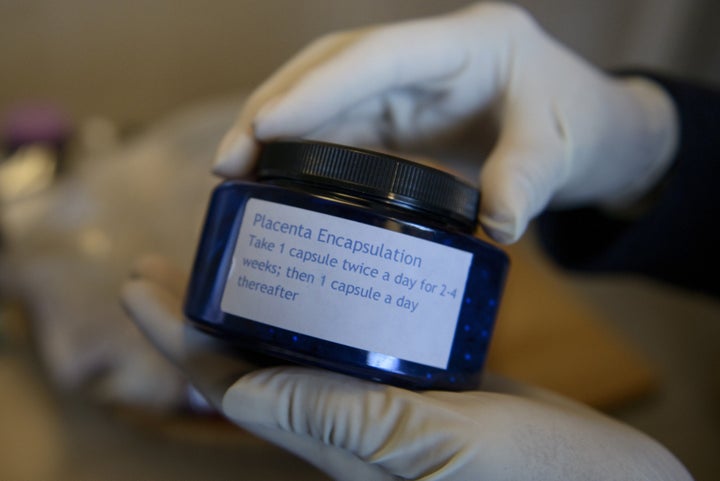 After sailing through my first and second trimesters of my first pregnancy, I felt pretty in the dark about what it would actually be like to give birth. So my husband and I signed up for a pre-birth class run by a local doula.
It was an intimate experience ― just four couples sitting in our instructor's living room each week and eating snacks served on her dining room table. She was welcoming and reassuring.
She also had a side business: placenta encapsulation.
The placenta ― the organ that grows inside a pregnant woman's uterus in order to nourish the baby ― can be dehydrated, ground up, and put into capsules that a woman can swallow after giving birth. Proponents say this can benefit milk production and help balance levels of hormones and iron, although little research has taken place to confirm these claims.
This practice has become more mainstream in recent years. January Jones, Kim Kardashian and Alicia Silverstone are among the celebrities raving about how they felt after partaking in placenta encapsulation. You can find stories about the trend in People and Us Weekly, and even The New York Times and The Guardian have reported on it. But when I was pregnant about six years ago, it was pretty unchartered territory.
All of us were a little taken aback at first, but the doula explained that our bodies would miss the extra boost in hormones and nutrients, particularly iron, after their abrupt removal during birth. This sounded convincing, but it turns out it's likely not true: Encapsulated placenta offers no more iron for new mothers than a placebo, suggests a double-blind, controlled study of 23 women published in November.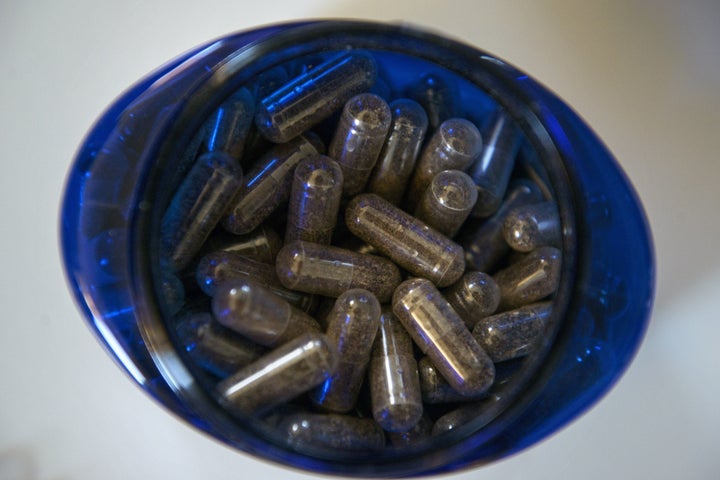 Still, all four women in my pre-birth class decided to have their placentas encapsulated.
The American Pregnancy Association has stated that there is no inherent risk for mothers who choose to ingest their own placentas, but research is sparse.
"There really isn't any good data on either side," said Dr. Crystal Clark of Northwestern Medicine School of Psychiatry. She said further study could illuminate any benefits ― and, more importantly, whether the toxins the placenta filters out are at levels new mothers should avoid ingesting.
Some food safety experts have concerns about preparation. Herbs and tinctures added to the placenta could trigger food allergies, for example. And some folk recipes for mixing the placenta into a smoothie or dehydrating it in an oven could lead to food poisoning, according to one 2015 study.
Most popular websites in support of eating the placenta cite outdated research saying it enhances milk production. One study, which is quoted on some popular websites about placenta consumption, is nearly 100 years old.
Yet I took my placenta pills dutifully. About three weeks postpartum, though, I got hit with mastitis ― an infection in the breast that many breastfeeding women suffer from. After the fever subsided, I gave up.
I recently asked a woman from my class, Bridget Ku, a 38-year-old software client support specialist from Toronto, about her experience taking the pills. She reported feeling a difference every time she swallowed the encapsulated placenta.
"I loved my placenta pills," she said. "I would take them and feel almost instantly giddy. Maybe it was the placenta or maybe the other herbs that were used in the drying process, but there was a notable difference in my mood."
Looking back, I don't remember feeling any such joy. I didn't feel much of anything, aside from the stress and anxiety associated with having trouble breastfeeding and adjusting to caring for a new baby. That highlights another potential danger of taking placenta pills: Women might not seek medical treatment for postpartum depression because they assume the placenta pills will prevent them from being affected.
"Don't forgo evidence-based treatment for postpartum depression in favor of the placenta pills," Clark said.
Some practitioners invoke traditional folk medicine, Eastern medicine and ancient wisdom to make the case for placenta pills. But aside from one possible exception in a 16th-century Chinese medical text, there is no recorded history of human women consuming their placenta, according to research conducted by Daniel C. Benyshek, an anthropology professor at the University of Nevada, Las Vegas.
However, it's likely that our hominid ancestors ate it, considering that most mammals ― including chimpanzees, our closest primate relatives ― do.
So why did we stop? Benyshek and colleagues hypothesize in another article that developing a domestic use for fire played a role: Women were exposed to more toxicants from smoke, negating any positive effects of eating the placenta.
Or perhaps, much like I did, early humans simply realized there was not much use. They had other things to tend to, like caring for that new baby.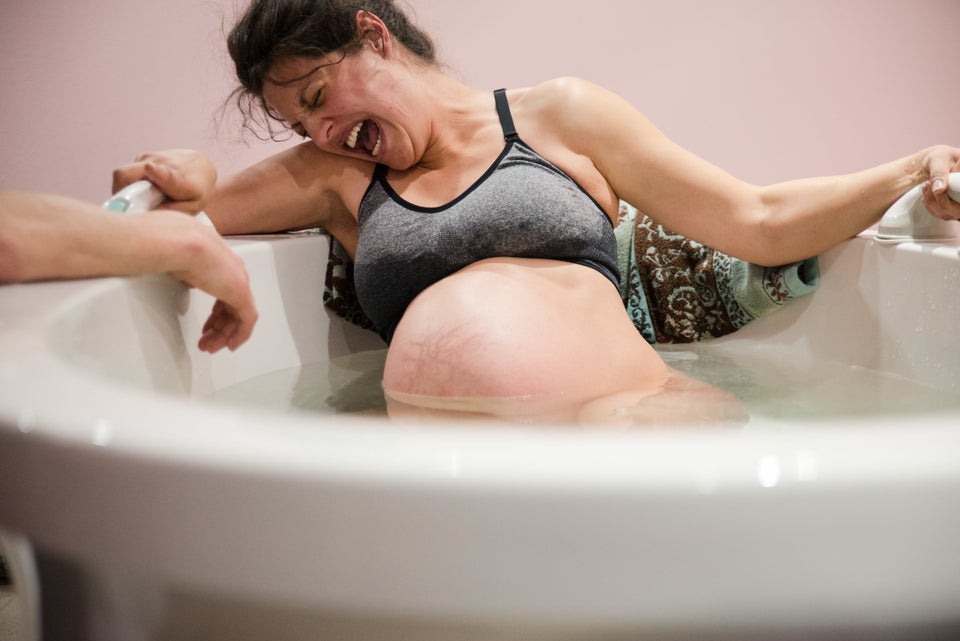 Moms' Incredible Strength In Childbirth