October 5th, 2012 marks the second annual World Wide Celebration of Plaid, a holiday named Plaidurday. The goal is to get as many people as possible to wear plaid, because you can never wear too much plaid. Plaidurday occurs on the first Friday of every October.
Sorry, no argyle at this party. Plaidurday requires intersecting stripes at 90-degree angles only.
After that, the choice is yours. Whether it is madras, tartan, gingham, buffalo or Glen plaid, bright colors or dull, it just has to be plaid.
Striped shirts have never appealed to me. It always felt like something was missing. A horizontally striped shirt seemed to be missing vertical stripes, and vice versa. Plaid, however, is another story. Through my 20s my collection of plaid blossomed. I would collect a new shirt occasionally, but most importantly, the collection never shrank because I would refuse to throw out an older shirt, no matter how old or dirty or small.
In 2011 my friends and I celebrated the inaugural Plaidurday and the word spread throughout the Midwest. The Chicago Fire participated, as well as Stormy Kromer in the Upper Peninsula, and one very dedicated fan of plaid all the way in Singapore.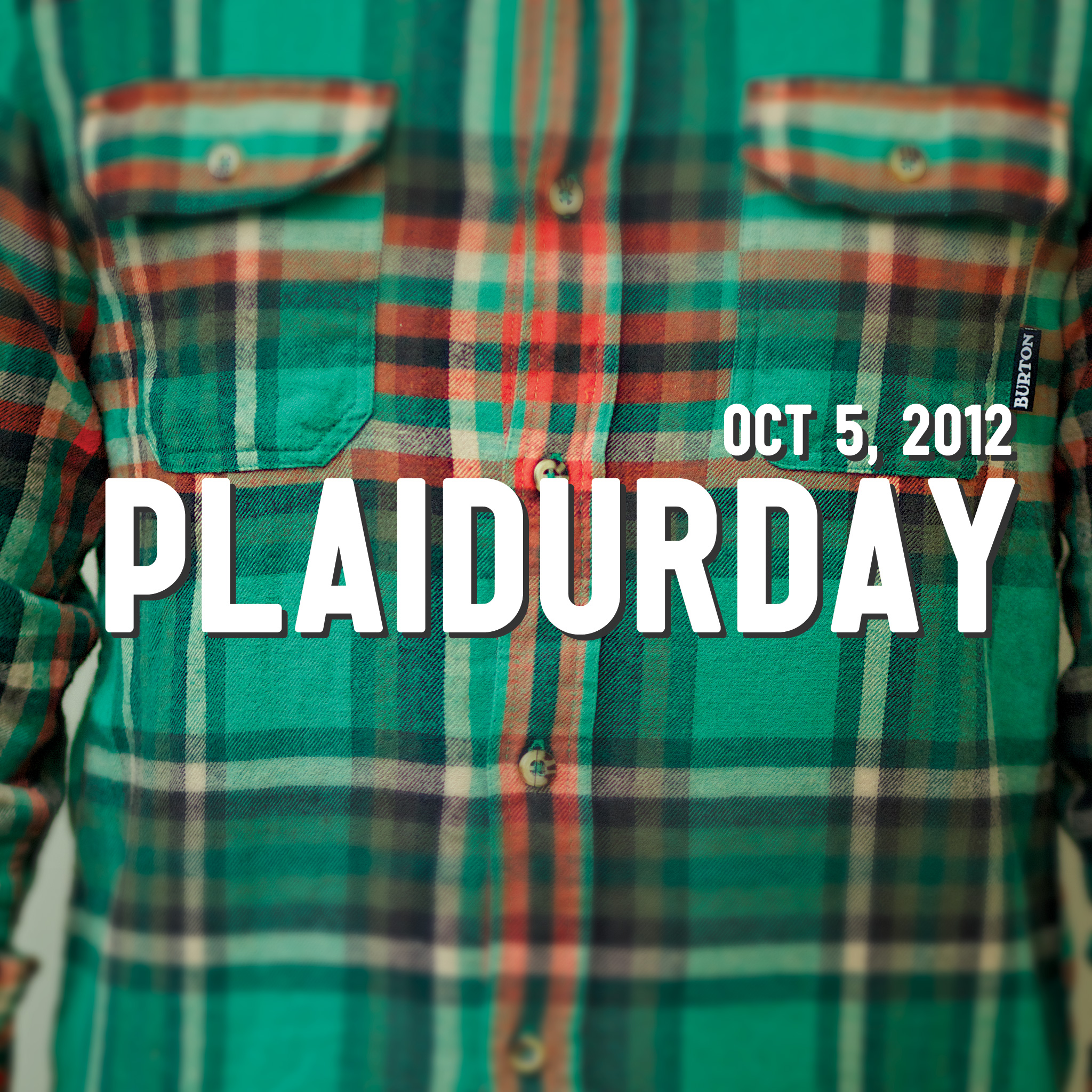 Plaid came about during the Acceleration of our species from neanderthals to homo sapiens, while we increased the Weight of our brains, allowing us to conserve our Energy during hunts, by shaving precious Seconds off of our day to day Octet of activities and chores, which in turn allowed us to utilize our Mass much better due to increased adeptness at Entropy. So...to break that down even more. Plaid = A*W*E*S*O*M*E
But you don't need to be in Lansing or Michigan to celebrate. You don't even need to be part lumberjack. Because wherever you are this Plaidurday, you too can wear plaid.
To summarize the wonderfulness of plaid, my friend Khalid assembled a list titled,
:
A state of physical ease and freedom from pain or constraint
Prosperity and the pleasant lifestyle secure by it
Consolation for grief or anxiety
Reassurance
Surely a man that handsome in a plaid sure knows a thing or two about plaid, though he prefers a flaid or plannel (a flannel plaid shirt).
Here are some ways you can celebrate Plaidurday:
Most importantly, wear plaid
Give someone a plaid shirt
Compliment someone else's plaid shirt
Encourage someone wearing argyle to try out plaid
Encourage someone with only horizontal stripes to try out plaid
Invite your friends to celebrate with you and have a plaid party
So grab a plaid shirt, get some friends together and celebrate plaid, the greatest fabric pattern in the history of our planet.
Calling all HuffPost superfans!
Sign up for membership to become a founding member and help shape HuffPost's next chapter