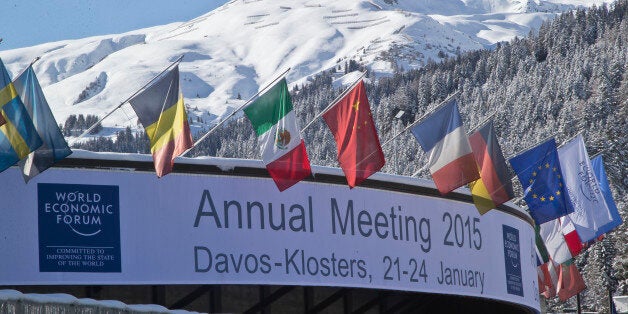 Who knows how many drafts Moses chiseled atop Mount Sinai to produce his stone tablets? But The B Team is now at the polishing stage with 10 challenges it plans to take up a very different mountain. It will launch its Plan B for Business platform in Davos, Switzerland, where the 2015 World Economic Forum summit opens its doors on January 21.
Such events are great for meeting movers and shakers, and we speak from experience. But is all this talk leading to timely, effective action -- and at the necessary scale? We believe the answer is no.
Business should be -- and some CEOs are -- increasingly concerned. Unilever's chief executive officer Paul Polman is among those Davos-bound this year. Like other leaders who have swung behind The B Team, he argues that the needle must be shifted radically to put the global economy on a truly sustainable course. "The issues we are facing are of such magnitude that it's not about one company doing this or that," Polman insists.
The challenge for top flight talking shops, the World Economic Forum foremost among them, is not simply to discuss stretch agendas but also to help implement them at the necessary pace and scale. Where they fail, the market must provide effective alternatives.
We sense that 2015 will be one of those extraordinary moments in history, like 1968 or 1989 -- when seismic shifts change the way that people see the relevant political and economic challenges.
There will be an avalanche of summits. In what Jeffrey Sachs of Columbia University's Earth Institute dubs the "Year of Sustainable Development", the UN has no less than three mega-events planned. There will be an event in Addis Ababa that focuses on the global financial system, another in New York that launches the Sustainable Development Goals, and the COP21 climate summit in Paris where attendees will begin to address what Lord Nicholas Stern called the biggest "market failure" in history.
In his new synthesis report on the post-2015 agenda, UN Secretary-General Ban Ki-moon stresses that everyone they consulted "underscored the need to integrate economic, social and environmental dimensions across the new agenda" -- what we dub the "People, Planet & Profit" agenda.
As Sachs argues, 2015 is now set to be "our generation's greatest opportunity to move the world toward sustainable development." Worryingly, though, when we interviewed former Norwegian Prime Minister Gro Harlem Brundtland for our new book, The Breakthrough Challenge, she was far from optimistic about the prospects for national governments stepping up. She insisted that the big task now is to reinvent government itself. An honorary leader of The B Team, she didn't underestimate the mountain to be climbed: "Reinventing government in an interconnected world is no easy task!" she said. "Still it must be done."
Our book is a primer for those interested in The B Team agenda for both the private and public sectors. It draws on over 100 interviews, an A-to-Z running from the most active Archbishop of Canterbury in memory, former oilman Justin Welby, through to Zhang Yue, the Chinese developer best known for building skyscrapers at almost supernatural speed. Our conclusion: the 'B' in B Team may stand for "better", but it must also stand for "breakthrough."
To build momentum, The B Team will release an annual State of Plan B report from 2016 onwards, spotlighting breakthrough innovation around the world. The focus will be on 10 priority areas, which we will outline in later blogs in this series.
Meanwhile, work already under way at The B Team includes a project spotlighting problems created by anonymous companies, an issue long targeted by NGOs like Global Witness. The crucial first step will be to ensure that a group of B Team members take collective action to tackle the issue through their supply chains by the end of 2015.
Other focus areas involve promoting 'people innovation' and better ways of working (guided by Richard Branson and Arianna Huffington), and true cost accounting, this time alongside the World Business Council for Sustainable Development.
Meanwhile, people continue to ask what the link is between The B Team and B Labs, the extraordinary American social enterprise driving the for-benefit B Corporation movement? Meanwhile, people continue to ask what the link is between the B Team and B Labs, the extraordinary American social enterprise driving the for-benefit B Corporation movement? The answer: The B Team just announced that we're joining forces. Brazil's Natura, for example, is both a core member of The B Team, through co-founder Guilherme Leal, and now also the world's largest B Corporation. Closer to home, both Volans and SustainAbility are B Corporations, and Volans is now working with B Labs to build out the UK chapter.
Over time, such collaborations will spread across the landscape of transformative change. In the meantime, we will report back on what happened atop the Magic Mountain. And we will issue invitations both to other CEOs interested in joining the B Team leadership team and to business people interested in helping to build national or regional chapters.
This post is part of a series produced by The Huffington Post and the B Team to mark the World Economic Forum's Annual Meeting 2015 (in Davos-Klosters, Switzerland, Jan. 21-24). The B Team is a not-for-profit initiative formed by a global group of leaders to create a future where the purpose of business is to be a driving force for social, environmental and economic benefit. Read all the posts in the series here.
Calling all HuffPost superfans!
Sign up for membership to become a founding member and help shape HuffPost's next chapter