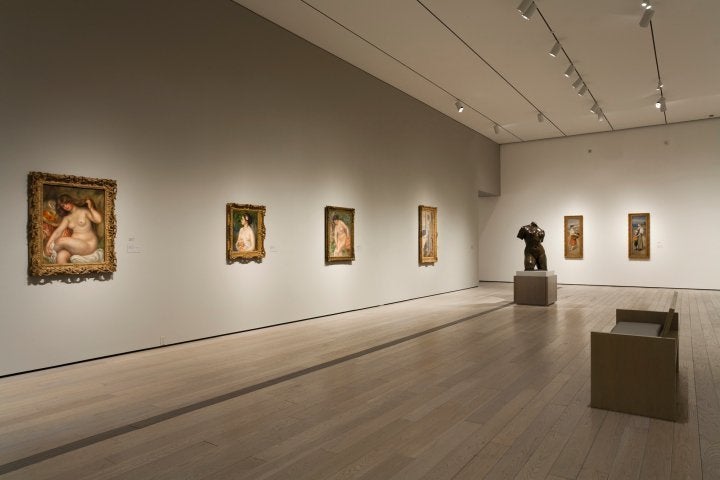 Architecture and Cinema: New and Rare Films
MAK Center at the Schindler House (West Hollywood)
7:30 p.m.
Sponsored by MAK Center, this event is the first of a three part film screening series featuring architecture films from around the world. Curated by filmmaker Thom Andersen, the evening includes screenings of Porto 1975 and Reconversão. Films will be screened in the courtyard of the Schindler House. Tickets are $10 and available online.
Luisa Lambri
Marc Foxx (Miracle Mile)
6-8 p.m.
Opening reception for an exhibition of works by artist Luisa Lambri. This show includes a series of Laserchrome prints. On view through November 24, 2012.
Brewery 2012 Fall Art Walk
Brewery Arts Complex (Downtown)
11 a.m.-6 p.m.
The biannual Brewery Art Walk offers the opportunity to tour the studios in the Brewery Arts Complex. The tour features over 100 participating resident artists displaying works including paintings, ceramics, video, multimedia works, sculptures, installations and performance art. Admission and parking are free.
Drawing Surrealism
LACMA (Miracle Mile)
10 a.m.-7 p.m.
Opening day of Drawing Surrealism, an exhibition exploring the significance of drawing and works on paper to surrealist innovation. In addition to well known surrealists including Salvador Dalí, Joan Miró, André Masson and Max Ernst, the show features works from lesser-known artists from countries in Eastern Europe and the Americas, Great Britain, and Japan. On view through January 6, 2013.
Robert Mapplethorpe: XYZ
LACMA (Miracle Mile)
10 a.m.-7 p.m.
Opening day of exhibition of works by American photographer Robert Mapplethorpe. The 39 black-and-white photographs in XYZ are divided in categories: homosexual sadomasochistic imagery (X); flower still lifes (Y); and nude portraits of African-American men (Z). This show runs concurrently the Getty's exhibit In Focus: Robert Mapplethorpe. On view through March 24, 2013.
Blues For Smoke
Geffen Contemporary at MOCA (Downtown)
11 a.m.-6 p.m.
Opening day of Blues for Smoke, an interdisciplinary exhibition focusing on a wide range of contemporary art, music, literature, and film through the lens of blues music, blues aesthetics, and the blues as a cultural sensibility. The exhibition includes works in a variety of media by roughly 50 artists from the 1950s to the present. On view through January 6, 2013. This show moves to the Whitney Museum of American Art in New York on February 7, 2013.
Taryn Simon: A Living Man Declared Dead and Other Chapters I-XVIII
Geffen Contemporary at MOCA (Downtown)
11 a.m. - 6 p.m.
Opening day of A Living Man Declared Dead and Other Chapters I-XVIII, an exhibition of photographs by artist Taryn Simon. This body of work was produced over a four-year period (2008-11), during which the artist travelled around the world researching and recording "bloodlines" and their related stories. On view through January 7, 2013.
Listening Party with Meg Cranston and Geoff Tuck
Address provided with ticket purchase
4-8 p.m.
Presented by SASSAS, this event includes dinner and drinks in an intimate setting with sound and music shared by well known and emerging artists. This event is Hosted by Steve and Sari Roden at the last remaining Wallace Neff bubble house in the United States. A minimum donation of $125 can be made online.
Neon Bus Tour Presented in Conjunction with Mary Weatherford
Departs from LA><ART (Culver City)
Friday, October 26th | 8-11 p.m.
The Museum of Neon Art | Neon Cruise™ is an urban electric adventure led by Eric Lynxwiler, who will give facts and fun throughout L.A.'s historic Broadway Theater District, Chinatown, Hollywood, and neighborhoods in-between. See the lights of Los Angeles atop an open air double-decker bus. The tour is presented in conjunction with Mary Weatherford's Bakersfield Paintings currently at LA><ART. There is a limited capacity; to buy tickets please call 310.559.0166 or email info@laxart.org.
Artists' Books & Cookies
ForYourArt at 6020 Wilshire Blvd. (Miracle Mile)
Saturday, October 27th | 11 a.m. - 8 p.m.
Co-hosted with Mexico City-based Biblioteca Alumnos47, this one-day event is devoted to artists' books and features presentations by contemporary artists, historians, curators, and critics that relate to the production of artists' books, their history, and their future. To accompany the discussions, Top Chef Masters Judge and LAist Food Editor Krista Simmons will select cookies from across Los Angeles to present throughout the day as refreshments and to encourage mingling and dialogue. The event will bring academic minds, artistic talents, and people simply curious to know more about artists' books together for these informal and formal exchanges, which will be streamed live by KCHUNG Radio.
Fifth Annual Literati Toast
Central Library (Downtown)
Saturday, October 27th | 8 p.m.
This benefit event for the Los Angeles Public Library will be hosted by Shepard and Amanda Fairey and feature appearances by Jack Black, Moby, Miranda July, and other artists who will read from or perform work that has been central and transformative to their development as artists. Food will be provided by Mas Malo. Tickets are $175 and available online.
Calling all HuffPost superfans!
Sign up for membership to become a founding member and help shape HuffPost's next chapter