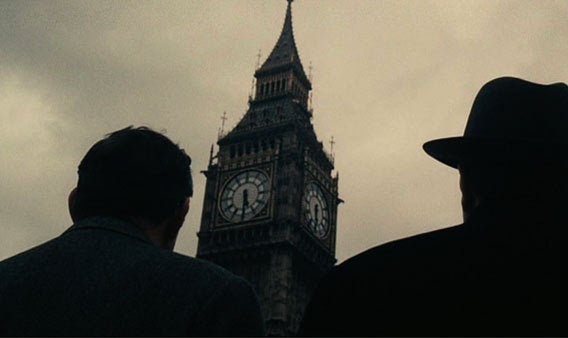 "Aggressive Zoology: How to Survive an Animal Attack"
MOCA (Downtown)
7 p.m.
Aggressive Zoology offers attendees insights on the tools necessary to prepare for, prevent, identify, and prevail during altercations with a variety of fauna, both wild and domestic. The free discussion is presented by the Fontbron Academy as part their Lectures for Better Living (Through Art) series of performative lectures. Topics to include why animals attack, preventative measures, and how to defeat an animal.
Mary Weatherford: The Bakersfield Project
LA><ART (Culver City)
6-8 p.m.
Opening reception for an exhibition featuring works by contemporary artist Mary Weatherford. In January, Mary Weatherford spent several weeks in Bakersfield, California to produce a series of seven paintings entitled The Bakersfield Project, made in conjunction with California State University Bakersfield's visiting artists program at Todd Madigan Gallery. Weatherford's work grows from her understanding of a particular site. Working in a subjective manner, Weatherford transforms her experiential knowledge into intuitive expressions of color and light. The Bakersfield Paintings were inspired by the city, past and present. Weatherford's seven large Bakersfield Paintings are named for the streets there. Each is streaked with custom strips of neon light.
Christian Marclay: The Clock
LACMA (Miracle Mile)
12 p.m. Saturday, September 22 - 12 p.m. Sunday, September 23
LACMA presents another 24-hour screening of Christian Marclay's The Clock, a 24-hour single-channel montage constructed from thousands of moments of cinema and television history depicting the passage of time. Marclay has excerpted each of these moments from their original contexts and edited them together to create a functioning timepiece synchronized to local time wherever it is viewed. This event is free.
Ai Weiwei Documentary Series
Hammer Museum (Westwood)
7:30 p.m.
Opening day of a three day screening series featuring a collection of documentaries about and by Chinese artist and domestic rites critic Ai Weiwei. The artist's 2011 detainment for three months in a secret detention center sparked a global outcry from human rights activists and the art world. The event begins with a screening of Ai Weiwei: Never Sorry, and continues September 25-26 with Chang'an Boulevard, Disturbing the Peace, Beijing: The Second Ring, Beijing: The Third Ring, and One Recluse. All screenings are free.
Artist Talk: Gilad Ratman
ForYourArt at 6020 Wilshire (Miracle Mile)
6:30 p.m.
Co-presented by Artis & Braverman Gallery, this event features a presentation by Israeli multidisciplinary artist Gilad Ratman. The discussion to focus on Ratman's recent work and preview his project at the Israel pavilion at the 2013 Venice Biennale. RSVP for this free event at andrea@artiscontemporary.org.
Calling all HuffPost superfans!
Sign up for membership to become a founding member and help shape HuffPost's next chapter