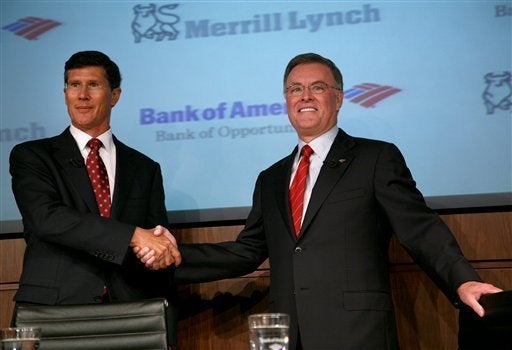 People had all along compared the new-look, post-Merrill and Countrywide Bank of America to the behemoth Citigroup, calling them both "too big to succeed." Now, 24/7 Wall Street compares them again when it asks if the Citigroup bailout will be a model for a coming Bank of America bailout:
In among the small print of all the news accounts about the Citi rescue, the FT found a bit of interesting detail: "Citi and the US government made it clear that the Citi arrangement would be extended to other banks that pose risk to financial system stability, if need be."

The "arrangement" is probably not meant to save the Fifth Third Bank Of Akron. Logic would say that it is in place in the event that another large financial firm begins to teeter the way that Lehman did before it failed, the way that Morgan Stanley (MS) did before its got a capital infusion from Mitsubishi UFJ, and the way that Citi did last week.

Which bank could be next? Bank of America (BAC), which took on billions of dollars of mortgages with its buyout of Countrywide, may not be a bad candidate. Neither is Morgan Stanley (MS), which analysts believe will lose $.80 a share in the current quarter.
24/7 Wall Street also predicts that the current government plan to save Citigroup won't be big enough, and that the government will be obligated to pour more money into the bank before long:
Citi's market cap is only $20 billion so it is not a stretch to say that, for the time being, the Treasury effectively owns that bank. This is doubly true because it has committed the government to move into Citi again if the bank's losses grow beyond what the current package covers. This is not a contractual commitment but the Treasury will have to add more capital to protect its first investment and defend its philosophy that the bank is too big to fail". Citi's troubles are not over. Its consumer debt could still swamp the bank in losses.
Popular in the Community