 Traveling to visit refugees, one expects to see and hear certain things. I recently visited a refugee camp in South Sudan, however, and it was the unexpected things I found there that made the deepest impression: the real challenges and steep cost of getting aid to the refugees.

In any refugee camp in Africa one will find people of all generations crowded together in shelters hastily erected from local building materials such as tree branches. Boreholes and pumps provide not only water, one of the basics to sustain life, but also serve as a gathering place for people and children who like to play. In the maternity areas of make-shift clinics, expectant mothers get counseling on staying healthy and babies are born.

Having read up on the Yida refugee site before visiting, I also knew that there had been reports of severe malnutrition among newcomers to the site who had fled fighting in Southern Kordofan, across the border in Sudan. Heroic and largely successful efforts had been made to provide emergency feeding for those children who needed it, so there were few children getting that type of urgent care when I visited. (With the approach of the dry season, the site's doctors fear more malnourished refugees may soon try to reach the camp, and they are preparing for that possibility.)

What surprised me on this trip, however, were the enormous logistical challenges faced by humanitarians who were trying to help and protect both the refugees and the communities that host them. Yida in Unity State and the Maban camps in Upper Nile are very difficult places to reach and quite far from South Sudan's capital city of Juba. In the rainy season, the dirt roads to both areas are completely cut off for months at a time. This has meant that aid supplies have to be stockpiled in advance of the rains or flown in at incredible expense.

The UN refugee agency (UNHCR), World Food Program, and others did attempt to stockpile foods and other supplies last winter and spring, but larger-than-expected numbers of refugees arriving right before the start of the rainy season meant that even more was needed. And, while it is possible to fly in relief supplies, this is an extremely expensive way to deliver aid. More food and other necessities can be provided to the refugees when cheaper methods of transport are available. The United States has provided over $53.1 million to support the response for the refugees from Southern Kordofan and Blue Nile. Still much more is needed, as evidenced by the fact that UNHCR has still only received a third of the $219.9 million it requires to respond to the current and expected refugees.

Air drops do make a stirring sight at Yida. The large World Food Program cargo plane flies overhead and then circles back several times. At each pass, the rear hatch of the plane opens and white packages rain down from it. When the packages hit the ground, puffs of red-yellow dirt fly up in the air, temporarily creating a cloud hovering right above the airfield. Upon closer inspection, the white packages turn out to be sacks of grains and pulses, like lentils. They have been packed in four or five bags because they find that even if some bags split upon impact, others will hold. For those few bags that do have burst seams, teams of women with small brushes (really twigs) and dustpans follow behind to collect up what has spilled and take it to be cleaned.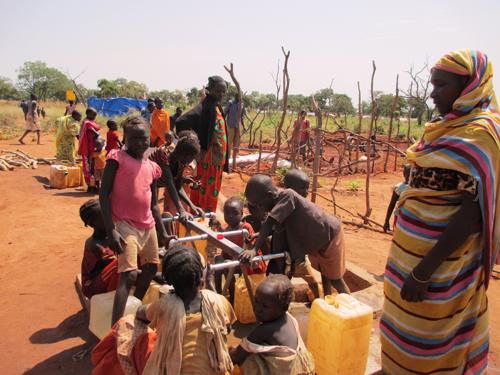 Airdrops, I was told, are more efficient than ferrying supplies by helicopter. But much more aid could be brought in for the same cost by trucking in supplies overland. And the least expensive way to reach refugees in a place like Maban, another set of camps that lies in the northeastern part of the country, along the Nile River, is to bring in supplies by barge. But barges right now are scarce -- stuck in Sudan to the north or commandeered for other uses.

In the past, oil companies that normally work in the area have undertaken the annual task of grading and improving the roads at the end of the rainy season. This year the oil companies were not operating because of the oil shut down that lasted for months. Their road and drilling equipment sat idle.

While in South Sudan's capital of Juba, I received an update on a State Department-supported project to get more water to refugees in the Maban camps in Upper Nile state. Aid agencies were having a terrible time finding water and trucking it in was expensive and difficult. The aid agencies would drill borehole after borehole, only to have these collapse or strike rock. There were only a limited number of heavy drilling rigs in all of South Sudan capable of doing the job.
A handful of bureaucrats in Washington, working with diplomats from Geneva to Juba, decided to find and enlist a more formidable engineering effort. After several false starts, they were able to modify a U.S.-funded training program so that engineers from the South Sudanese military could get on-the-job training drilling boreholes for new refugee sites. The project required bringing a specially configured drilling rig in from South Africa by air because the roads were impassable by then. UN Peacekeepers were also able to supply a few pieces of needed road equipment.

In coordination with UNHCR and its engineering partners, their exercise to drill 15 boreholes started in August and has so far drilled six boreholes. Some came up dry, one hit rock, but two are producing large quantities of water -- enough to make a major difference in the health and well-being of the refugees.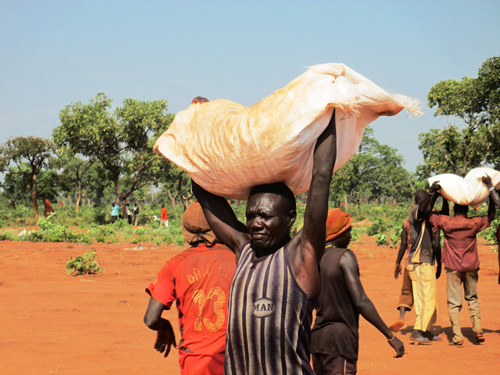 All of these efforts undertaken to help refugees who have fled to an inhospitable patch of land in a remote area of South Sudan are good, but they are not enough. In a meeting with UN agency heads in Juba, they explained that much more aid could be delivered if the price of transport could be lowered. "We are spending the equivalent of $110 on the cost of transportation and logistics to deliver $100 worth of aid," the UNICEF representative told me. Competition for transportation, the price of fuel, high prices for goods purchased in South Sudan and impassable roads all drive up the price.

Of course, the best way to save lives along the border between Sudan and South Sudan would be to have an end to the fighting in Sudan's Southern Kordofan and Blue Nile States. Until that happens, we must do more to help those suffering from conflict. Before leaving Juba, I spoke to UNHCR and USAID colleagues about their work building roads with UNOPS, the UN's experts at procurement and project management. Road building may not be the image that most people think of when they think of aid to refugees, but in South Sudan, good roads are a matter of life and death.
Photos by Caroline Raclin
REAL LIFE. REAL NEWS. REAL VOICES.
Help us tell more of the stories that matter from voices that too often remain unheard.