A month ago I was making my way back home to Arizona after a cross-country trip to Connecticut to attend my grandmother's funeral. It was not a happy occasion, but as I sat down in my seat on my flight from JFK to Atlanta where I would be laying over, a fortuitous thing occurred as I shook hands with my seatmate. Her name was Saleena and we would end up talking the entire three plus hour flight -- and then some. As a writer and activist, I always have my radar up for like-minded souls, which is exactly what I found in Saleena.
An ER doctor from New York City, our conversation began as I learned of her connection to the doctor who had contracted Ebola and was, at that point, quarantined for treatment as authorities tracked his previous whereabouts in the city. The more questions I asked about her life, the more I learned about this kind-hearted woman who had her eyes set on even more than the good she was already accomplishing in medicine -- Saleena wanted to raise awareness about the plights of society even more so, and she aimed to do so beginning in India.
As the flight made its way down the eastern seaboard, I would come to learn even more about Saleena Subaiya, a woman of many talents who actually took to film even before going down the medical path.
"I held my first camera at age 5, developed my first photo at age 10 and edited my first short video at age 15," she told me. "I was lucky to be in an arts program that took up a third of my high school day in public school -- this is where I first discovered the beauty and collaboration in filmmaking. I wanted to pursue a film major in college, however was steered by some Indian parental pressure and love for science into medicine. That did not stop me from taking every film class that was available at my university while completing my pre-med requirements."
As Saleena tackled sleepless medical school nights, she had her sights set on treating more than individual patients; she wanted to reach whole communities through the public health arena. She ended up volunteering with Tibetan refugee camps and seeking out grants to work in East Africa to further this mission.
"Here is where I fell in love with the concept of the human story," she said, "and suddenly I could not stop watching and thinking about documentaries." She knew the power of film and how documenting commanding human interest stories could facilitate change. After spending her time in less developed countries and villages, the idea for her own documentary -- Sunday People -- came to her.
The phrase 'Sunday People' was born years before the idea for a documentary evolved," she explained. "I was living and working in Kenya for a year with Jeff and Sonia Sach's development organization, Millennium Villages Project. Kenya is a particularly tough place; corruption is rampant, bribes are commonplace and mob-justice is a part of life. It was after a hard week of begging the central blood bank for a measly two pints of blood for an entire hospital, watching a child die while waiting to be seen by a doctor, that I came up with the phrase. My friend wanted to swing by on Sunday with a few friends and I remember asking him, 'Are they people I'd want to hang out with after this crazy week on a Sunday?' When he assured they were good people, I told him, 'Okay. Sunday people are fine with me.' I ended up meeting two of the most incredible humanitarians ever as a result, and that phrase forever remained as a descriptor for down-to-earth, motivated and compassionate people.
Saleena's own Aunty Ira in India was the Sunday person who most impacted her and planted the seed that would grow into a Kickstarter project for her film. According to Saleena, Aunty Ira "worked in a grassroots organization teaching and improving a school for the blind for a large part of her life. She now has Parkinson's disease and is limited in her strength and mobility. I was always impressed by how strong and driven she was, and how, despite her own disability, she gave so selflessly to others. Her ambition and passion inspired me and, as an aid worker myself, I always would question what drove us all to do work that was seemingly insurmountable. The scope of poverty is huge, but there are so many who choose to still fight an arguably losing battle."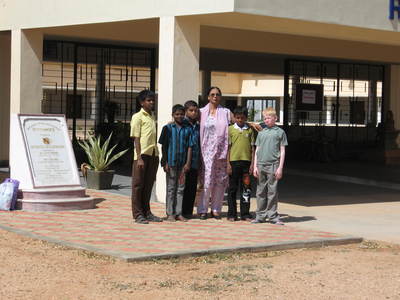 Aunty Ira with the children she worked with at a school for the blind in India.
The importance of her project comes in Saleena's mission to depict issues of civil conflict, climate change, health disparities and the like that particularly impact the impoverished in so-called Third World countries "through the lens of someone who sees hope, who believes in a solution and who is willing to sacrifice to reach it." Doing so makes such issues more approachable to those who are not and would never consider entering the development sphere.

"It is easy to read a paper that says '5,000 die of Ebola' and shrug your shoulders and simply say, 'Well, that is awful,'" she noted. But to see what development workers are up against and the realities for humanitarians on the ground? True change can come from opening such a lens.
"It is my hope to highlight organizations that are doing development with innovation, cultural respect and with a mindful purpose," she went on. "I also want to show the people who actually make this their livelihood, and find happiness and solace in living a simple life with purpose."
Saleena decided to turn to Kickstarter to fund her project, despite original fears that she might not make her funding goals.

"Kickstarter always scared me. To go all in means to have unwavering belief in yourself and your project. I believe that your dreams should be so big that they scare you, so it seemed like the logical choice. I felt like I was putting myself out there in a way that would force me to get behind everything I was saying, and I realized ultimately that I DO believe in this, I DO believe in the projects we are highlighting, and I do believe in myself."
Potential donors will be taking part in a film that has the potential for far-reaching impact beyond any entertainment aspect. "By highlighting to the world the problems that we face, we are making each other more conscious, more honest and more aware," she attested. "We are also allowing ourselves to believe that we are in fact capable of change by seeing those so ferociously fighting for it. And these are not people who have four degrees or who are independently wealthy. These are ordinary humans. They are like us."

In Winston Churchill's words, "We make a living by what we get, but we make a life by what we give." For Saleena Subaiya, she lives these words on a daily basis and hopes to inspire others to follow suit.
Calling all HuffPost superfans!
Sign up for membership to become a founding member and help shape HuffPost's next chapter