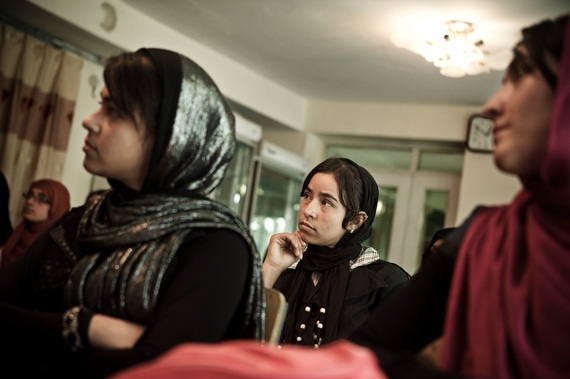 International Women's Day is a time when we celebrate the social, economic, cultural and political achievements of women around the world. It's also a time when organisations, including Womankind Worldwide, make a rallying cry to ensure that the momentum for change in women's rights and gender equality continues. The fight is not over yet.
In 2016, the challenges women face to take on leadership roles, particularly in politics, are still substantial. Despite the fact that women's rights activists have been campaigning for greater representation since the 19th-century, women still represent less than one quarter of political figures globally (22%) and there is not enough being done to change this. When women's voices aren't heard in decision making, the deep-rooted causes of gender inequality and discrimination remain.
This International Women's Day, Womankind, which works in partnership with women's rights organisations around the world, is launching research conducted in Afghanistan, Ghana, Nepal and Zimbabwe, focussed on women's political participation and what works to get more women into politics and public life.
The research found that the absence of safe spaces for women, lack of economic empowerment, low literacy levels and strong cultural traditions are all key obstacles to women having a voice, but that women's groups and women-only safe spaces can help women find the confidence and gain the skills to take on leadership roles in their communities and, in some cases, run for elected office.
Evidently, all of these countries provided very different contexts but, despite these differences, the value of the safe spaces was felt by all of the women across all countries; they are important for building women's confidence, self-esteem and agency. Women meet other women, learn, share, make friends and start to do things together. These spaces also enable women to feel empowered to take action to address problems in their communities and many are inspired to contest leadership roles, or take on greater responsibilities in their community

In Afghanistan, the creation of safe spaces by our partners has given women the confidence to participate at district meetings, including speaking out against policies and projects put forward by men which didn't support women's rights. In Ghana and Zimbabwe, women said that their new learning and confidence had enabled them to talk to their husbands or brothers about, for example, the use of farming land, or how to raise girls and boys equally. In Nepal, safe spaces enable Dalit women to work together to challenge caste-discrimination.
Women's rights organisations are fundamental to the creation of safe spaces for women and are the missing link between the local and the national. As demonstrated in our recent research, they are able to galvanise participation at the local level whilst also advocating for change to national governments. Women's rights organisations also understand the political contexts and the fine balance between pushing for radical change without placing the women they work with, and for, at further danger.
There is currently increasing attention to issues relating to women and girls from development actors, which Womankind welcomes. Private foundations, international and national NGOs and bilateral donors have all expanded their focus on women and girls. Despite this focus, women's rights organisations are not able to tap into these funding opportunities.
Offering more support and long-term, flexible funding to locally-based women's rights organisations is essential to the provision of safe spaces and increasing women's participation and leadership in politics.

To raise awareness of women's participation in politics, Womankind has created an app for International Women's Day, highlighting the many hurdles women face to find a voice in their communities. Find out more about the Suffragette Roulette app, the new research and the support Womankind provides to women's rights organisations, by visiting the Womankind website.
This post is part of a blog series produced by The Huffington Post in conjunction with International Women's Day, celebrated on March 8, 2016. A What's Working series, the posts address solutions tied to the United Nations' theme for International Women's Day this year: "Planet 50-50 by 2030: Step It Up for Gender Equality." To view all of the posts in the series, click here.
REAL LIFE. REAL NEWS. REAL VOICES.
Help us tell more of the stories that matter from voices that too often remain unheard.