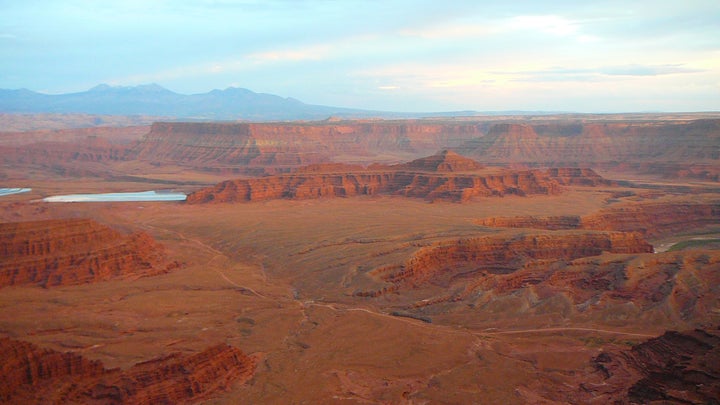 This is no hyperbole: Southern Utah has the greatest concentration of natural wonders in the world!
But these wonders are not your ordinary lot; say waterfalls, impressive mountain peaks, or forests with lakes. We are talking about the most awe-inspiring, eerie, otherworldly landscapes to be found anywhere on the planet.
Look at a map of Utah. Draw a rectangle in the south: The upper horizontal side will begin at Moab and will be parallel to the lower one at the southern border, while the other two sides will be the existing vertical borders of the state. Located within this rectangle are several million acres of protected land with state park, national park, or national monument designations.
Each one of these parks is actually a huge complex of many attractions. It is not that you go to Arches National Park and just see a few arches. Arches has many incredible attractions, stand-alone stone formations, and landscapes, each one of which would have been an attraction worth visiting on its own had it been located anywhere outside the park. Highlight stone formations here include such weird structures as the Tower of Babel, the Parade of Elephants, and the famous Delicate Arch (which proudly adorns every Utah license plate). To properly explore all these sculptures of Mother Nature, one needs to drive within the park for more than twenty miles, and hike for at least three. A minimum of two days is necessary to absorb and truly "get into" this incredible world in order to capture its soul. And we are talking about just one of these parks. Exploring the other national parks and monuments, you soon realize that each one is very different from the other.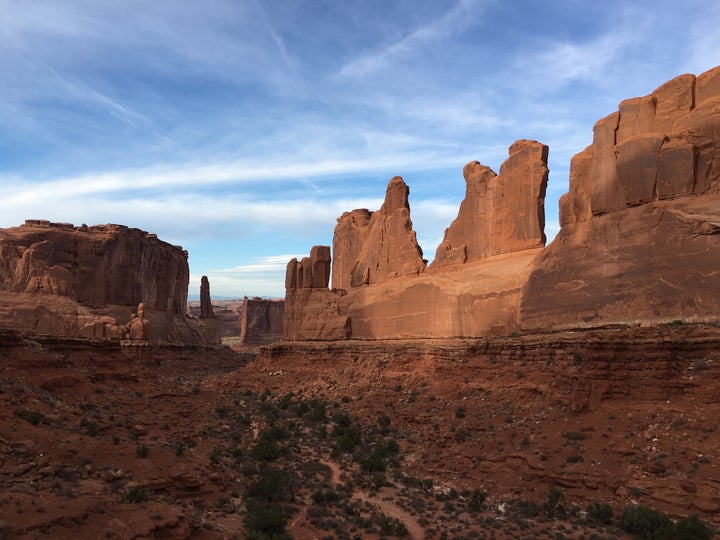 While in Arches you see natural sandstone sculptures emerging from the ground as you meander through; in Canyonlands you arrive at the top of a mesa and have an aerial view of the canyons below, as if you are in the clouds looking down on planet earth. It is not by coincidence that Canyonlands' most famous viewpoint is dubbed "Island in the Sky"! Admiring this aerial view, you observe an extreme, undulating natural diversity of color, shape, and texture that surprises and delights.
Goblins State Park is a fairytale land where you get lost between the innumerable mushroom-top-shaped sand hoodoo "goblins." Walking between them you feel like Alice in Wonderland in a prehistoric landscape. You become a child, hiding, playing peek-a-boo with your partner or your kids, climbing on the back of the goblins and posing with them for unique photos.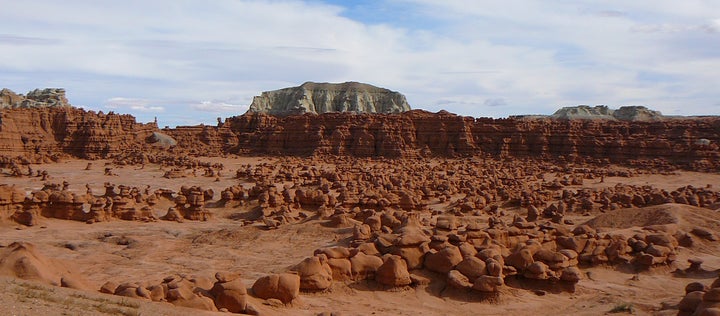 In the Grand Staircase-Escalante National Monument, as you drive south along the scenic byway 12 towards Bryce National Park, the high, narrow road hugs the thin ridge of the mountain and is flanked by steep canyons on both sides, this time making you feel as if you are driving on an island suspended in the sky! This is not just an incredible drive, but also an engineering marvel constructed a century ago.
The stone "amphitheaters" of Bryce look like a thousand melting candles frozen in time, colors changing every few minutes as the sun moves. Surprisingly, the road from one of these barren desert attractions to the other takes you through a dense forest.
The Valley of the Gods is the most eerie landscape I have encountered in the US so far. The sandstone cliffs and isolated natural sculptures seem to forever recede into a misty, grayish background reminiscent of sci-fi landscapes in faraway galaxies. As is evident by its name, some believe the gods live here, but I have the feeling that this is the place extraterrestrials will choose for their first landing when they finally decide to visit us!
The most photographed of all, Monument Valley, featured in many of John Ford's films starring John Wayne, is both the quintessential American cowboy land and the one most reminiscent of the cultures lost by the displacement of Native Americans. Here, even the touristy horseback riding is worthwhile: You become the protagonist in the cowboy Hollywood movies you grew up with.
Zion, more than any other National Park, suggests the existence of another dimension of Being. Here you leave behind not just our solar system and galaxy, but also the world as we know it. A combination of undulating stone cliffs from which trees seem to pop up from rocks, deep canyons, and monumental structures unique to the area transposes you to one of those Buddha-fields portrayed in many Tibetan thangkas. Now you are certain: There is more to Existence than the visible world.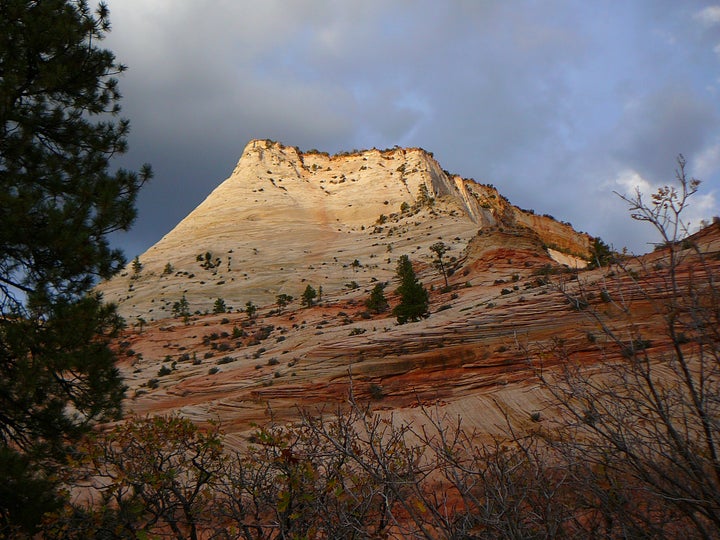 But this is not all. What is most amazing about Utah's wonders is that they are not only concentrated in its famous national parks, but they are scattered all over the land between the parks. Moving from one park to another, there are other "parks" that have simply not been honored with the name, lest half the state of Utah become undevelopable. For example, near the Arches there's the mesmerizing scenic byway U-128 that meanders along the canyon carved by the Upper Colorado River. You drive between the red vertical rocks and feel that you are about to travel to Jules Verne's center of the earth. A little bit further down is U-279, the full-of-surprises Potash-Lower Colorado River byway, which includes prehistoric rock art and dinosaur tracks. And beginning from the eerie Valley of the Gods going northwest towards Escalante NM, there is another amazing scenic drive along SR-261 all the way to Hanksville – a route that one may enjoy on one's own as there is virtually zero traffic on it. Basically, the whole south of Utah is one gargantuan natural park!
While I was exploring all these places, I recalled how, in many countries around the world, some petty stone formations or strange landscapes (that are much inferior in scale and beauty to the average wonders of Utah) are considered big attractions. And I suddenly came to the following shocking realization: If any one of these wondrous natural sculptures of Utah were to be beamed to any other country, it would instantaneously become one of the biggest attractions (and in most cases the biggest) of that country!
It is worth visiting at least once in your lifetime the USA in order to see just this – planet Utah.
Popular in the Community