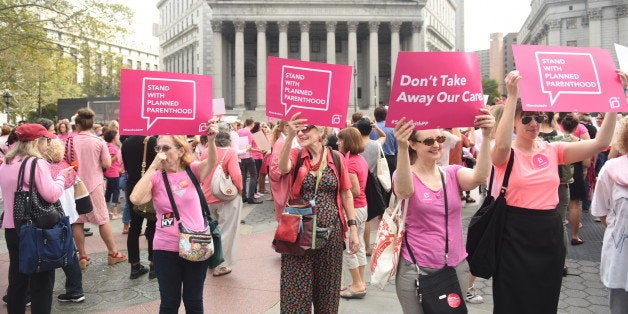 They were last night as I walked in to a Planned Parenthood discussion on "A Celebration of Faith and Reproductive Health."
They're always there, the voices to protect the unborn.
A few protesters waved graphic images of bloody broken babies and held "Planned Parenthood = Murder" signs. A man on a megaphone shouted Scripture from the curb.
For a moment I wondered about all the good these protesters could do if they combined their passion and turned it into everyone's cause. Because everyone wants to reduce unwanted pregnancies and abortions.
As I walked into the meeting room I was struck by the number of men who showed up, men who don't own a womb but must understand why they must never own mine.
I grabbed a chair in the front row and listened to a panel of faith leaders and one secular humanist share why they support reproductive rights in the context of their beliefs.
Rev Davis, former Chair of Planned Parenthood's Clergy Advisory Board, spoke frankly about his years as chaplain at Skidmore College during the late 60's.
When he first started he told his wife, "How hard could it be to counsel 1400 girls?"
"'You're an idiot,' she said, 'It'll be hard.'"
One day a young girl, pregnant and terrified came to him. Rev Davis counseled her the best he knew how.
"I had no idea, all I knew was she was the one suffering and scared, not me. I couldn't live in her shoes so how dare I judge? I told her, you're human. You're not a bad person. Just learn from this."
Before the girl walked in she'd already decided to get an abortion in Puerto Rico, and when she walked out, she did.
We can debate whether this girl's livelihood was saved or her fetus's was destroyed.
But what's the point? We're unbudging about abortion. Our views don't shift. Our gut or God tells us what's right, and nothing and no one will tell us otherwise.
Our only hope is to find common ground.
At the beginning of the panel discussion Rev Davis introduced our local and beloved Rev Fulwider who was recently honored in Washington DC for his long time support of Planned Parenthood. Rev Fulwider told us about the time he took some college classes in women's studies and feminism.
"I'm a feminist, but as a white Anglo-Saxon heterosexual male I had no idea what oppression felt like, what it meant to have my voice quieted so I wanted to learn from those who did."
That's what Jesus sounds like to me, that is if I still followed Christian teachings.
Jesus is this sort of calm voice of reason, compassion, faith and humility. His words are timeless, but the meaning of his words move with the times.
Frankly I don't know anyone who wants to abort babies. I don't know anyone who wakes up and says, "Ok pro choice people, let's get our numbers up today!"
I only know people who want to lower unwanted pregnancies and abortions through access to affordable effective birth control.
I only know people who want kids to get real life age appropriate sex ed alongside non-shaming abstinence-only talks.
Because like it or not, kids are having sex.
I only know people who want men and women to get health services they can't afford anywhere else, including pap smears and HIV and STD testing and referrals for mammograms.
I only know people who want women to have control over their own bodies because freedom has to has to has to, include this.
Margaret Sanger, the founder of Planned Parenthood was well-known as a devout atheist. "She thought we were all nuts," Rev Davis told us. "But she was smart enough to know she needed to work with clergy to help her cause to make birth control legal."
So for decades Margaret looked for clergy who like her, grieved the thousands of large families starving in crowded rat-infested apartments, who saw women dying after pushing out babies one right after another, women broken and often suicidal because they couldn't bear to have one more child.
Compassionate faith leaders heard Sanger's plea and they knew that life is not sacred, when life is only about survival and suffering.
These faith leaders, many who went against church teachings and religious authority knew that when they looked at the starving overcrowded families, when they looked at poverty that rose from forbidding birth control, that this could not be the face of God.
And although Margaret Sanger was actually against abortion, ultimately she supported a woman's right to decide if, when and how many children.
"It is woman's instinct, and she knows herself when she should and should not give birth to children, and it is just as natural to trust that instinct and to let her be the one to say, and much more natural, than it is to leave it to some unknown God for her to judge her by. ~ "Debate On Birth Control: First Speech." "

So on the 100th anniversary of Planned Parenthood I want to thank every faith leader who supports reproductive rights here and around the world. Thank you for allowing your compassionate common sense to to sit along side age old religious beliefs.
You are who I envision when I say religion can be good, when religion is used for good.
Popular in the Community