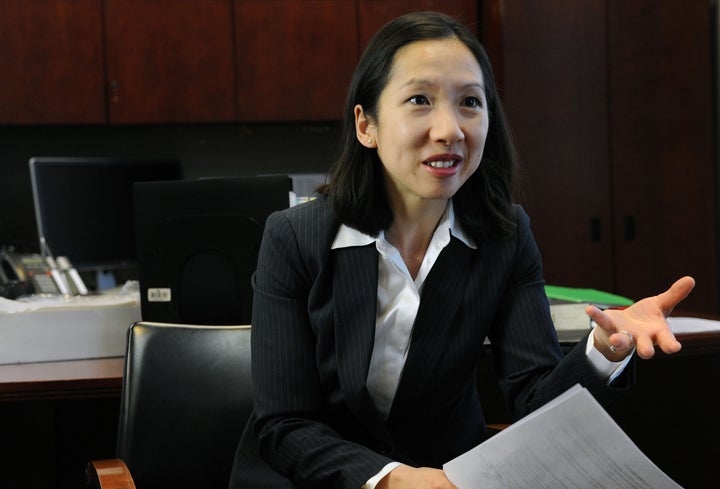 Planned Parenthood named a Chinese immigrant who has headed Baltimore's health department as the organization's new president on Wednesday.
"Today is a historic day for Planned Parenthood and the millions of people it serves. After an extensive search, I'm proud to announce that Dr. Leana Wen will serve as our next president," Naomi Aberly, chair of the Planned Parenthood Federation of America Board of Directors, said in a statement.
Wen, 35, is the first physician in nearly 50 years ― and only the second ever ― to be named Planned Parenthood's president. She will take over the job from outgoing president Cecile Richards starting Nov. 12.
"Not only will she help Planned Parenthood continue to provide high-quality care to women, men, and young people across the country, she will be a powerful voice in our fight to ensure women have the ability to make their own health care decisions ― no matter what," Aberly said.
Wen, born in Shanghai, came to the U.S. with her parents as an 8-year-old and was raised in the Los Angeles area. Prior to her tenure as Baltimore health commissioner, Wen was an emergency room doctor at two hospitals in the Boston area, including Massachusetts General Hospital.
Wen said she had one patient show up at the hospital in a "pool of blood" after her cousin had attempted to perform an unsafe abortion at home. Wen tried to save her, but the woman died from her injuries.
"This is happening today in 2018," Wen told HuffPost in a phone interview. "This is what is at stake for us right now. Safety net clinics are closing around the country, and women are suffering the consequences. I personally am so deeply troubled by how women's health is singled out and attacked ― it doesn't make any kind of medical sense to treat one kind of health care unlike anything else."
Wen said she, her mother and her sister have all personally visited Planned Parenthood clinics for basic health care, which is why she is so passionate about the organization.
"I depended on Planned Parenthood for medical care at various times in my own life, and as a public health leader, I have seen firsthand the lifesaving work it does for our most vulnerable communities," Wen continued. "As a doctor, I will ensure we continue to provide high-quality health care, including the full range of reproductive care, and will fight to protect the access of millions of patients who rely on Planned Parenthood."
Wen joins the nation's largest family planning provider at a time when the stakes are higher than ever for the organization. The Senate is about to vote on whether to confirm Judge Brett Kavanaugh as a Supreme Court justice, whose swing vote could ultimately overturn Roe v. Wade and gut abortion rights for generations of American women.
Wen said that while she believes the health care Planned Parenthood provides should not be political or partisan, she is also prepared to fight for people's continued access to that care, because she has personally witnessed what happens when women are denied safe abortions.
"If he's confirmed, it's reasonable to expect this court will overturn Roe," she said. "And as a physician, I have seen firsthand that we will pay for it with women's lives. That's why at this moment in time we have to fight like we've never fought before, and that's why everything is on the line."
Wen has giant shoes to fill. Richards, Planned Parenthood's iconic leader and public face for over a decade, has turned the organization into a massively influential force in American politics. Richards congratulated Wen in a series of tweets Wednesday, writing that she "couldn't be prouder" to welcome her to the Planned Parenthood family.
"She has dedicated her career to fighting for health care for all, both as a doctor and as a public health leader in the city of Baltimore," Richards wrote. "I know she'll be a champion for Planned Parenthood patients and for women, men, and young people everywhere."
Richards announced in January she would be stepping down as president after 12 years at the organization's helm.
An array of Republican politicians and religious right leaders have repeatedly attacked Planned Parenthood in recent years in efforts to defund the women's health organization. The attacks are rooted in the myth that taxpayer money pays for abortions, although women pay out of pocket for the procedure unless it's covered by their health insurance. Additionally, the Hyde Amendment has long prevented federal money from being used to fund abortion procedures.
Planned Parenthood offers extensive health services, including STI/STD testings, breast exams, diabetes testing and flu vaccines. Many Planned Parenthoods also offer abortion procedures, which only account for 3 percent of the health organization's overall services.
This story has been updated to incorporate an interview with Wen, as well as to note the GOP attacks on Planned Parenthood and to list some of the services the group provides.
Popular in the Community