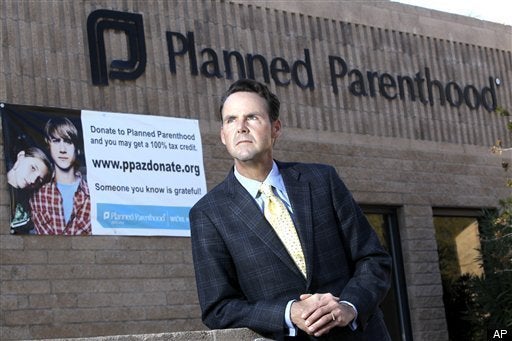 One story I missed in yesterday's State Of The Union hullabaloo was this item from Rachel Slajda over at TPM. It seems that in recent weeks, a bunch of Planned Parenthood clinics have been receiving visits from a man telling the same shady story:
In the course of five days this month, eight Planned Parenthood clinics in five states and D.C. reported getting the same visit: A man said he needed treatment for a sexually transmitted disease and then, once alone with a staff member, implied that he ran an interstate sex trafficking ring that involves minors and illegal immigrants.

The Planned Parenthood Federation of America thinks that the visits, which happened between Jan. 11 and 15, are part of a James O'Keefe-style "sting." But the group called in the FBI anyway.
Yes. That was a very smart move, Planned Parenthood. Also smart is the fact that these remote offices seem to have prepared in advance for this sort of incident, and are communicating with each other: Planned Parenthood's national organization was in a position to recognize an emerging pattern of bizarre visits, and escalated the matter to the Department of Justice.
Is it the work of O'Keefe? The incidents bear a remarkable similarity to the modus operandi of O'Keefe's famed ACORN sting. Of course, more recently, O'Keefe's taken to attempting to stage bizarre seductions of investigative journalists on dildo-strewn sex boats, taking the trajectory of his agitprop in a direction from "conservative Michael Moore" towards "conservative Ken Russell." Still, as Slajda notes, O'Keefe's fingerprints are everywhere:
A spokeswoman for Planned Parenthood would not reveal the identity of the man, or men, who visited the clinics. The group does, however, suspect he has ties to Live Action, the pro-life, anti-Planned Parenthood group run by O'Keefe associate Lila Rose.

Live Action's mission is to stop abortion, and its favored tool is undercover videos which the group says proves Planned Parenthood's "willingness to repeatedly tell medically inaccurate misinformation," "willingness to repeatedly violate mandatory reporting laws for statutory rape" and "racism."

Rose, who runs the group, worked with O'Keefe on her first series of undercover Planned Parenthood videos in 2006 after the two met at the Leadership Institute.
Here are my thoughts: if you work for an organization that primarily serves the poor, or women, or minorities, or some other underserved segment of the population, you'll probably get a visit this year from some strange individual who will, against expectation and good sense, freely start proffering information of the vast criminal operation they are running. What should you do? Well, you should humor them long enough for you to contact the police and the media. Do state laws allow you to tase people? Fine, do that too -- as far as you know, they are dangerous gangsters who peddle in human trafficking! But do not, under any circumstances, offer to do their taxes or something.
Calling all HuffPost superfans!
Sign up for membership to become a founding member and help shape HuffPost's next chapter