WASHINGTON -- After enduring a marathon House hearing on Tuesday during which GOP representatives frequently interrupted her, Planned Parenthood president Cecile Richards accused them of political grandstanding and using the hearing to demonstrate how "they are obsessed with ending access to reproductive health care for women in America."
"I'm being generous, calling it a hearing," she said in an interview with MSNBC's Rachel Maddow. "I think the whole purpose of this hearing was to convince themselves that it is OK to deny women the ability to go to the health care provider of their choice, because 2.7 million women and men choose Planned Parenthood, and they were trying to say they wanted to take that choice away from them."
Earlier on Tuesday, Richards was questioned for five hours by the House Oversight and Government Reform Committee. The GOP representatives on the committee, who are determined to eliminate federal funds for the organization, frequently turned combative, cutting her off and refusing to let her answer their questions.
They also scrutinized Richards' salary and travel expenses, a move that Democrats called "inappropriate and discriminatory." Richards agreed the questions were sexist, but also said they were superfluous.
"I think it was because they didn't have anything else they wanted to talk about," she told Maddow. "It seemed like they didn't want to talk about any issues relevant to the topic at hand. Frankly, I was a bit dismayed at how little members of the committee even knew about women's health at all."
Indeed, most of Tuesday's hearing appeared theatrical rather than substantive, with even conservatives criticizing the GOP for making it about politics rather than an actual investigation into the organization.
Republicans have advocated to defund the family planning provider ever since an anti-abortion organization released several heavily edited videos purporting to show Planned Parenthood leaders endorsing the sale of fetal parts. Planned Parenthood has repeatedly denied the allegation -- it says it donates fetal tissue for scientific research and receives small reimbursements for transportation and administrative costs.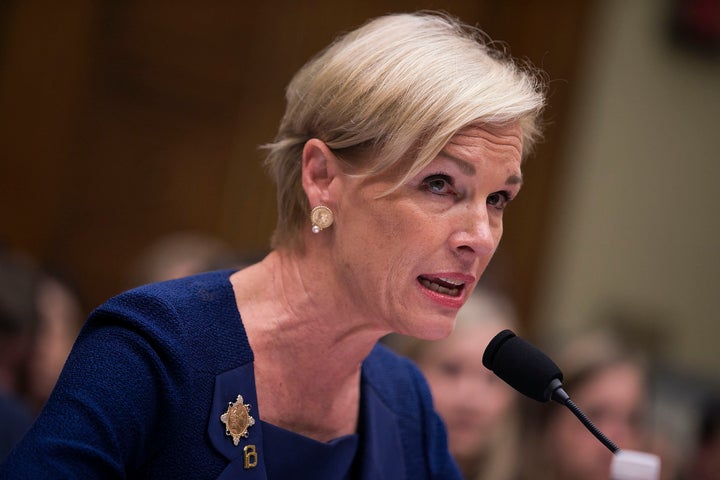 State GOP lawmakers have also targeted Planned Parenthood funding and launched investigations into the organization. But so far, none of the states have found Planned Parenthood facilities that sell fetal tissue.
"It's never been something that Planned Parenthood has been deeply involved in. Right now, fewer than 1 percent of our health centers allow women the opportunity to donate fetal tissue for research," Richards said on Tuesday. "This is not a big area of work for Planned Parenthood."  
She defended the organization's mission and chided lawmakers for trying to cut off federal funding for an organization that supporters say is a major health care provider for many women. 
According to a report from the Congressional Budget Office, eliminating Planned Parenthood's federal funding would jeopardize the reproductive health care options of as many as 650,000 women, particularly those who live in low-income areas. For that reason, judges in several states have barred officials from trying to defund the organization.
PHOTO GALLERY
Facts About Planned Parenthood
Calling all HuffPost superfans!
Sign up for membership to become a founding member and help shape HuffPost's next chapter