The eight Republican members of the Select Investigative Panel who will probe the practices of "big abortion providers" -- which everyone understands to mean Planned Parenthood -- have spent years trying to defund the reproductive health provider and restrict women's access to abortion.
The release, earlier this year, of sting videos made by an anti-abortion group that show Planned Parenthood staff members discussing fetal tissue donations for research has led to Republican claims that Planned Parenthood profited from the donations. Federal law allows the organization to accept reimbursements to cover the processing and transfer of the tissues. Planned Parenthood has insisted that it has done nothing illegal, and numerous state and federal investigations have found no evidence of wrongdoing.
The health provider receives over $500 million in federal funds annually, money that derives from Medicaid reimbursements and the Title X program, which provides services to low-income women such as cancer screenings, contraception and tests for sexually transmitted disease. The Hyde Amendment, a provision that has been routinely inserted into appropriations bills for decades, prevents federal funds from going toward most abortions, except in cases of rape, incest or when the mother's life is in danger.
In his Friday announcement of the eight appointees to the panel, House Speaker John Boehner (R-Ohio) said the group would "focus on the grisly practices of big abortion providers," without mentioning Planned Parenthood by name.
"Recent videos exposing the abortion-for-baby-parts business have shocked the nation, and demanded action," Boehner said in a statement. "At my request, three House committees have been investigating the abortion business, but we still don't have the full truth. Chairman [Marsha] Blackburn and our members will have the resources and the subpoena power to get to the bottom of these horrific practices, and build on our work to protect the sanctity of all human life."
Planned Parenthood responded to the announcement by saying that it is cooperating with the investigations even though they are the result of "false and discredited claims."
"Regardless of whether these investigations are focused on uncovering facts or pursuing a political agenda, we will continue to share the facts with all of these committees, which include that fetal tissue donation for medical research is an important but tiny part of Planned Parenthood's work in just two states, that we've had guidance in place for more than a decade that goes well beyond the legal requirements, and that even doctored and discredited videos show no wrongdoing by Planned Parenthood," said Eric Ferrero, the organization's vice president for communications.
All eight Republican appointees to the panel have 100 percent ratings from the National Right to Life Committee. Here's how each of them has contributed to conservative efforts to chip away at access to abortion.
Rep. Marsha Blackburn (Tenn.)
Blackburn, who will chair the panel, has previously served as a leader in her party's efforts to restrict abortion access. In 2013, she took charge of the floor debate over an earlier version of a 20-week ban after Rep. Trent Franks (R-Ariz.), the sponsor of the bill, defended its lack of a rape exception by saying that "the incidence of rape resulting in pregnancy are very low."
Controversies over rape exceptions continued to follow subsequent 20-week ban efforts. This year, Blackburn co-sponsored a bill that was abandoned by her party's leadership after an internal revolt by Republicans who were concerned that language in the bill requiring a woman to report her rape to the police to qualify for an exception from its restrictions would alienate young voters. Blackburn, for her part, argued that the bill would help women by getting rid of rapists.
Pitts' Protect Life Act invited controversy because it would have allowed a doctor to not only deny a patient an abortion in the case of a life-threatening emergency, but also refuse to transfer the patient to a facility or provider that could perform the abortion instead. Federal law requires hospitals that receive federal funds to treat -- or if they won't treat, transfer -- a patient who needs an abortion in an emergency.
Black was the sponsor of a 20-week abortion ban this year -- the one that replaced Blackburn's -- that would have allowed victims of rape to have an abortion if they received medical treatment or counseling at least 48 hours before the procedure.
Rep. Larry Bucshon (Ind.)
Bucshon, who has said that "abortion, of course, for any reason, is wrong," also sponsored the bill to redirect Title X funds for cancer screenings, contraception and STD tests, among other services, away from Planned Parenthood.
Duffy has said that "health care doesn't mean Planned Parenthood, and Planned Parenthood doesn't mean women's health care." He introduced a bill that would allow states to exclude Planned Parenthood from their Medicaid programs because it offers abortion, provoking a veto threat from the White House. A number of states are currently defending the terminations of their Medicaid contracts with Planned Parenthood, based on the sting videos, in court.
Harris wrote an amendment to an appropriations bill that would have banned all multistate insurance plans offered through the Affordable Care Act from covering abortion except in cases of rape, incest or life endangerment.
In attacking the ACA's contraceptive mandate that requires employers to cover various forms of birth control with no copay, Harris equated the mandate with the church burnings his mother saw growing up in Ukraine.
Rep. Vicky Hartzler (Mo.)
Hartzler co-sponsored a bill that would ban the abortion method used in nearly all second-trimester abortions. Judges have blocked similar state-level legislation in Oklahoma and Kansas.
Love may need to sort out her language around "choice." When she was running for Congress, she said in an interview with Fox News about the so-called Republican "war on women" that she wanted "more free choice, more liberties than anything else."
"I believe that you have more choices before somebody ends up getting pregnant," she said. "And I think it's important that we're able to have the freedom to exercise that choice, and it's up to you how you want to do that."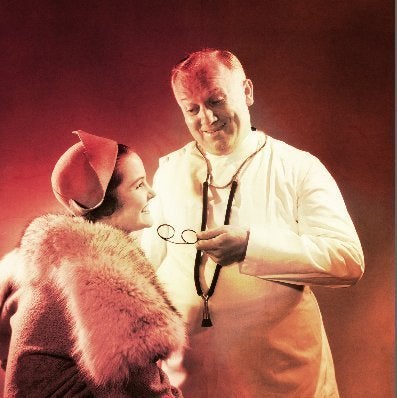 Myths About Abortion That Need To Be Busted
Support HuffPost
The Stakes Have Never Been Higher
Popular in the Community