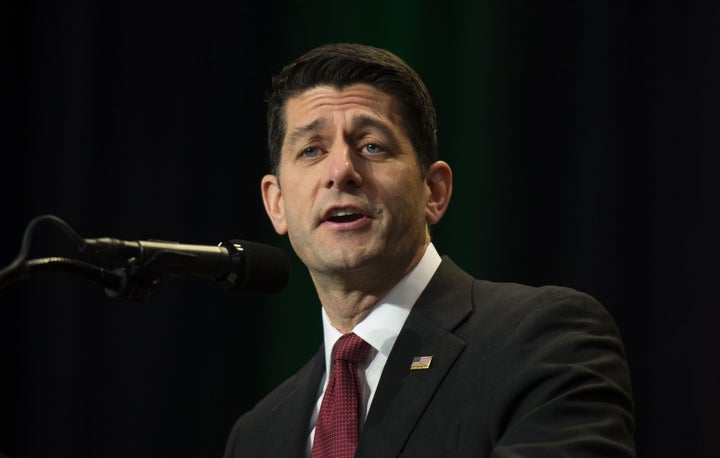 WASHINGTON -- In the days since the Planned Parenthood shooting in Colorado Springs, Democrats and Republicans have taken different tacks in addressing perhaps the most contentious issue in politics: abortion.
On Tuesday, Democrats on a select House committee investigating Planned Parenthood sent a letter to Speaker Paul Ryan (R-Wis.) asking him to "disband" the panel and "disavow" the heavily edited undercover videos that show Planned Parenthood executives talking about fetal body parts being used for research.
"Enough is enough," the letter said.
While the Democrats said they would continue to serve on the investigative committee if Ryan didn't disband it, they pointed to the Nov. 27 shooting in Colorado, which left three dead and nine injured, in making their renewed call to dissolve the panel. They noted that the FBI has reported a rise in attacks against Planned Parenthood and other abortion facilities since an anti-abortion group first released the undercover videos in July.
Rep. Diana DeGette (D-Colo.) also claimed that the eight Republicans on the Planned Parenthood panel had publicly used the phrase "baby parts" 33 times -- the same phrase uttered by the suspected shooter in Colorado. "No more baby parts," Robert Lewis Dear reportedly said when he was arrested.
But if Democrats are doubling down for Planned Parenthood following the shooting, Republicans aren't backing off either -- at least not publicly.
As Congress prepares a massive year-end spending bill, conservatives, once consumed with defunding the health care organization through the appropriations process, are still looking for ways to strike at it.
More than 120 Republicans have signed on to a yet-to-be-released letter that will urge GOP leadership to add three anti-abortion amendments to the omnibus bill: the so-called Abortion Non-Discrimination Act, a measure focused on defunding international abortions, and a proposal that would allow states to defund Planned Parenthood.
Those amendments are almost certainly nonstarters with Democrats, and they're unlikely to be part of a final spending package. But that doesn't mean conservatives aren't trying -- or that they're hesitant to attack abortion in the wake of the shooting.
"We're talkin' some dead human babies," Rep. Brian Babin (R-Texas) said Monday when The Huffington Post asked if conservatives would be less zealous about criticizing Planned Parenthood.
Babin, as with most other Republicans, is emphatic that taxpayers shouldn't be footing the bill for Planned Parenthood, which provides a range of reproductive health care services. The group usually performs more than 300,000 abortions a year, albeit without the aid of taxpayer funds.
While cutting off federal funding to Planned Parenthood through the omnibus bill is highly unlikely, the line from Speaker Ryan's office on Tuesday was that no decisions have yet been made on whether the bill will tackle that issue.
"The speaker has said he will not predetermine what is included in the omnibus as the Appropriations Committee is still negotiating the details," AshLee Strong, a spokeswoman for Ryan, told HuffPost.
"The House has a select committee to focus on protecting life and the speaker believes they should be in the driver's seat. Additionally, the Senate is voting this week to defund Planned Parenthood," Strong said.
When Ryan was asked about the Colorado shooting at a press conference on Tuesday, he focused on the mental health aspects. He said the "common denominator" in all these mass shootings was mental illness, which was an argument that many Republicans have adopted in the recent days.
"I think we're dealing with a nut case, but that doesn't take away the fact ... that we got a horrible, horrible humanitarian issue at Planned Parenthood," Babin said.
"Have the dynamics changed because of a crazed man?" asked Rep. Tim Huelskamp (R-Kan.). "I don't think it changes anything, as much as Planned Parenthood would like to use this as an excuse to get more federal money."
Asked if the shooting made it more difficult to move against Planned Parenthood, freshman Rep. Ken Buck (R-Colo.) said he understood the shooting was a tragedy, but it didn't alter how he views the health care group.
"It doesn't change the fact that abortion is wrong, and it doesn't change the fact that selling body parts is wrong," Buck said. "And so, you know, it is a terrible tragedy. It's a sick, demented person that engaged in a horrible act. But that doesn't change the underlying meaning of the organization or what it is involved in."
Another conservative, Rep. Dave Brat (R-Va.), had a similar response, answering that the GOP attitude toward Planned Parenthood shouldn't be affected by the shooting.
"Principles are principles," Brat said. "They don't change on a news cycle."
The truth of the abortion debate is that nothing has changed. The chances that Republicans can defund Planned Parenthood in the omnibus bill are about as good as the odds that Ryan will immediately disband the panel investigating Planned Parenthood because Democrats told him to. Which is to say neither scenario is likely at all. The shooting hasn't altered any of that.
While conservatives will still push to bring up Planned Parenthood and abortion in the spending bill, most Republicans already know the probable outcome.
"I don't see the Colorado situation being one that impacts whether you add it to the omnibus or not," Rep. Mark Meadows (R-N.C.) told HuffPost on Monday night. "I think any discussion on that losing its fervor long before the Colorado incident."
Calling all HuffPost superfans!
Sign up for membership to become a founding member and help shape HuffPost's next chapter