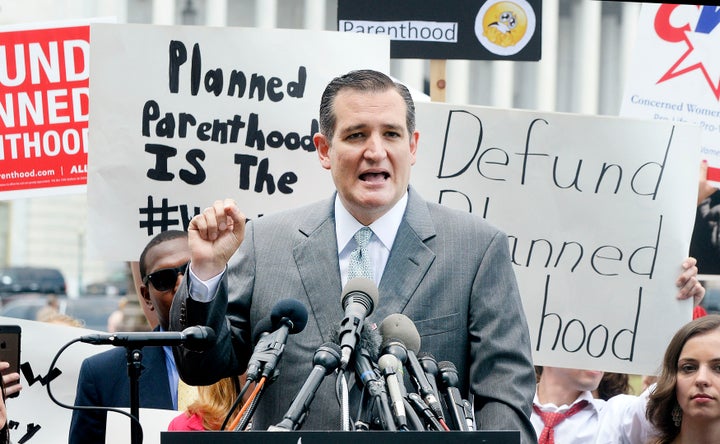 WASHINGTON -- Republicans fighting to cut off federal funding to Planned Parenthood often argue it wouldn't harm women's health, because other medical providers would pick up the slack.
To those inside the health care system, it's hard to see how that would work.
As many as one-quarter of Planned Parenthood's patients -- hundreds of thousands of people -- would lose access to medical care if Congress cut the funding, the Congressional Budget Office estimated Wednesday.
Doctors' offices, community health centers and free clinics lack the capacity to take in an influx of patients who would no longer be able to access medical care at Planned Parenthood if the organization loses access to federal dollars. Especially in areas with few obstetrician-gynecologists, patients could end up going without medical care, waiting weeks or longer for appointments or being forced to travel, experts said.
"If Planned Parenthood tomorrow went away, there's a good number of patients just in my service area that no longer have a doctor or no longer have a place to go for OB/GYN services," said Mark DeFrancesco, a physician in Waterbury, Connecticut, who is president of the American Congress of Obstetricians and Gynecologists and published an op-ed this month opposing efforts to end Planned Parenthood funding. "If they start calling my office, it's going to be, 'Well, we could take you but it might be two, three months down the road.' If they call other places, it might be, 'We can't even take you.'"
Although visits to Planned Parenthood facilities represent only a small percentage of the total visits women make to health care providers every year, it's a safety-net organization that caters to women with Medicaid or who are uninsured -- patients who have the most difficulty finding doctors that can see them. Planned Parenthood treated 2.7 million patients in 2013, according to the organization. Federal Title X funding for family planning covered the cost of more than half those visits, but three-quarters of Planned Parenthood's revenue came from Medicaid patients.
Although the majority of women Planned Parenthood currently serves would be able to access care elsewhere if the gambit to cut off the organization succeeds, between 5 percent and 25 percent of them wouldn't, the Congressional Budget Office estimates. Analysts believe the most likely outcome would be 390,000 women losing their source of medical care -- although the number could be as low as 130,000 or as high as 650,000, the budget agency concluded.
"The people most likely to experience reduced access to care would probably reside in areas without access to other health care clinics or medical practitioners who serve low-income populations," the CBO report states.
Republicans like Rep. Jim Jordan (Ohio), the chairman of the House Freedom Caucus, and Sen. Ted Cruz (Texas) are leading the battle against Planned Parenthood in Congress, and have sought to defuse concerns about health care access by calling for the funding to be redirected to federally supported community health centers.
"If we divert the $528 million dollars of taxpayer funds currently supporting Planned Parenthood's barbaric actions to community health centers and other entities providing health services without abortions, it would go a long way toward helping additional patients receive non-abortion services," Phil Novack, a spokesman for Cruz, wrote in an email.
Using that money to build more community health centers that employ more physicians and nurses amid national shortages of health care workers -- especially of OB/GYNs -- would take time, during which women would have fewer options to get medical care, DeFrancesco said. The rest of the health care delivery system is already strained, he added. "I wouldn't say there is a lot of capacity, because everybody right now is kind of working to capacity, from what I've seen."
The National Association of Community Health Centers declined to comment for this story, but Andie Martinez Patterson, director of government affairs for the California Primary Care Association, said that health centers couldn't treat all the patients that Planned Parenthood would have to turn away.
Free clinics also would struggle to take in former Planned Parenthood patients, said Nicole Lamoureux, the CEO of the Alexandria, Virginia-based National Association of Free and Charitable Clinics, which represents more than 1,200 facilities.
"If the government does decide to withdraw funding for Planned Parenthood, we will do what we always have done, which is step up and attempt to serve those people who need help in the best way that we can," Lamoureux said. "But there needs to be an understanding that there is only so much capacity at our clinics."
Physicians in private practice also aren't in a position to fill the gap, said DeFrancesco.
More than half of U.S. counties don't have a single OB/GYN doctor, according to the American Congress of Obstetricians and Gynecologists. Even in a geographic area like the Northeast, where the supply of doctors is relatively good, those physicians already have busy practices -- and are likely to put privately insured patients ahead of those without coverage or those on Medicaid for financial reasons, DeFrancesco said. "People just don't have room in their schedules to see more people."
Support HuffPost
The Stakes Have Never Been Higher
Popular in the Community