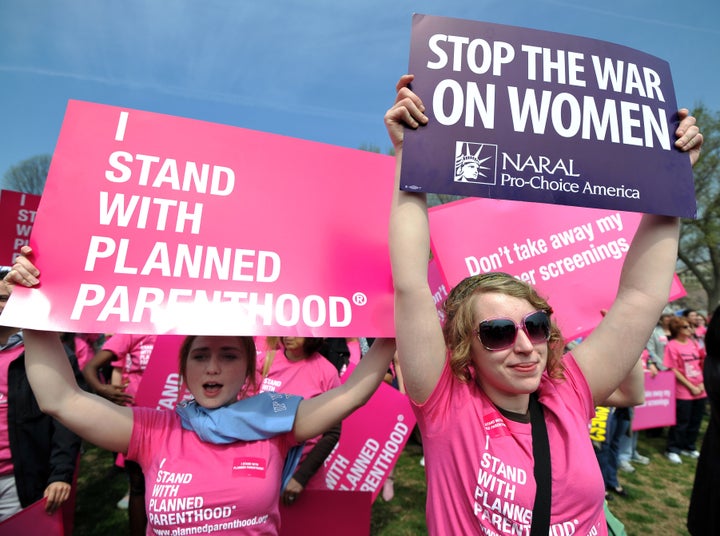 The states launched an unprecedented avalanche of attacks against Planned Parenthood in their 2011 legislative sessions, but Planned Parenthood is battling back in the courts.
Eighteen states have passed one or more measures to limit the services the family planning provider can offer. Four are already facing Planned Parenthood in what promise to be lengthy and expensive legal battles to defend their right to enact those laws.
Legislators in five states -- Indiana, North Carolina, Kansas, Wisconsin and Texas -- defunded Planned Parenthood in 2011 because some of its clinics provide privately funded abortions. Planned Parenthood attorneys challenged three of those laws in court this summer, and judges in all three states -- Indiana, North Carolina and Kansas -- temporarily blocked their enforcement, unanimously ruling that state governments may not punish a particular health provider for offering a legal, constitutionally protected medical service.
"If all of the judges are saying the same thing that we have been saying in all of these defunding battles, there really is very little doubt that it is illegal under many federal funding streams and unconstitutional to disqualify us from participating in these government programs," said Roger Evans, Planned Parenthood's attorney on the North Carolina case.
Whether the states will take these rulings seriously is a different question, Evans told HuffPost. All three states are appealing the court decisions. Kansas is dragging its feet on restoring funding to Planned Parenthood despite having been ordered to do so immediately by a federal judge. Despite the first injunction against a defunding law -- in Indiana -- other states, such as Wisconsin and Ohio, moved forward with their own legislation.
"Litigation has not deterred the legislative and public support for these bills," said Mailee Smith, staff counsel for the anti-abortion group Americans United for Life.
Evans of Planned Parenthood predicted that many conservative state lawmakers will continue to push defunding legislation to "play to an extremist base to which they feel obligated to throw some red meat" even though they know the state will likely have to spend large amounts of taxpayer money and resources trying to defend that law in court. The Kansas state government, for instance, stirred up controversy among its taxpayers when the attorney general hired expensive outside counsel -- the same private firm that has represented the billionaire Koch brothers -- to handle its suit against Planned Parenthood.
"You talk about irresponsibility -- this is the height of irresponsibility," Evans told HuffPost. "This kind of litigation sucks up resources. By the time it ends, the state has spent a substantial portion of the same amount of money involved in the dispute in the first place."
In one state, the lengthy court battle is going the legislators' way -- at least for now. The Arizona Court of Appeals recently overturned a 2009 injunction against a handful of abortion restrictions, which will make it impossible for many Planned Parenthood clinics in the state to continue offering abortion services. Planned Parenthood is appealing that decision at the Arizona Supreme Court. Meanwhile, new state regulations, effective Sept. 12, require a woman to make two separate trips to see a doctor before she can have an abortion, and they make it illegal for specially trained nurse practitioners to perform first-trimester surgical or oral medication abortions.
Because many of Planned Parenthood's clinics are in rural and medically underserved areas, they have relied on nurse practitioners to perform those procedures and will now have to stop offering abortions at seven different locations in Arizona.
"We think the impact on women in Arizona is very real and very immediate," said Jennifer Sandman, Planned Parenthood's attorney on the case. "If you take a woman in the northern portion of the state, until last week she could get a medication abortion from a nurse practitioner very safely in Flagstaff, very close to her. Now she has to make two separate trips to Phoenix, which means she's more likely to get an abortion later in the pregnancy when it's less safe."
Planned Parenthood of Arizona said there is a shortage of physicians trained to provide abortions and willing to travel to its more rural clinics, and the Arizona State Board of Nursing testified before a court in 2009 that abortions administered by trained nurse practitioners were as safe as those performed by doctors.
But Cathi Herrod, president of the anti-abortion Center for Arizona Policy, told the Arizona Daily Star that Planned Parenthood was just making a "business decision" to stop providing abortions at a handful of its sites.
"They will end their services rather than raising the standard of care to meet the law's requirement," Herrod said. "All Planned Parenthood had to do was to find doctors to work at their clinics to continue providing the abortion services."
Planned Parenthood's legal team said they plan to wait and see what effect the latest restrictions have on the women of Arizona so they can demonstrate more concretely in court how the restrictions actually undermine women's health. They are also closely watching new and developing defunding laws in Texas, Wisconsin and New Hampshire.
According to recent polls, a majority of Americans would vote in favor of continuing to fund Planned Parenthood. Only 40 percent of respondents surveyed in a July 2011 Gallup poll said they would support a law prohibiting health clinics that provide abortions from receiving any federal funds.
Evans said he believes the legal battles look much worse for the states than for the family planning provider, which offers affordable cancer screenings, tests for sexually transmitted infections and birth control to low-income men and women.
"I think people stand behind us, and seeing these kinds of legislative shenanigans makes them angry," he said.

Calling all HuffPost superfans!
Sign up for membership to become a founding member and help shape HuffPost's next chapter