WASHINGTON -- Planned Parenthood has argued for months that videos released by the Center for Medical Progress, an anti-abortion group, were "deceptively edited" to falsely suggest that the health care provider profits from the illegal sale of fetal tissue. It remains unclear exactly how the videos were produced -- and who edited them. The Huffington Post has now learned the identity of one of the editors, along with details about the creation of the videos.
Video editor Ryan Gonzalez spent at least 11 months working on the footage, according to his Facebook page and a friend of his who is familiar with the editing process. The friend requested to remain anonymous due to the sensitivity of the matter.
Gonzalez worked on the videos with David Daleiden, a self-described "citizen journalist" who started the Center for Medical Progress and who previously worked for the anti-abortion group Live Action.
Last year, the source said, Daleiden and Gonzalez met in an apartment in Orange County, California, to edit videos once or twice a week. In May 2015, they started meeting more frequently. Closer to the publication date, Daleiden was staying with Gonzalez in order to work on them full-time.
Gonzalez wrote on Facebook that he is "proud to call" Daleiden a "friend," and photos show them traveling together to Washington, D.C. That Facebook post, along with others referenced in this story, has been set to private.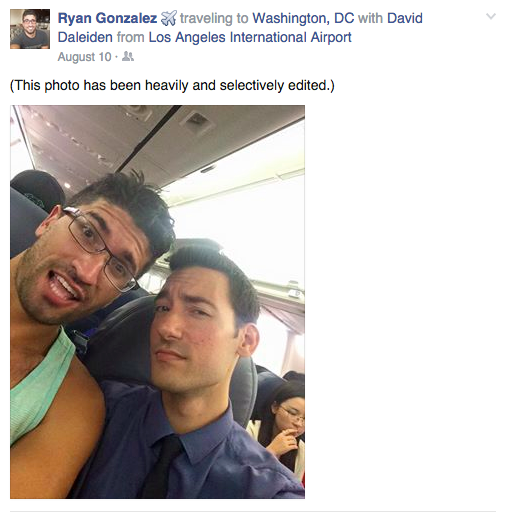 On July 14, after the center released the first hidden-camera video, Gonzalez posted the link on Facebook, saying, "This is the first part of a project I've been editing since last August and haven't been able to talk about until now."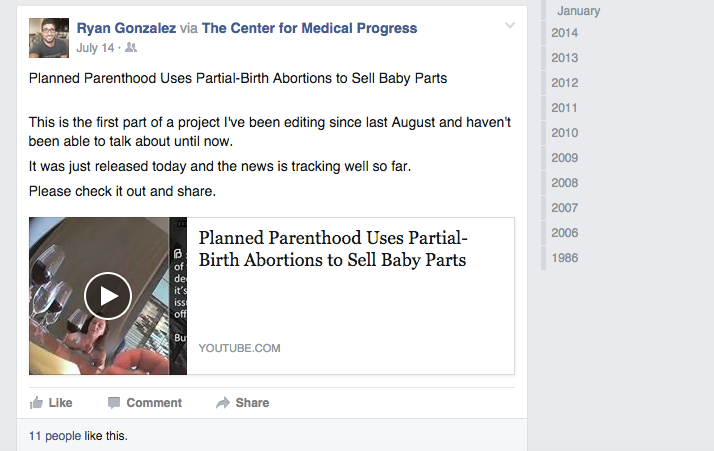 That first video depicts Planned Parenthood Federation of America's senior director of medical services speaking with actors who were posing as members of a biologics firm procuring tissue. The content galvanized Republican lawmakers into once again trying to defund the women's health organization, a fight that threatened to shut down the government.
The stakes are high for Planned Parenthood and the women who use its services, as well as the anti-abortion community that wants to see the organization shut down.
Daleiden's group has released multiple short segments as well as an estimated 12-plus hours of what it claims is unedited footage. According to Politifact, in the longer footage, a Planned Parenthood representative says the organization is not interested in making a profit off the specimens, "an interpretation the edited video pushes." A research team hired by Planned Parenthood found in August that the full-footage videos "did not reveal widespread evidence of substantive video manipulation" but "contained numerous intentional post-production edits."
The Center for Medical Process attributed the discrepancies to "bathroom breaks or waiting time between meetings [that] were removed to protect the investigators."
Gonzalez did not respond to multiple requests for comment. On Monday, Daleiden commented on one of my tweets: "The only tragedy in your profession is how you went from real prison reform news to TMZ stalking. Quit messaging my friends."
Reached later over email, he elaborated, "It's telling that you spent an entire day contacting private citizens over Facebook before asking [the Center for Medical Progress] for comment directly, and only contacted me with your questions after I called you out on Twitter. As you said after your voicemail when you forgot to hang up your phone, you should 'have a bad feeling about this story.'" (He was referring to a comment I made to a colleague about the tweet Daleiden sent me.)
"Media outlets carrying water for Planned Parenthood have made the mistake of running stories attempting to criticize or embarrass individuals associated with me before and have faced serious backlash from their usual readership and even been forced to retract," Daleiden's email continued.
"The Center for Medical Progress works with a variety of contractors for technically skilled tasks like acting, legal research and video editing, but as a general rule we do not publicly comment on or identify these individuals because of serious personal security concerns," he added. Daleiden also defended the videos, saying independent sources had verified their authenticity.
In multiple Facebook posts following the release of the first video, Daleiden and Gonzalez poked fun at allegations that they had manipulated the footage. On July 17, Daleiden joked that he was with Gonzalez "'heavily' and 'selectively' editing video," following it up with a smiley face. In August, Gonzalez wrote, "they released the full footage -for the skeptics-"
A friend commented sarcastically, "But, but, but….heavy editing!"
"...and selective," Gonzalez responded.
Support HuffPost
The Stakes Have Never Been Higher
Popular in the Community