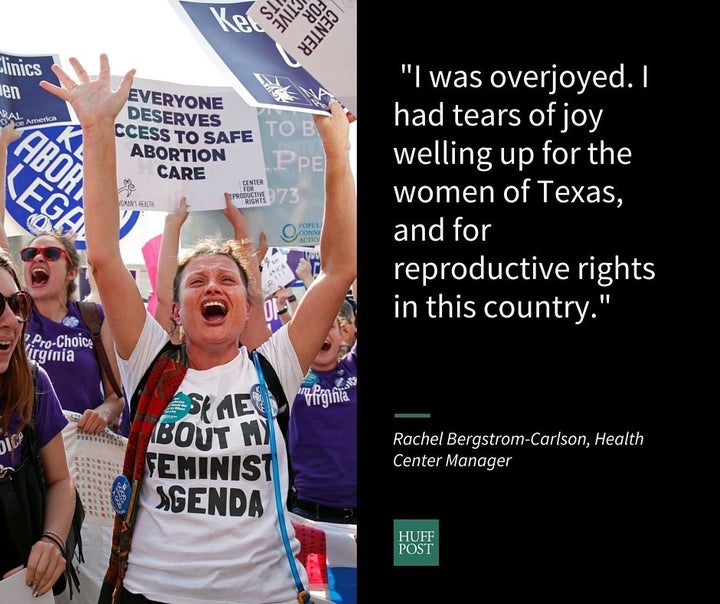 On Monday, the Supreme Court ruled in the biggest abortion case this country has seen since Roe v. Wade, striking down two provisions of a restrictive Texas abortion law that closed dozens of abortion clinics in that state and put women's access to safe, legal abortion at risk. 
In deciding that the law placed an undue burden on women seeking abortions, the Court provided what is being hailed as a historic victory for reproductive rights in that state -- and beyond. And on the ground in Texas, where things had looked pretty grim until Monday's ruling, abortion care providers are cautiously optimistic about what the decision means for them, as well as what it means for other states with similarly restrictive laws that will now be much more difficult to uphold.
We spoke with two employees of the Planned Parenthood of Greater Texas about why the decision is such a huge victory for abortion rights -- and for their ability to simply do their jobs.
Rachel Bergstrom-Carlson is the health center manager for the South Austin clinic's ambulatory surgical center. As such, she manages the abortion care site at that location.
HuffPost: How are you all feeling in Texas today? Bergstrom-Carlson: It's been very emotional, more than I had thought it would be. After I got over the initial shock of the decision, I was overjoyed. I had tears of joy welling up for the women of Texas, and for reproductive rights in this country. There were a lot of hugs exchanged among the staff members [laughs].
Why shock? Was this not the decision you were expecting? We were preparing for the worst. I had three staff on call in case they had ruled to uphold the law, because we were anticipating a huge increase in patient calls and from other providers from centers that were going to have to close. We're usually not open on Mondays, but I came in today just for the decision.
This is a huge victory, but it is one victory.

Rachel Bergstrom-Carlson
Your center hasn't been forced to close, so how did the law affect your work? When the law went into effect, we saw almost double the call volume, our clinic stayed open longer hours, and we still had increased patient wait time both within the clinic and to schedule appointments, because the demand so far outweighed our ability to provide abortion care for the number of women who needed services. We're cautiously optimistic that some of the clinics that closed will re-open, but we're still going to be contending with a lot of patients who have to travel great distances.
There are still so many other barriers here, though. For example, we get a good number of referrals from maternal fetal medicine specialists whose patients are dealing with severe fetal abnormalities. Those physicians are not allowed to perform an abortion in the hospital even though it's the best care for the patient. We go above and beyond for those women, but that's a hard one for me to swallow. This is the care they require, and their physicians can't provide them with it because of Texas law.
So what happens going forward? It pretty much goes back to business as usual. We're actually overbooked for tomorrow because the demand is still there. I'm just hoping that with this decision, those other clinics can reopen. This is a huge victory, but it is one victory. Texas is really good at creating laws that are "supposed" to be good for women, but are really designed to reduce access to abortion care. 
Now we know that it won't get worse today, and we have the hope of things being better tomorrow.

Kathy Falkenstein
Kathy Falkenstein, a contact center manager for Planned Parenthood of Greater Texas. In that role, she fields thousands of calls and questions from women in Texas every week. 
How are you feeling? Thrilled! This law would have closed more facilities and placed an even higher burden on Texas women seeking safe, legal abortions.
It can be hard to really grasp how much this law hurt abortion access in the state. What did you see? The biggest impact that I have seen are the increases in women traveling hundreds of miles for abortions services -- and the length of time it takes from call to appointment increasing. There are already so many challenges for women seeking safe, legal abortion, and reducing the number of locations by half makes it nearly impossible for so many. At least now we know that it won't get worse today, and we have the hope of things being better tomorrow.
What happens next in Texas? I hope that some of the clinics that closed because of the stringent requirements [of HB2] -- especially in rural areas -- will begin providing services again. It will make services more accessible and affordable for women, which we know also makes them safer.
These accounts have been edited and condensed. 
Calling all HuffPost superfans!
Sign up for membership to become a founding member and help shape HuffPost's next chapter
BEFORE YOU GO
PHOTO GALLERY
Myths About Abortion That Need To Be Busted