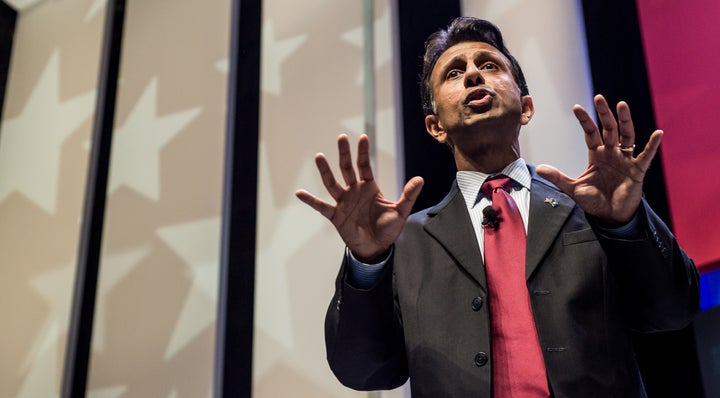 WASHINGTON -- If an organization is accused of a crime but there's no evidence it committed that crime, should the organization still be punished for its imaginary crime? The answer from Republicans is a resounding yes -- at least if the organization is Planned Parenthood.
In July, the Center for Medical Progress began releasing selectively edited videos of Planned Parenthood staff members discussing the health care provider's fetal tissue donation program. Anti-abortion advocates immediately began accusing Planned Parenthood of profiting off the sale of fetal tissue, which would be illegal. Multiple investigations were launched in Congress and in the states. They turned up no evidence that Planned Parenthood was doing anything other than receiving legal reimbursements for the cost of processing the donations.
That doesn't seem to matter to GOP elected officials across the country.
"The videos, as dishonest as the videos are, have had their intended effect," said Sara Rosenbaum, a professor in health law and policy at George Washington University. "They gave everybody the platform to work from that they had lacked up until now."
On the federal level, the government was almost shut down in an effort to slash $528 million in funding to Planned Parenthood. On the state level, some Republican governors cut the organization out of their Medicaid programs. Several states stopped directing federal Title X funding to the group. Title X pays for cancer screenings, contraception and tests sexually transmitted infections (STIs) for low-income women.
In other states, the legislature is currently debating what bucket of funding it will target. At this point, Planned Parenthood has prevailed in just one state, Georgia, as the map below illustrates.
States Where Planned Parenthood Funding Has Been Attacked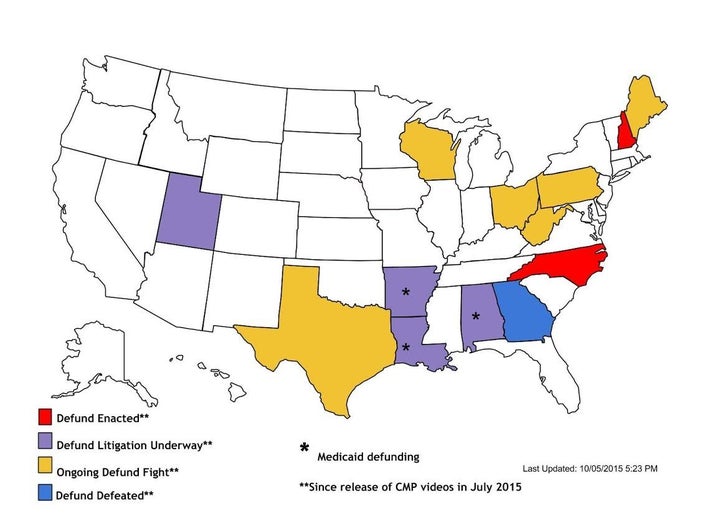 Why Those Attacks Are Misguided
Planned Parenthood says that just two of its affiliates, in California and Washington, currently donate fetal tissue for research. So none of the states that have or are trying to cut off Planned Parenthood actually have clinics involved in the program that is ostensibly in the GOP's crosshairs.
But cuts to Planned Parenthood funding could leave a lot of women seeking health care elsewhere. The Government Accountability Office has reported that less than half of health care providers that see people on Medicaid, as Planned Parenthood does, are taking new patients. And the group serves a disproportionate share of the women aided by the Title X program.
Republicans have suggested that other community health centers can fill in the gaps, but that's unlikely since those groups are already strained providing services for their current patients.
"Planned Parenthood providers overwhelming exist in places where there is a shortage of health care providers," Rosenbaum said. "There's no provider that can move in fast enough to take up the slack here."
But These States Still Defunded Planned Parenthood
Republican lawmakers in North Carolina and New Hampshire didn't wait for an investigation to end their contracts with the health care provider.
The three Republican members of New Hampshire's five-member Executive Council declined to renew Planned Parenthood's contract to provide STI testing, contraception and cancer screening to the state's residents.
North Carolina lawmakers inserted language into the state budget saying that no funds "shall be allocated to renewing or extending existing contracts or entering into new contracts for the provision of family planning services, pregnancy prevention activities, or adolescent parenting programs with any provider that performs abortions." That budget cut may force Planned Parenthood to stop running teen pregnancy prevention programs in the state, since those will now rely on private donations. One Republican lawmaker defended the move by suggesting that Planned Parenthood distributes contraceptives that "don't work" to drum up "more business," as the Raleigh News & Observer reported.
These States Are Defending Their Defunding In Court
Planned Parenthood has answered state moves to sever its Medicaid contracts with lawsuits arguing that officials must first prove the group isn't fit to care for patients.
"It's simply unlawful to cut the provider out because it happens to provide a service that Medicaid doesn't pay for," Rosenbaum said.
Nonetheless, after the videos were released, Utah Gov. Gary Herbert (R) directed state agencies to terminate their contracts with Planned Parenthood because he said he was "offended" by the provider's actions. In late September, a federal judge blocked Herbert's move. The judge asked the state's solicitor general whether he found it "troubling" that the governor cut off the group's funding before an investigation into the fetal tissue program had even been completed.
In Arkansas, a judge pointed out that the state had offered no evidence that Planned Parenthood clinics there had engaged in improper or illegal activity when Gov. Asa Hutchinson (R) ordered the organization removed from the state's Medicaid program.
Similarly, Planned Parenthood sued Alabama Gov. Robert Bentley (R) over his decision to terminate its Medicaid contract with the state, which directed less than $5,000 to the provider over the last two years. The judge presiding over that case has suggested that the state give a legitimate reason to terminate the relationship beyond "concerns about the harvesting and sale of fetal tissue."
Though Louisiana has some of the nation's highest rates of gonorrhea, chlamydia, syphilis and HIV, as the New York Times reported, Gov. Bobby Jindal (R) also moved to cut Planned Parenthood out of the state's Medicaid program. Then, the U.S. Justice Department argued to a judge that Louisiana would be violating federal law by not giving Medicaid patients the right to choose their own health care provider and that Jindal hadn't offered a sufficient reason for terminating the group's Medicaid contract. Louisiana officials changed their tune and said they were canceling the contract because Planned Parenthood had reached a $4.3 million settlement in Texas over allegations of false billing. Planned Parenthood did not admit guilt in that dispute and is now arguing that the 2013 Texas settlement has no relevance to whether it's fit to provide care in Louisiana.
And The Battle To Defund Rages In These States
Several other states look likely to defund Planned Parenthood, but aren't as far along in the process.
In Ohio, the state House is currently considering legislation to cease funding groups that also provide abortions. Yet multiple investigations and a state audit in Ohio have ended without finding Planned Parenthood guilty of any wrongdoing.
Wisconsin is also close to defunding Planned Parenthood. The lower chamber of the state legislature passed a bill in late September preventing the group from receiving Title X funds. The bill now awaits action in the Republican-controlled state Senate.
Popular in the Community