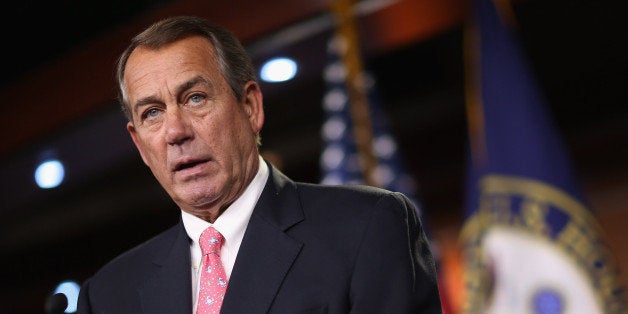 House Speaker John Boehner (R-Ohio) called for an investigation into Planned Parenthood on Wednesday after an anti-abortion group released an undercover video that claims to show that the family planning provider sells fetal body parts.
"When an organization monetizes an unborn child -- and with the cavalier attitude portrayed in this horrific video -- we must all act," Boehner said in a statement. "As a start, I have asked our relevant committees to look into this matter. I am also calling on President Obama and Health and Human Services Secretary Sylvia Burwell to denounce, and stop, these gruesome practices."
The House Committee on Energy and Commerce followed suit shortly after, announcing an immediate investigation into Planned Parenthood. "This video is abhorrent and rips at the heart," committee Chairman Fred Upton (R-Mich.) said in a statement. "The committee will get to the bottom of this appalling situation."
The sting video, produced by the anti-abortion group Center for Medical Progress, shows Planned Parenthood physician Dr. Deborah Nucatola describing how she would attempt to preserve fetal tissue and parts during an abortion for patients who decide to donate them for medical research. In the video, Nucatola tells the undercover actor that clinics can be reimbursed $30 to $100 per specimen for the cost of transporting and donating the fetal tissue.
Republicans and anti-abortion groups said the video shows that Planned Parenthood sells fetal body parts after an abortion, which is illegal. The family planning provider denied the allegation and said that it only legally donates fetal tissue for medical purposes, at the request of its patients, and not for profit. The full, unedited version of the video reveals that Nucatola is talking about reimbursement for the donation of fetal tissue, not the sale of it.
"These outrageous claims are flat-out untrue, but that doesn't matter to politicians with a longstanding political agenda to ban abortion and defund Planned Parenthood," said Eric Ferrero, vice president of communications at Planned Parenthood. "Women and families who make the decision to donate fetal tissue for lifesaving scientific research should be honored, not attacked and demeaned. Our medical practices and guidelines in this area are clear, and we do this important work just like other high-quality health care providers -- with full, appropriate consent from patients, under the highest ethical and legal standards, and with no financial benefit for the patient or Planned Parenthood."
Republican lawmakers in Congress and state legislatures across the country have been trying to defund Planned Parenthood since 2011 because some of its clinics offer abortion services. House Republicans previously launched an investigation into the family planning provider in 2011, after the anti-abortion group Live Action released a heavily edited video that purported to show Planned Parenthood employees aiding sex traffickers.
Calling all HuffPost superfans!
Sign up for membership to become a founding member and help shape HuffPost's next chapter