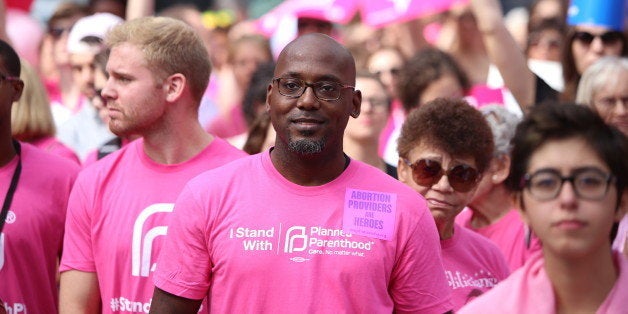 Defunding Planned Parenthood, taking away their Medicaid dollars, and insisting that there are plenty of other clinics for low income Americans has flooded the news lately. Even after sting videos set to demonize Planned Parenthood for the alleged immoral sale and maltreatment of fetal tissue were discredited, it still has brought forth the question, do we really need these family-planning clinics after all?
Jeb Bush reminded us that there are over 12,000 free clinics, doors wide open, ready to address women's health care needs, and he's promised to fund them if he becomes president. But for those who are uninsured or relying on their state's Medicaid program, their options are not as plentiful as we may want to believe.
Many Americans rely on these clinics for standard health care and have little to no alternative if they close. And for those who are victims of physical or sexual violence at home, this may be the only place committed to asking those tough questions, and providing education and resources to victims.
Planned Parenthood provides health care to over 4.6 million men and women each year, a population that largely relies on Medicaid to cover their expenses. And that health care access is no small feat.
With the alluring effects of staggering, big salary dollars in medical specialization, the result has been fewer and fewer available primary care and OB/GYN doctors. With only 62 percent of California physicians accepting new patients with Medi-Cal, California's version of Medicaid, basic health care services may be more of a private insurance luxury than an accessible human right, a problem the Affordable Care Act has not been able to solve.
Texas employs only half of the recommended number of primary care physicians, and of this exceptionally small pool of doctors, only 31 percent accept new Medicaid patients, a population in the millions. For those in rural Midland County, Texas who rely on their sole Planned Parenthood location for health care, the closing of those doors could leave them to fend for themselves in a healthcare marketplace with increasing demand and threateningly low supply.
The Journal of General Internal Medicine reports that the single most important factor associated with receiving preventive services is a regular source of care. For many, that regular source is Planned Parenthood. However, if that source of care closes, and you think you're at risk for a sexually transmitted disease, where do you go?
Those who once responsibly got STD testing through Planned Parenthood may find it too challenging to continue to do so, unknowingly putting the health of others at risk. Women are routinely encouraged to receive mammograms and pap smears, both of which are accessible at Planned Parenthood. Teenagers who benefit from Planned Parenthood's reputation of confidentiality, accessibility and contraceptive education may instead use blind luck as their means of birth control instead of expert medical guidance.
And we, the public, may be left to witness ever increasing rates of STD transmission, breast cancer, cervical cancer and teen pregnancy, especially in the low income sector. And these are not the only threatening consequences.
In 2012, the U.S. Preventative Services Task Force found evidence supporting the effectiveness of sexual and physical violence interventions and screenings in clinical settings. Unfortunately, the Journal of the American Medical Association found that only 10 percent of California primary care doctors surveyed would screen for intimate partner violence, unless the patient showed physical signs of injury.
Screenings of this type are not only standard practices of care at Planned Parenthood, but are also effective because of the interventions that follow. It turns out that, remarkably, over half of the women ages 16-29 seen in family-planning clinics, such as Planned Parenthood, reported physical or sexual violence upon screening.
Eliminating Planned Parenthood and other family-planning clinics' funding is more than just an inconvenience. It's a disruption of access to medical care and safety, especially to low income individuals and families already facing greater health risks and threats of physical harm. And while some may believe it's as simple as changing locations and seeing another doctor, the reality is that closing down Planned Parenthood is a substantial public risk.
The additional funding for the 12,000 low income clinics Jeb Bush supports is not enough. Planned Parenthood and other family-planning clinics hold a central place as part of a truly robust health care and health/safety education solution and are not "hidden behind the well-crafted charade that exists to protect women's health" Ted Cruz believes them to be. They're working. And we need more -- not less -- support and building upon what's working.
And finally, a message to the men in decision-making legislatures: As a woman not practicing medicine, I will never presume to know what is best for your health. Please don't presume to know what is best for mine.
Popular in the Community