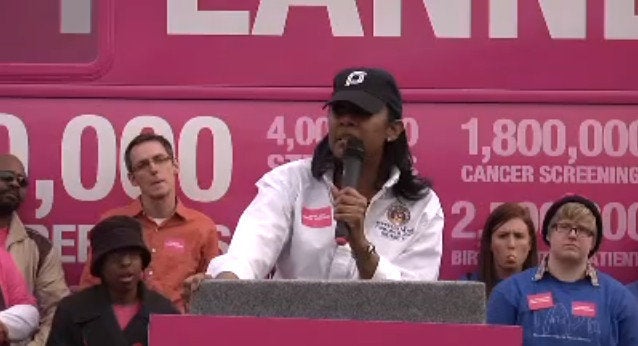 "In three days, we raised $3 million," PPFA president, Cecile Richards, told members of the media at a breakfast held Monday in New York City. "It was a fabulous opportunity to frankly educate a lot of people in America about the preventive care we do," she went on to say at an appearance in Charlotte, North Carolina on Tuesday, The Charlotte Observer reports.
Though the Komen foundation reversed their decision to not renew a grant to Planned Parenthood that has, for the past five years, provided nearly 170,000 clinical breast exams to low-income and uninsured women, PPFA seems to have kept their stride amid the fallout, rolling out a short film they'd been producing that highlights the preventive care services the organization offers, and the impact it has had on the African-American community in particular.
"At Planned Parenthood, we witness the disparities that African-American women face in healthcare access every single day. We've got to find more ways to tell these stories," Richards said. "When we look at reproductive care, African-American women are three times more likely to have an unintended pregnancy than white women. That's just completely unacceptable, and a lot of that is about lack of access to affordable birth control and, for young people, access to sex education."
Richards also addressed African Americans' tendency to be uninsured and underinsured, a hindrance to preventive care that she says lay at the center of last week's Komen debate.
"A Vital Service" is set to premiere nationally in Washington, DC, New York City and Atlanta, as well as on more than 70 college campuses during Black History Month.
Calling all HuffPost superfans!
Sign up for membership to become a founding member and help shape HuffPost's next chapter
BEFORE YOU GO