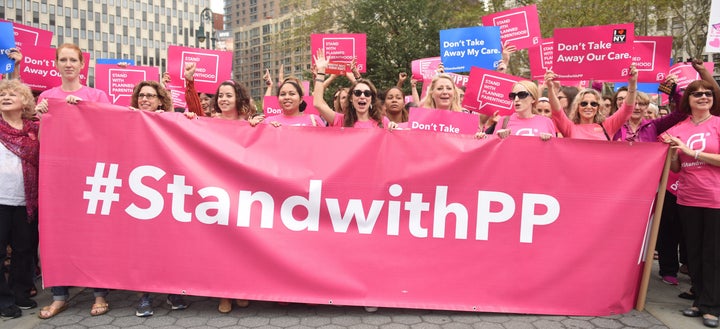 Planned Parenthood filed a lawsuit against Missouri's Department of Health Monday, just hours before one of two clinics in the state providing abortions would officially be barred from offering that service to its patients.
The University of Missouri's former chancellor, R. Bowen Loftin, revoked a Planned Parenthood physician's admitting privileges at the university hospital in late September, after Republican state lawmakers pressured the university to reconsider its relationship with the family planning provider.
Missouri state law requires that a doctor must have admitting privileges at a hospital within 30 miles of where the abortions are taking place. If the physician, Dr. Colleen McNicholas, does not acquire admitting privileges by Dec. 1, Planned Parenthood of Kansas and Mid-Missouri's clinic in Columbia, Missouri, will no longer be licensed to provide abortions. However, the clinic will continue providing family planning, STI testing and educational programs.
Planned Parenthood's lawsuit argues that the state did not give McNicholas enough time to seek alternative privileges and did not give the Columbia clinic enough time to locate another physician to perform abortions. Planned Parenthood and its supporters at the university have called on Mizzou's interim chancellor, Hank Foley, to either reinstate McNicholas' privileges with the university's hospital or extend the deadline for the doctor to acquire an alternate category of privileges.
While opponents of abortion say that admitting privileges ensure a continuity of care and enhance safety, abortion rights supporters say that since complications from abortions are exceedingly rare, admitting privileges are medically unnecessary and are designed to prevent patients from obtaining abortions by forcing clinics to close.
On Monday afternoon, Foley said he would not reverse the university's decision to terminate McNicholas' admitting privileges. "I personally have given this issue much thought and have been touched by many of the emails and letters our office has received—especially those from women who have relied on Planned Parenthood for health care," he said in a statement.
"I am sympathetic to many of the situations and extenuating circumstances these women have found themselves in—situations and circumstances that lead to decisions most women will never have to make," Foley added. "However, I will continue to support the Medical Staff Executive Committee at MU Health Care. Thus, after a thorough policy review by MU Health Care, refer and follow privileges will be discontinued Dec. 1, 2015 ... The issue of abortion invokes much depth of emotion and passion; I understand this. However, as a state and federally funded university with a health system, we are required to follow applicable state and federal laws."
A federal judge issued a temporary restraining order later on Monday maintaining Planned Parenthood's license to provide abortions for two more days at its Columbia clinic. On Wednesday afternoon, the judge extended the temporary restraining order until at least Dec. 30, saying that Missouri's revocation of admitting privileges for Planned Parenthood's clinic in Columbia "may be the result of animus toward the center and the work it does there."
With the extra time, Planned Parenthood can either get an alternative category of privileges from Mizzou, obtain admitting privileges from a different hospital or find a different physician willing to perform abortions who has admitting privileges.
"Mizzou and MU Healthcare failed to lead and fulfill their own mission by turning their backs on women who need access to safe, legal abortion," said Laura McQuade, president and CEO of Planned Parenthood of Kansas and Mid-Missouri.
"Obtaining privileges at a hospital is a tedious, not to mention medically unnecessary requirement that can take six months, or even more, to fulfill. MU Health Care imposed an impossible timeline for our physician when it terminated Dr. McNicholas' privileges just more than two months ago," McQuade said.
In its lawsuit, Planned Parenthood notes that when a different physician working at the Columbia clinic resigned in 2012, the state health department maintained the clinic's license for over a year, allowing the health care provider time to search for a new doctor and submit the required admitting privileges application.
That process still took three years; the Columbia clinic only began to offer medication abortions in August. On a call with reporters, Planned Parenthood said it had received no explanation from the health department as to why the process was different this time.
A public affairs representative from the state health department said the department does not comment on pending litigation.
Planned Parenthood has accused the University of Missouri of acquiescing to political pressure from Republican state Sen. Kurt Schaefer, who has led the charge against the provider in the state.
"It is deeply troubling that we continue to fight MU Health Care's politically designed obstacle course instigated by Senator Kurt Schaefer," McQuade said in a statement.
Planned Parenthood's loss of privileges at the University of Missouri Hospital was one of the grievances student protesters presented to the school. In September, the university also ended a decades-long program that allowed medical and nursing students to train at Planned Parenthood centers.
Jonathan Butler, a graduate student who went on a hunger strike to protest the actions of the university's recently-resigned president, Tim Wolfe, spoke at a rally on campus supporting Planned Parenthood on Sept. 29. He cited "Planned Parenthood services being stripped from campus" in a letter explaining why he believed the president had "disrupted the learning experience for marginalized/underrepresented students at the University of Missouri."
This story has been updated with news that a federal judge has extended Planned Parenthood's license to provide abortions at its Columbia, Missouri, clinic. The story was also updated to include a statement from the University of Missouri's interim chancellor, Hank Foley.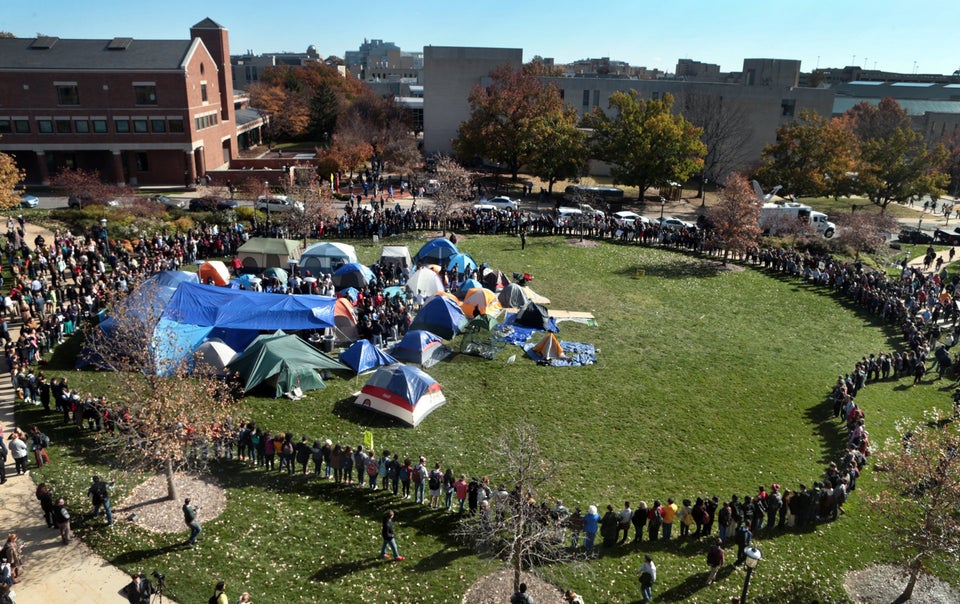 Scenes From The Protests At Mizzou
Popular in the Community