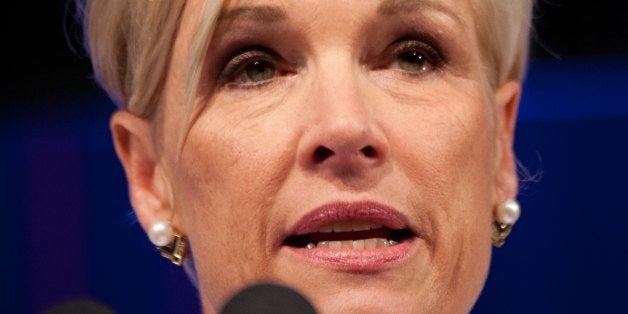 NEW YORK, Aug 15 (Reuters) - Planned Parenthood will get federal funds to help Americans enroll in insurance via President Barack Obama's healthcare program, U.S. officials said on Thursday, drawing fire from critics who oppose contraception and abortion in such coverage.
Across the country, 105 groups were awarded a total of $67 million in so-called navigator grants, ranging from the Epilepsy Foundation of Florida and AIDS Alabama, Inc. to the Greater Phoenix Urban League and the Legal Aid Society of Palm Beach County.
The inclusion of Planned Parenthood groups in three U.S. states, which provide women's health services including contraception and abortion, drew new criticism from Republicans and others. The healthcare law has attracted major opposition and legal challenges from religious and conservative groups for requiring insurers to cover the cost of birth control.
"More than 90 percent of what our health centers do is provide basic, preventive care, including cancer screenings and annual well-woman exams," said Eric Ferrero, vice president of Planned Parenthood Federation of America.
The navigator grants, he said, will enable local affiliates to help women enroll in insurance plans that cover preventive care and maternity care, and "have nothing to do with abortion and won't be used for abortion services."
Rep. Diane Black, a Tennessee Republican, blasted the grants to Planned Parenthood groups "despite assurances from the President when the law was passed that Obamacare would not give federal funding to abortion providers."
Planned Parenthood of the Heartland, in Iowa, will receive $214,427. The Intermountain Planned Parenthood Inc. of Montana will receive $295,604, allowing it to provide assistance at its health centers or via phone, according to the Department of Health and Human Services.
Planned Parenthood of Northern New England, in New Hampshire, will receive $145,161 to "assist patients and other consumers with understanding new programs, taking advantage of consumer protections, and navigating the health insurance system to find the most affordable coverage that meets their needs."
Roughly half of the 3 million patients Planned Parenthood treats every year in its clinics, most of them for women's health services such as Pap tests and pelvic exams, are uninsured. Planned Parenthood has therefore been training its health centers' staff to tell women about their options for obtaining insurance under Obamacare.
The grants were awarded only in 34 states that have declined to run their own exchange, requiring the federal government to do so. States such as California, Oregon and New York, which are operating their own exchanges, have their own "navigator" program.
"People are hungry for information on finding the security and peace of mind that come with affordable healthcare coverage," HHS Secretary Kathleen Sebelius told reporters. Navigators will undergo 20 to 30 hours of training by HHS, with an emphasis on securing people's privacy, and will be paid through the grants.
HHS originally allotted $54 million for navigators in these states. The additional $13 million came from the department's Prevention and Public Health Fund.
The spending leaves the 34 states that are not running their own exchanges, because they oppose "Obamacare," well short of what other states have for navigators and other in-person assistance programs. For instance, California has $43 million to spend, Maryland has $24 million, and tiny Vermont has $13 million, according to numbers collected by healthcare consultant Avalere Health LLC.
The list of navigator awards is at http://cciio.cms.gov/programs/exchanges/assistance.html (Reporting by Sharon Begley; Editing by Michele Gershberg and Andrew Hay)
Calling all HuffPost superfans!
Sign up for membership to become a founding member and help shape HuffPost's next chapter
BEFORE YOU GO
PHOTO GALLERY
Lies And Distortions Of The Health Care Debate