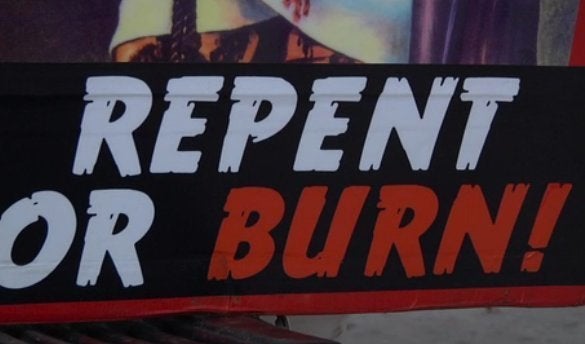 For over a month, Ross Foti, an anti-abortion activist, has been protesting a San Francisco Planned Parenthood center on Valencia and Duncan streets, using extremely graphic oversized photographs of aborted fetuses and signs that read "repent or burn" to help express his message.
After five weeks, the neighbors had had enough.
"It's really a neighborhood response, in this case a really organic neighborhood response, that he's not welcome," said local resident Jennifer Beach. Beach is one of many residents who have organized a counter-protest against Foti, showing solidarity with the clinic. A news video by Mission Local shows counter-protesters surrounding Foti's truck with a banner featuring a red circle crossing out a coat hanger, and the words, "we will never go back."
But Foti argues that the counter-protesters are violating his rights to free speech.
"They don't want free speech," said Foti. "They only want their free speech."
Foti explained that he was only trying to educate and counsel patients by letting them know that abortion is not the only option. But neighbors claim that his tactics -- threatening eternal damnation and displaying disturbing photos -- are inappropriate.
"All those posters do is tell the truth," said Foti in response. "It's up to the patients to make up their minds. They have a mind of their own."
But Beach and others argue that Foti's signs and actions are creating a hostile environment for patients.
"Women who come for abortions are often not completely happy to be here, it's not the greatest moment in their life," explained Beach. "And to have this person yelling that they're going to burn in hell if they kill their child is really an obstacle to health care. And I'm all about breaking down obstacles to health care."
(CAUTION: Extremely graphic images.)
Related
Popular in the Community