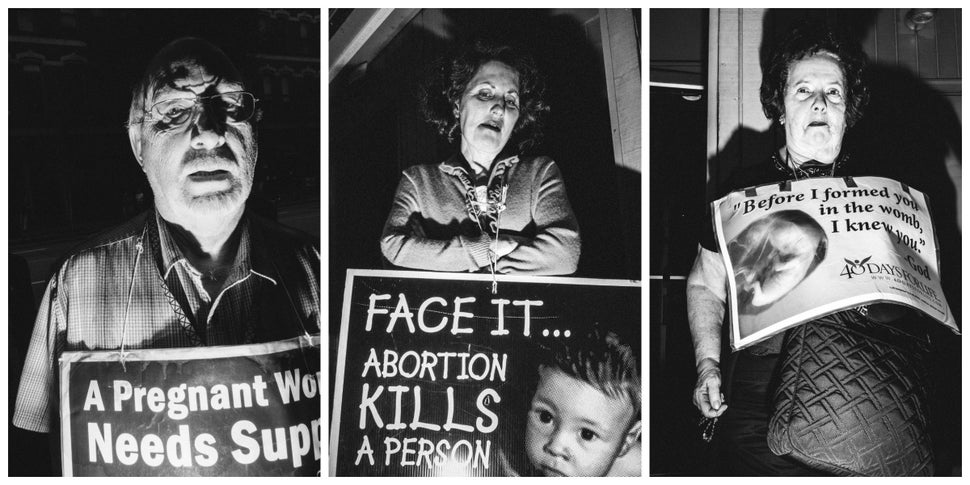 When Robert Lee Bailey's girlfriend needed a colposcopy, the couple went to a Planned Parenthood in Pittsburgh, Pennsylvania to get the procedure done. It wasn't his girlfriend's first time at a Planned Parenthood; she'd had a colposcopy done there before, and was mistakenly confronted by protesters who thought she was there for an abortion.
"She was so stressed out about going there [again]," Bailey told The Huffington Post. "Not only because she thought she might have cancer, but because she was worried that the protesters would be there." 
So Bailey, a street photographer, tagged along, and snapped photos of the protesters, many of whom he had conversations with unrelated to his own political beliefs.
"At first, most of them were OK with it," Bailey said. "They just asked that I didn't blind them with the flash. They even offered to take me to lunch. And they would ask me if I was pro-choice, but I never wanted to talk about that. I always danced around the issue, and I never tried to argue with them or anything like that."
But, once Bailey's opinions came to light, the protesters asked him -- with increasing hostility -- to stop photographing them. He says some of them claimed he needed a model release form, which isn't the case. Street photographers have the legal right to capture individuals in public places, even if the ethics of doing so are hazy.
Portraying subjects negatively without their consent isn't illegal, but for some street photographers it raises questions. Expressing a popular approach, street photographer Ron Haviv said in an interview with Feature Shoot, "In many cases, if I point a camera toward someone, and there is no negative reaction, I feel fine in taking the image. If they say no, verbally or otherwise, I respect their choice."
Bailey feels similarly, and stressed that many of the protesters acted kindly toward him, in spite of having differing beliefs. But, he said, "If you don't want to be photographed, if you don't want to attract my attention as a photographer, don't stand out here on a busy street holding a controversial sign."
Many of his photos spotlight said controversial signs, including one that reads, "Before I formed you in the womb, I knew you -- God." Each is shot using a bright flash that lights the subjects from below, creating an ethereal glow or, sometimes, a horror movie effect.
Several subjects are captured with their palms blocking the camera, demonstrating their desire not to be photographed, and creating an air of intrusion. 
"I hope the mood is austere and a little frightening," Bailey said. "I think one of the central themes is invasion of privacy. I was photographing people who did not want to be photographed, even though they were protesting in a public space. But I trespassed on their personal space and took the photos anyhow. I think it sends a message that they're doing the same thing. They're invading people's right to medical privacy, as well."
CORRECTION: An earlier version of this article mistook a colposcopy for a colonoscopy.
REAL LIFE. REAL NEWS. REAL VOICES.
Help us tell more of the stories that matter from voices that too often remain unheard.
BEFORE YOU GO
PHOTO GALLERY
Leland Bobbé's Half-Drag Portraits