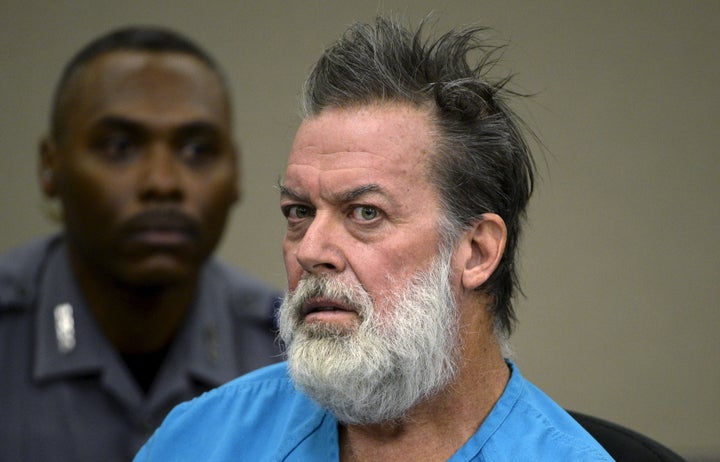 A profile of the accused gunman, now emerging through interviews with his former wives and court documents, reveals a man with a lengthy history of violent behavior toward women. He is alleged to have targeted his wives, as well as women he came in contact with peripherally, including a neighbor and a woman who worked at the mall.
Dear, who is now in custody, was married and divorced three times. In court documents obtained by The New York Times, Dear's second wife, Barbara Micheau, claimed that during the course of their marriage, her husband kicked her, smacked her head against the floor and pulled her hair "on many occasions." She described him as angry and volatile, with emotional problems, and claimed that he abused his first wife as well.
His allegedly abusive behavior did not stop when he remarried. In 1997, his third wife, Pamela Ross, filed a police report, that stated Dear had locked her out of the house. When she tried to get back in through a window, he hit her and pushed her out, Ross told police. She did not want to press charges, but "wanted something on record" about the incident. Police noted that she had visible bruises, which she said were caused from her husband pushing her in the chest.
Dear was also accused of raping a woman who rejected his advances. In 1992, a married woman who worked at a mall told police that Dear had repeatedly asked her out and that he wouldn't take no for an answer. According to a police report obtained by the Charleston Post and Courier, he harassed her at work and home and called multiple times a day. Then one day, when she was taking the trash out, she said, he put a knife to her neck, forced her back inside her home and raped her.
Dear was charged with rape, but there is no record of a conviction, so it's probable that the case was dismissed. When reached for comment by The New York Times, the woman's husband said that the only other witness refused to testify and that they were about to move out of state. "We had to let go and let God take care of it," he said. The woman has since died.
Ten years later, Dear was arrested under South Carolina's 'Peeping Tom' law after a female neighbor complained that he was hiding in the bushes and looking into her house. The charges were later dropped, but the neighbor, who said she was "in fear for her safety" was issued a restraining order against Dear.
Experts have long connected the dots between violence in the home and later acts of violence against others. In an eloquent op-ed for The New York Times earlier this year, activists Pamela Shifman and Salamishah Tillet highlighted a large study of criminal offenders in Washington State, which suggested that a felony domestic violence conviction is the greatest predictor of future violent crime among men.
"Men who commit violence rehearse and perfect it against their families first," they wrote. "Women and children are target practice, and the home is the training ground for these men's later actions."
"Those who terrorize women at home often go on to terrorize their communities," said Kim Gandy, president of the National Network to End Domestic Violence, in a statement. "The media can help by recognizing and naming violence against women, not minimizing it, and urging communities and law enforcement to hold perpetrators accountable."
Melissa Jeltsen covers domestic violence and other issues related to women's health, safety and security. Tips? Feedback? Send an email or follow her on Twitter.
Popular in the Community