Planned Parenthood on Wednesday informed staff at three of its facilities in Texas that they would be closing, according to people familiar with the decision.
The three clinics are located in Bryan, Huntsville and Lufkin, Texas. They are closing in response to a new package of abortion restrictions signed into law on Thursday and funding cuts to Texas' Women's Health Program that were passed by the Texas state legislature in 2011. Out of the three Planned Parenthood clinics that are closing, only the Bryan clinic performs abortions.
"In recent years, Texas politicians have created an increasingly hostile environment for providers of reproductive health care in underserved communities. Texans with little or no access to health care services have been deeply affected by state budget cuts to programs provided by Planned Parenthood health centers and dozens of others that provided lifesaving cancer screenings, well-woman exams and birth control," said Melaney A. Linton, president and CEO of Planned Parenthood Gulf Coast."
"The combined impact of years of budget cuts to women's health care services and the dismantling of the successful Women's Health Program will take affordable, preventive health care options away from women in Bryan, Lufkin and Huntsville — just as these policies have taken health care away from an estimated 130,000 others — when Planned Parenthood Gulf Coast is forced to close these family planning health centers at the end of August," she said.
"Ensuring Texas women have access to the care they need to stay healthy, especially women in rural and underserved areas, goes to the heart of our mission," she continued. "We are making every effort to provide resources for our patients faced with health center closings, however the alarming reality is that most will be left with no real options for getting the basic, preventive health care they need."
Republican state lawmakers voted in 2011 to block all funding from the state's Medicaid family planning program, called the Women's Health Program, from going to Planned Parenthood clinics. All three clinics are now set to close as a result.
The Bryan clinic, meanwhile, is also impacted by the abortion law signed on Thursday, which requires all abortions to take place in ambulatory surgical centers. The clinic would need to undergo a series of renovations to fit that description, which could cost millions of dollars. The new law also bans abortions after 20 weeks of pregnancy, requires abortion doctors to have admitting privileges at a hospital within 30 miles of the facility, and requires doctors to administer the abortion-inducing drug RU-486 in person, rather than allow women to take it at home.
The law's Republican backers argued that it protects women's health and safety by requiring abortion clinics to become, in effect, mini-hospitals. But opponents argue that the regulations are medically unnecessary and designed to shut down safe, legal clinics.
"It is a travesty that Texas politicians are stripping healthcare from women across the state, harming lives and unraveling the health care safety net that has taken decades to build," said Linton. "As voices in support of women's health continue to grow within the state and as the chorus of alarmed people nationwide focus their attention on Texas politicians, Planned Parenthood will continue to work strongly to eliminate these politicized barriers and to stand up for women in Texas, no matter what."
This piece was updated to clarify the reasons for the closure of each clinic. An original version implied that all were being closed in response to the signing of the new abortion law.
Before You Go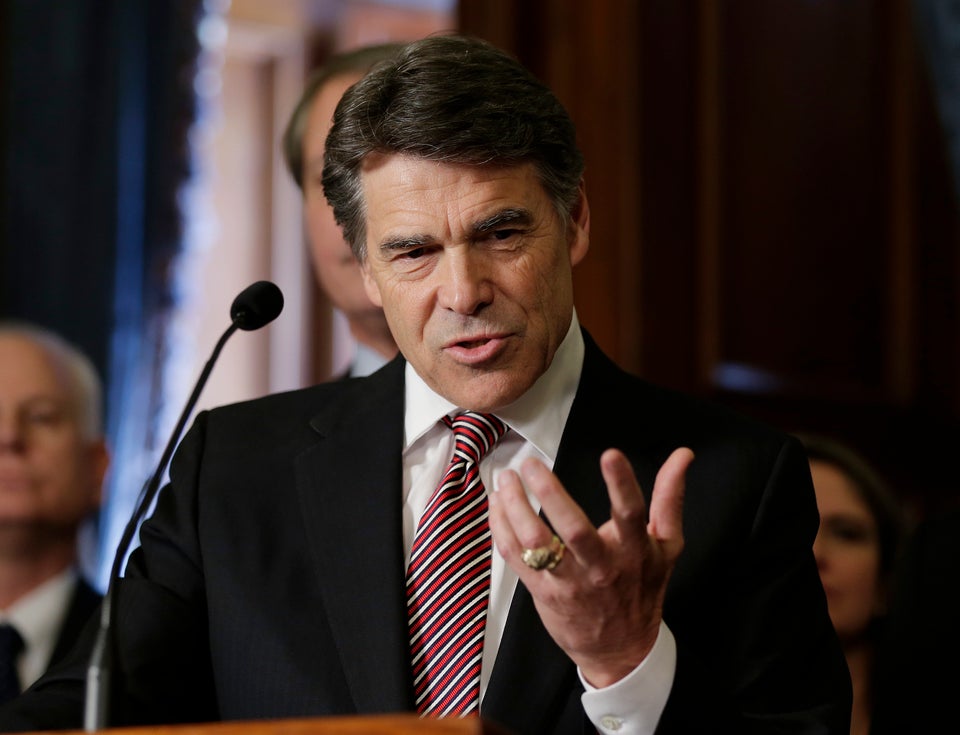 How Many Fingers Is Rick Perry Holding Up?
Popular in the Community