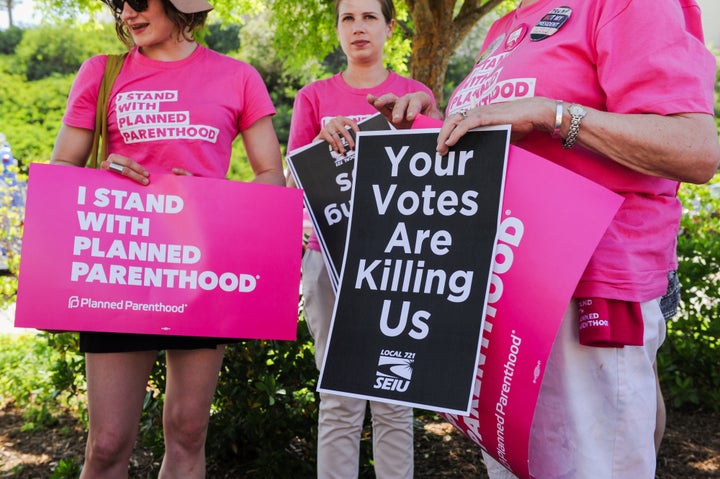 The Trump administration's proposed budget specifically excludes Planned Parenthood from all Department of Health and Human Services programs, apparently the first time a president's budget has done so, according to the leaked executive summary of the plan.
Trump's proposed fiscal 2018 budget "follows through on a campaign promise and prohibits any funding in the Labor-HHS appropriations bill for certain entities that provide abortions, including Planned Parenthood," the executive summary says. "This prohibition applies to all funds in the bill, including Medicaid."
The freeze-out apparently goes beyond the House GOP's plan, which excludes Planned Parenthood only from Medicaid reimbursements. Trump's budget proposal bars the nation's largest family planning provider from participating in any federal program, including cancer screening programs funded by the Centers for Disease Control and Prevention, Zika virus prevention, HIV/AIDS testing and prevention, Violence Against Women Act grants to prevent sexual assault, maternal and child health programs and sexually transmitted disease and infertility prevention grants. No president has ever attempted to exclude a specific health provider from the entire federal budget.
Trump's proposed budget also includes $610 billion in cuts to Medicaid, which women disproportionately rely on, as well as massive cuts to food stamps and a supplemental nutrition program for low-income women and infants. Ivanka Trump reportedly managed to include a paid family leave program in the plan, but that relatively small consolation prize does not seem to be appeasing women's health groups.
"This is the worst budget for women and women's health in a generation," said Dawn Laguens, executive vice president of Planned Parenthood Federation of America, in a statement Monday. "It guts programs designed to help women and their families put food on the table, get the medical care they need, and make ends meet. Gimmicks and misdirection cannot cover up a deadly agenda that would hurt women and prevent access to basic health care in the U.S. and across the globe."
Planned Parenthood receives roughly half a billion dollars a year from the government, which it uses for preventative health services such as contraception, cancer screenings, and sexually transmitted infection testing and treatment. Federal law already prevents any taxpayer dollars from being used to pay for abortions.
Popular in the Community