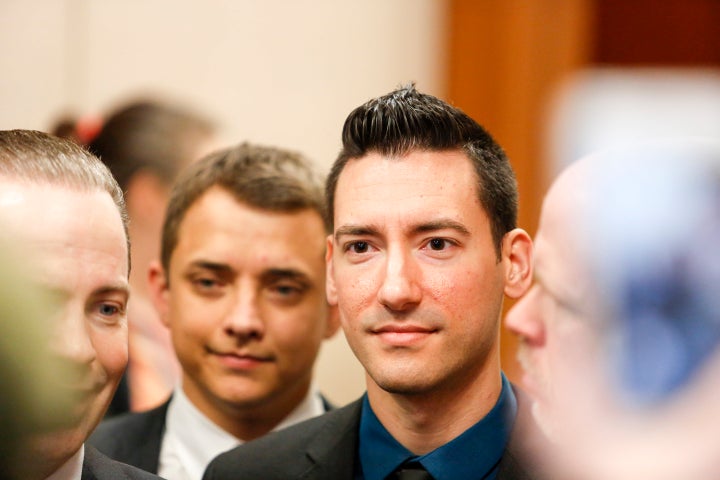 WASHINGTON -- Anti-abortion groups say California Attorney General Kamala Harris, a Democratic candidate for U.S. Senate, has an ethics problem. But it appears she's doing what she's supposed to do: Her job. 
That's a conflict of interest, abortion foes argue. Harris's office has been exposed as "a political pawn of Planned Parenthood," said Matt Heffron, a former federal prosecutor and attorney with the Thomas More Society, a conservative law firm representing Daleiden. Anti-abortion groups want Harris to resign.
But state AGs, who often run for higher office, regularly take cases involving groups they're connected to politically. If they avoided these groups, they wouldn't be able to work. And the fact that Harris is running for Senate does not give anyone immunity from the actions of her office, even if the matter should happen to overlap with campaign issues, explained Stephen Gillers, a law professor at New York University and legal ethics expert.
There are plenty of state AGs in similar circumstances. Republican attorneys general have touted their investigations into Planned Parenthood, which could win them political points in their re-election campaigns or in races for higher office. In North Carolina, Democratic Attorney General Roy Cooper, who is running for governor, has refused to defend an anti-transgender bathroom law signed by his Republican opponent. That's not uncommon. Other AGs have refused to defend laws they believe are unconstitutional. But it doesn't mean Cooper won't benefit from being seen as pro-business and LGBT-friendly.
Congressional Democrats in July asked Harris to investigate the Center for Medical Progress, the anti-abortion group Daleiden founded, to see if the group broke California laws related to recording the Planned Parenthood videos without consent and other issues. Harris agreed to review the allegations. The group had recently released sting video, which purported to show Planned Parenthood illegally selling fetal tissue. Daleiden's team coached at least one interview subject and spent months tinkering with the footage, which Planned Parenthood slammed as "deceptively edited."
The Center for Medical Progress claims it was actively cooperating with Harris' office, but agents raided Daleiden's residence on April 5 and seized video footage before he had a chance to comply with prosecutors' most recent deadlines. (Harris's office declined to comment.) 
"To storm into a private citizen's home with a search warrant is outrageously out of proportion for the type of crime alleged," Heffron said.
But in order for such a raid to be authorized, Harris's office needed to establish probable cause, and a judge had to sign off on the search warrant. The suggestion that Harris "rounded up a bunch of cops, brought them to her office, and said, 'Go get this guy' is, shall we say, highly unlikely," said James Tierney, director of the National State Attorneys General Program at Columbia Law School, and a former attorney general of Maine. "That's not how government works."
The question that ethics experts ask is whether reasonable members of the public would believe that Harris, if she was involved in the seizure decision, was motivated by politics, rather than law enforcement considerations, when she sought that judicial approval.
"The answer to that question is no," said NYU's Gillers. The decision to seize evidence is one law enforcement agencies routinely make if they have sufficient evidence, and even if her critics believe she's getting political mileage out of it, that doesn't exclude her participation under conflict rules for government lawyers, he added.
Ronald Rotunda, a law professor at Chapman University, a Christian-affiliated school in California, argued that Harris could have gotten a search warrant on either Daleiden or Planned Parenthood, but she chose the former. "Choosing the latter would not be good politics in this state," he said.  
More than a dozen states have launched investigations into Planned Parenthood, but none have found evidence of illegal activity. A grand jury in Texas decided to indict Daleiden and another activist instead of Planned Parenthood, and women's health providers are suing him.
"Anti-choice groups have chosen to protest Kamala Harris in an attempt to stop this legal investigation from getting to the truth," Ilyse Hogue, president of NARAL Pro-Choice America, said in a statement this week. "These groups' true agenda is clear ... to ban abortion," she added.
Tierney, from Columbia University, pointed out that Harris would have faced criticism from abortion rights supporters if her staff had decided not to move ahead with the investigation. Some heated issues simply attract more scrutiny.
"Because she's a skilled prosecutor ... you don't get ahead by bringing weak cases," Tierney said. "Let's assume there is this great conspiracy that they're alleging, and she goes out and she brings this case. The case would blow up on her."
He added: "Thank God that's not how it works. That's why the AGs are still able to move together and cooperate together and other officials aren't."
Calling all HuffPost superfans!
Sign up for membership to become a founding member and help shape HuffPost's next chapter
BEFORE YOU GO