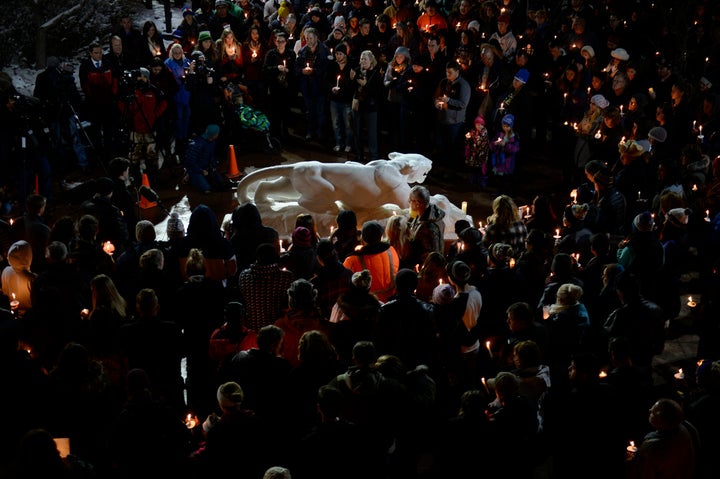 COLORADO SPRINGS, Colo. -- As the dust settled in Colorado Springs and survivors of the horror at Planned Parenthood began their recovery process, a community in mourning trudged through the snow on Saturday to gather at vigils and remember the dead.
It was an all-too-familiar scene. A minister stood before a packed house at All Souls Unitarian Church just before noon, trying to bring understanding to a community that had just lost three of its people -- including a police officer -- to a deadly shooting.
"We're here to honor the lives of those killed yesterday by domestic terrorists," the minister said. "We're here to honor the work of Planned Parenthood. We're here to honor the work of the Colorado Springs Police Department and other first responders. We're here to gather together to remember that we're not alone; to remember together we can change the world ... In our diversity, we are stronger."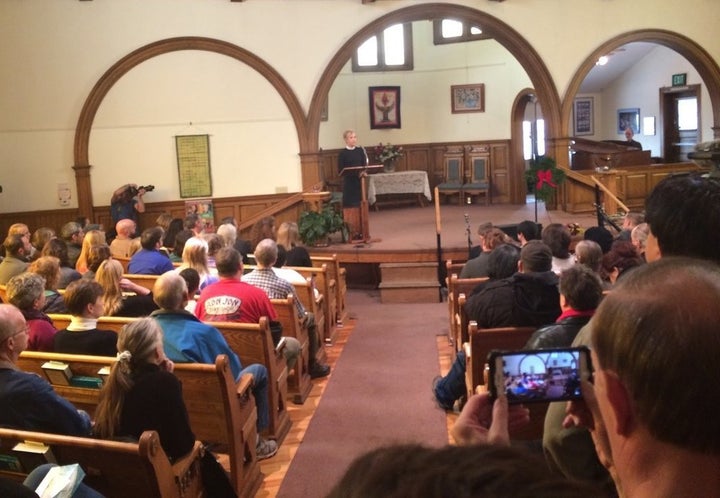 Just as she left the pulpit, a mourner stood to speak out against making any "political statements" during the time of grieving.
"I came to grieve and mourn the people that died, not to make political statements, so, have a nice day," the woman said, and left the church as others applauded.
The Rocky Mountains chapter of Planned Parenthood released a statement on Friday offering its thoughts, support and services, "no matter what."
On Saturday afternoon, fellow officers from the University of Colorado at Colorado Springs remembered slain officer Garrett Swasey, speaking to reporters just before a university basketball game.
"He was a great guy, a great husband, and a great police officer," said Martin Marcpino, a lieutenant on the university force, which had 18 officers including Swasey. "Always wanting to be the first one there, helping people out."
Marcpino said Swasey was a big Red Sox and Patriots fan, and recalled that the heroic cop recently stopped and saved some civilians in a car wreck while he was off duty.
After the short press conference, mourners made their way into the university arena for a basketball game between UCCS and Ottawa University. There, a moment of silence was held for the fallen, and officers could be seen crying as they walked off the court.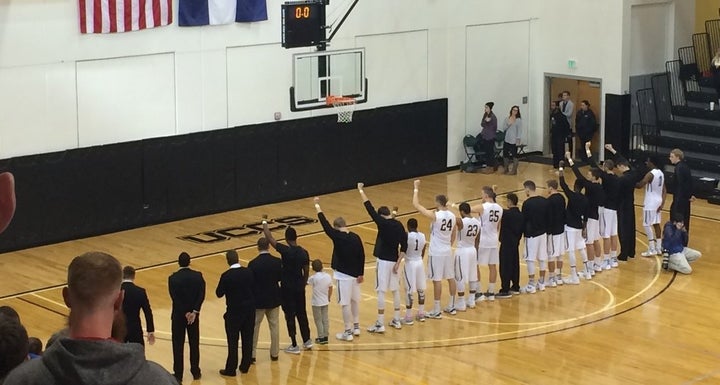 An officer in tears was given a bear hug from the school's mascot.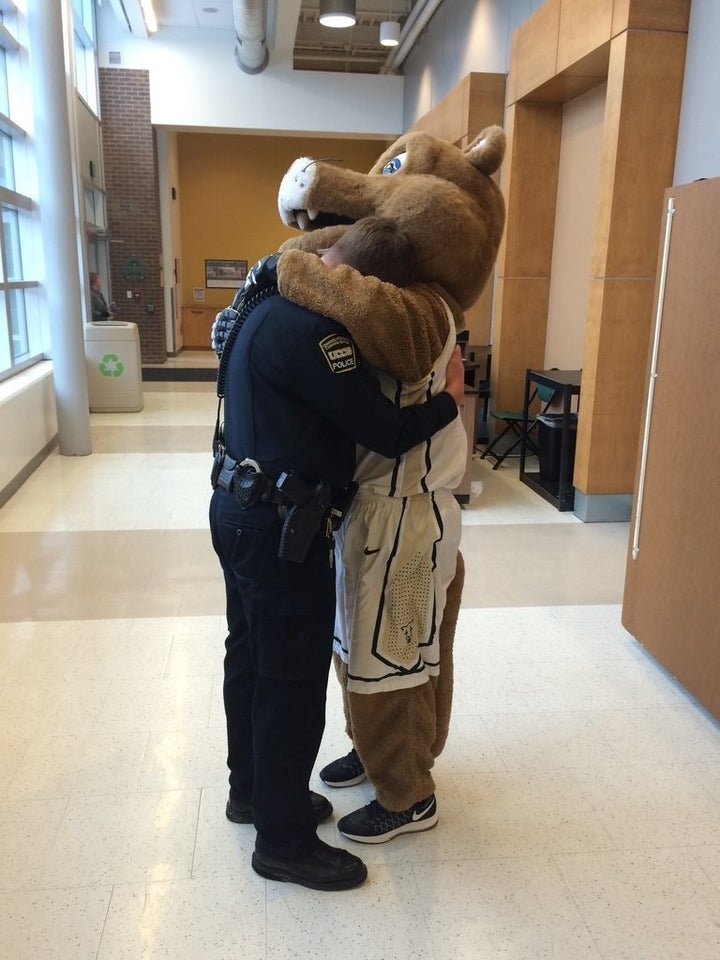 On Saturday evening, hundreds gathered at the university's Gallogy Events Center for a candlelight vigil in honor of Swasey, remembering him as a husband and a dad who dedicated much of his life to helping others.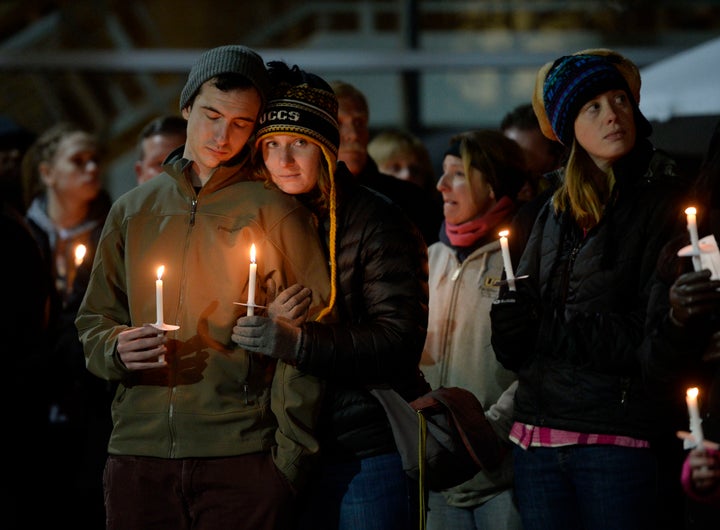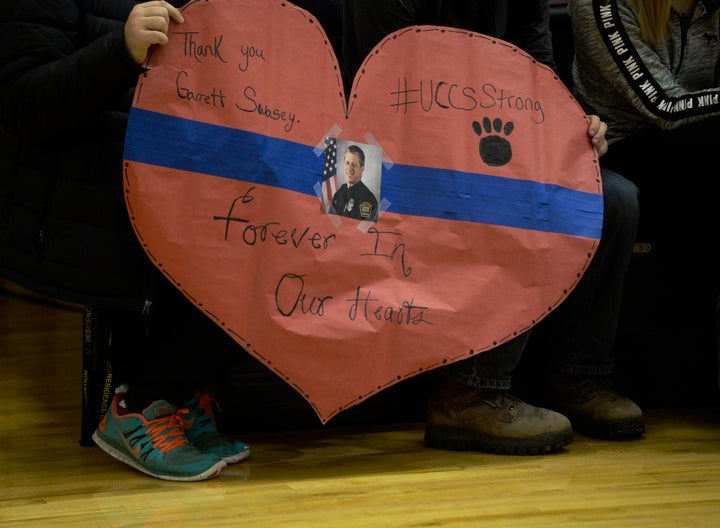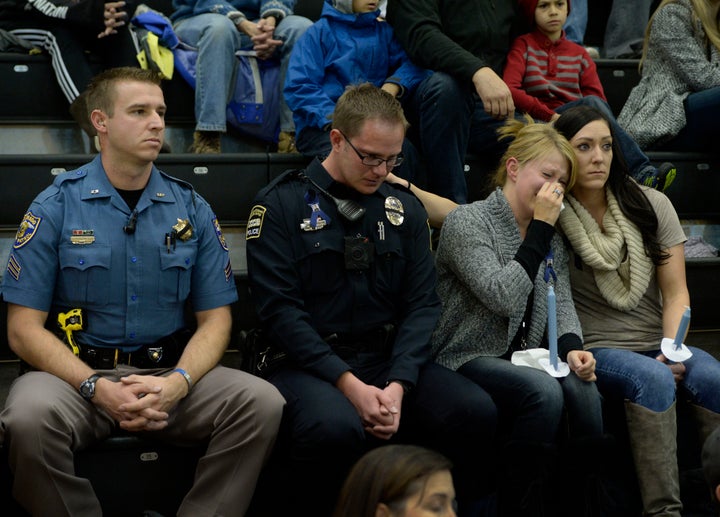 Police told The Huffington Post that the nine people injured in the shooting had been recovering at area hospitals, after bullets flew in and around the Planned Parenthood clinic on Friday. Several of the victims were released from the hospital Saturday afternoon. Two civilians and an officer were killed on Friday.
Americans across the country have had to attend too many vigils for senseless shootings over the past few years. Colorado knows them all too well -- the shooting at a movie theater in Aurora, just an hour away from Colorado Springs, left the state in disarray in 2012.
Calling all HuffPost superfans!
Sign up for membership to become a founding member and help shape HuffPost's next chapter