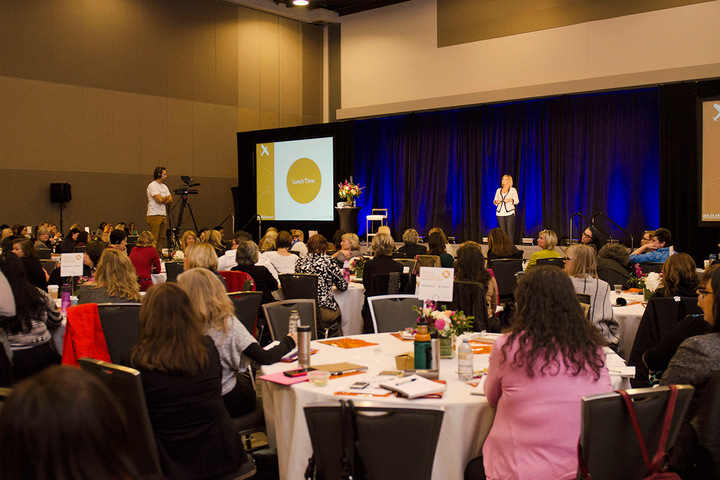 Hosting an event can be a fantastic way to build your brand, establish stronger relationships, and gain credibility in your space.
Events are fun because people come together in person, and that creates much better opportunity for connection. Having said all of that, when you transition from a small event to a planning a big event, you need to be prepared to play in the big leagues!
Thinking about planning a big event? You should know this:
1. ALWAYS expect the unexpected.
You'll need contracts with the venue you choose, a stage, screens, an AV team and more than your neighbour John to shoot the video. It becomes a full production, and you should expect the unexpected. There will be things that happen that you didn't expect. Here's a couple of mine when I hosted Money, Mindset and Marketing:
-> Increased fees at venue to do set up night before. Although this should be expected, it was unexpected to me the first time it happened.
-> Increased fees at venue to use a different Audio Visual (AV) team. Venues often have agreements with companies they work with. Be sure to read every line of your contract carefully, in fact, work with someone who has experience doing this so you understand what you are signing.
2. It's going to take much longer than you expect.
Trust me, everything takes longer. Selling tickets, attracting sponsors, setting up the room, doing your presentation, designing your print materials, coordinating the timing of the event, having your AV team do set up, getting sponsors set up and organized, checking people in at reception. You name it, it takes longer than you expect. Give yourself the time and space you need to do a good job. My first year, I did my presentation the night before because I ran out of time. This year, I worked on it for months before the event, always updating and tweaking and it was outstanding compared to the previous year. It takes more time than you think to do things really well.
3. You can not do it alone. You just can't.
Although you may be capable of doing every task, you need to have a team to help you. There aren't enough hours in a year for me to do everything that needed to go into Money, Mindset and Marketing by myself. You should enlist volunteers and an event planner to help you. The stronger the team you have supporting you, the better the day will flow. The better the day flows, the better experience for you and your guests. It's impossible to do it all alone.
4. You're not going to generate ROI right away.
Big events cost way more than you expect. File that under "expect the unexpected" because there will be a ton of things you didn't expect to pay for that come up and you have no choice but to take care of them. Money stresses people out so be sure to have a contingency fund. Have conversations with other people about what your "must have" and "nice to have" items are. It's quite possible that when you first start out, you may not generate a positive return on your investment the first couple of years. There are some things that you'll need to invest in, such as banners and trade show signage items that once you buy, you have for a long time. The capital investment in the beginning can suck up nearly all the profits from your event.
5. You can't let your sponsors down.
You must deliver on the promise to your sponsors. If you tell them you will fill the room, you must fill the room, even if it's on your own dime (remember, everything costs more than you expect). If you need to "put bums in seats" to fulfil your sponsor commitments, be strategic. Don't invite just anyone, get creative about bringing the right people together. There's nothing better than hosting an event where half of the room is filled with people who know, like and trust you, and the rest of the room is brand new to you and what you offer.
6. Give yourself time, and money to learn.
If you're not an event planner, give yourself the time, money and grace to learn. The best way to learn is to capture your learning as you go and carry it forward to next time. After each event, my team and I spend a lot of time debriefing and creating plans for the next event while the experience is still fresh in our minds. Planning a big event is a huge endeavour. Give yourself time to learn and permission not to get it perfect right out of the gate.
7. Mistakes are going to happen, but look for solutions.
The day of the event, mistakes are going to happen and while they may feel huge to you, chances are your audience won't even notice. If you're the leader of the event, you should put someone on your team in charge that day, so your energy is not impacted every time some small mistake happens.
We are after all human, so mistakes WILL happen. Have someone who is competent ready to take charge and find solutions so that your event can continue with minimal disruption. It's also equally important to set clear expectations with people ahead of the event. Mistakes often happen because people didn't know what you meant or expected from them.
If you want to come out Money, Mindset and Marketing you can officially buy your tickets today! Join me on November 1st for a day learning about Social Equity with hundreds of other business owners! Get your tickets at http://lisalarter.com/event
Are you interested in planning a big event? Let me know if you have any other burning questions that this post didn't answer and I'll be happy to answer!
Related
Popular in the Community