 The Windward Islands are at the southern end of the Caribbean island chain. For experienced sailors, it is thrilling to sail among the four main islands: Martinique, St. Lucia, St. Vincent and Grenada. They are far enough apart to allow for open ocean sailing and they lie across the easterly trade winds, making passages north or south easy. With constant 10- to 25-knot winds, the sailing is among the best in the world. Anchoring nightly in peaceful and protected anchorages gives sailors freedom to explore and soak up British and French island culture.
Customs and Immigration
The Windward Islands comprise four separate countries; it is mandatory to clear in and out of each one. Upon arrival, anchor in a port of entry and hoist a yellow flag. The boat skipper goes ashore and seeks out the customs and immigrations officers. Crew members remain on the boat until cleared. The skipper must bring the required passports, crew list and ship's papers (including the yacht's name, tonnage, crew members and home port). Always bring the previous clearance with you. The customs charges vary from island to island and are paid in cash. In French-speaking Martinique, the currency is the euro, and in the English-speaking islands it's the Eastern Caribbean dollar (EC).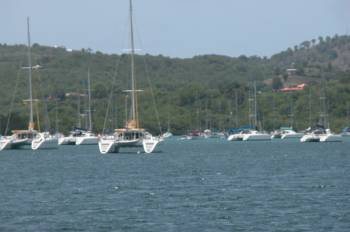 Catamarans in Martinique - Photo: Susan Fogwell
Weather
In the Caribbean, the dry season is from February to June, delivering only an occasional rain shower. From July to January, the wet season brings frequent showers with lots of sunshine and the occasional rainy day. Expect 78 to 85 degrees Fahrenheit with balmy winds year round. Squalls produce intense rains and sometimes winds in excess of 40 knots. The winter months, November to March, produce strong Christmas winds. During this time, storms from the north produce swells and may create an unsafe anchorage, so be prepared to move to a safer location. In June, the winds diminish and clock to the southeast at 10 to 15 knots.
Bareboat Versus Charter
A sailboat you rent yourself is called a bareboat, meaning it is bare of captain, crew, cook and food. To be able to bareboat, the skipper must be a skilled sailor with navigation experience and preferably a USCG license. Bareboating allows complete independence. A captained charter includes a captain, cook, food and everything needed for the entire trip. Caribbean charters are usually for a minimum of one week; rates are more expensive from December to mid-April. For lower rates, charter off-season but avoid the hurricane season, which can potentially disrupt a well-planned vacation. The hurricane months are from June through November and generally affect areas north of Martinique.
Catamaran Versus Monohull
You can choose between a multihull (catamaran) and a monohull. Catamarans are spacious and provide stability, privacy, comfort and a large cockpit. The charters can be extremely luxurious, with all of the amenities of a hotel. In the Caribbean, cruisers spend the majority of their time lounging, eating or reading in the boat's cockpit, making the catamaran ideal for a relaxing experience. Monohulls are for people who truly enjoy the sport of sailing. They heel over at 30 to 35 degrees, making them less comfortable and wetter, but they offer sailing performance that far exceeds that of the catamarans.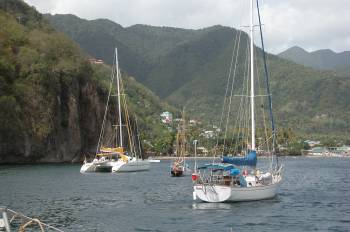 A catamaran and monohull anchored in St. Lucia - Photo: Susan Fogwell
Planning a Charter
The first step in planning a charter is to decide how many islands to visit given your time frame. Research charter companies and determine which island you want to have as a base; then you can plan an itinerary for the week, taking into consideration distances between islands and factoring in activities like island exploration, scuba diving, snorkeling, volcano hiking and shopping. Charter companies offer packages that include airfare. A connection through San Juan is required to reach the Windward Islands via small turboprop aircraft.
The most important part of planning a sailing trip is choosing your crew members. It's common to experience and hear about personalities clashing on charters. When this happens, time and money is wasted on what could have been a great trip. Choose people who have had at least a little sailing experience. Just as a captain on an airplane has the final say, so does a captain of a boat.
One last thing: Remember to conserve water on a boat and read up on sailing etiquette 101.
Related