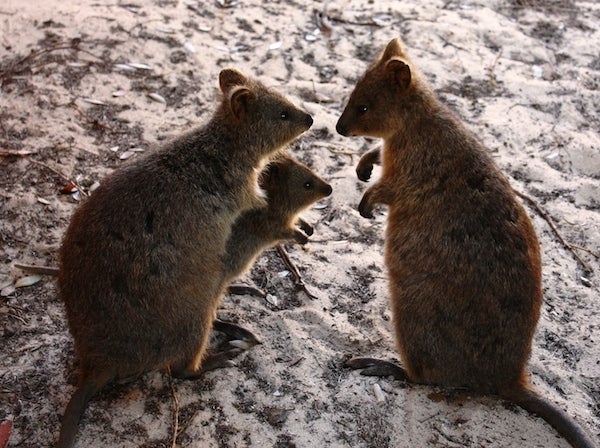 Australia is SO much more than quokkas, kangaroos and koalas. It is a family vacation destination for newbie travelers, intrepid explorers and everyone in between. Australia is family friendly, easy to navigate and they speak our language…well, sort of. In addition there is a wealth of extreme outdoor adventures perfect for even the most seasoned traveler.
Properly planning a trip with the kids to Australia takes time. Chances are if you're a busy parent your time is extremely limited. There is NO "one size fits all" Australian vacation package that is "best" for families. For this reason, the "best" option for busy parents is to work with an experienced travel agent. Your travel agent can help with reality checks and offer fun suggestions for special experiences you probably didn't even know existed. Most importantly they will get you the most value for your vacation dollar.
To get started on your journey to Australia, here are a few tips parents should consider….
1. Length of stay - Australia is approximately 14 hours nonstop from the west coast. East coast families might want to consider a stop-over in California or Hawaii for some extra fun. On average an economy plane ticket will cost $1000-$1500 per person. In addition, your family will be crossing several times zones and the International Date Line. For example if your flight left Los Angeles on March 5th at 10.30 pm and flew nonstop, your family would be arriving in Sydney on March 7th at 8.30 am! There will be significant Jet lag which is no small matter especially when traveling with kids. For this reason, you'll need to have an easy schedule the first 2 days to give everyone time to adjust. A 2 week itinerary at the very minimum is recommended.
2. Size of Australia - Australia is roughly the same size as the 48 contiguous United States. It is a vast country that can be basically divided into 3 regions -
The beach is pretty much self-explanatory. Australia has some of the best in the world not to mention the Great Barrier Reef.
The Outback describes the millions of miles of vast, remote, mostly unpopulated interior of Australia. Its gateway is the isolated town of Alice Springs and its landmarks include Uluru/Ayers Rock, Australia's iconic red-rock monolith.
The Bush is a local term to describe everything in between the beach and the outback. This includes the mountains, countryside and rain forests areas a bit closer to civilization.
3. When is the Best Time to Visit? - Just as the U.S. has a range of different climates and seasons, so does Australia. The difference here is Australia is located south of the equator so their seasons are opposite to ours here in the U.S.
Australia's northern states are typically warm year-round, while the southern states have cooler winters. December to February is summer; March to May is autumn; June to August is winter; and September to November is spring.
Australian summer is high season so that is when prices for flights and hotels will be at their max. You'll get your best deals traveling to Australia during July - August which is their winter. The average "winter" temperature in Sydney that time of year is 55 degrees in the south while temperatures in north near Cairns will be about 80 degrees.
4. Set Priorities - You simply can't see ALL of the U.S. in two weeks and the same holds true for Australia. This is one of those situations where quality beats quantity. Prioritize you family's "must see" experiences to avoid disappointments.
5. How much moving do you want to do? - You'll need to balance traveling around in Australia with your "must see" list of priorities. Obviously if you're traveling with teens you can cover a great deal more territory quickly compared to traveling with a toddler.
Most parents like the idea of being a participant in their own vacation. This is the reason guided tours are very popular. Your family will fly to Australia, meet up with your guide and then you can sit back and relax. Your guide handles all the logistics, sightseeing and transportation while sharing valuable insights.
While tours do offer a wide range of different itineraries they don't work for every family. Most guided tours have age restrictions and don't welcome younger kids. If your heart is set on a guided tour there is a way around this rule but creating a private tour experience. This option may be cost prohibitive for a single family but by simply inviting a few friends and extended family members to join you, a private, guided Australian adventure can be extremely affordable.
An Australian cruise may work better for some families. A cruise travels moves while you'e asleep In addition, most family friendly cruise lines offer onboard child care while in port which affords parents some worry free adult sightseeing time like visiting a world-class vineyard.
Other families may crave their independence and freedom. A self-drive, road trip is yet another option if you're comfortable driving on the left side of the road. In addition there are camper rentals, air and train passes and public transport. Accommodations can range from 5 star resorts to outback camping.
A final word of advice- get the kids involved with your travel planning. Kids keep it real! Often parents over think travel plans. They forget that kids often enjoy the little things like a picnic at the beach or meeting local kids. Toss in some surfing lessons and a cuddle with a koala and suddenly a vacation becomes a legendary tale for all ages.
Popular in the Community